Backup goaltender Darcy Kuemper enjoying fresh start with Kings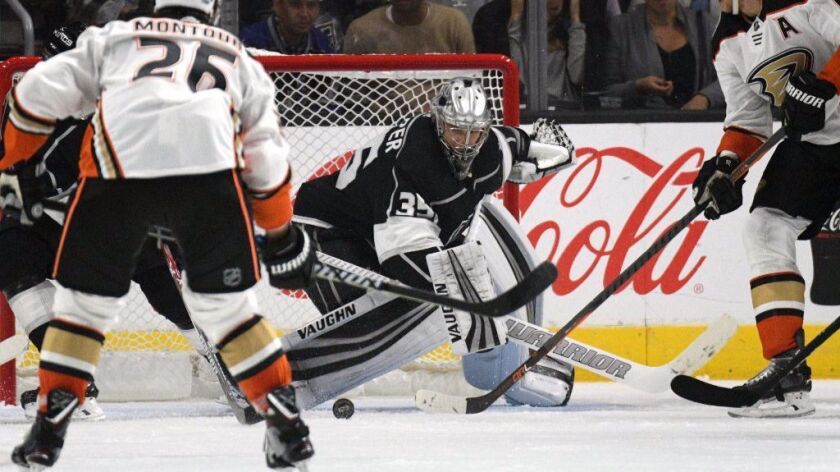 It's easy to spot Darcy Kuemper in and around the Kings' dressing room, and that's not just because he's a lanky 6-foot-5 goalie.
Kuemper, who is almost always smiling, has an easygoing demeanor that runs counter to someone who gets pelted by pucks daily without seeing much game action. Being a backup goalie is one of the more thankless jobs in sports, and Kuemper's approach is above reproach.
"He's a real pleasurable guy," Kings coach John Stevens said. "He's in a real positive spot every day he comes to the rink."
A bumpy ending to his career with the Minnesota Wild and new home with the Kings has a lot to do with it. Kuemper still waited to make his official Kings debut before they played the Buffalo Sabres on Saturday at Staples Center, the first of back-to-back games.
If all goes ideally for the Kings, Kuemper will only see spot duty, or an extended look if he gets hot. Otherwise, he'll spell Jonathan Quick only when needed. It's a situation Kuemper knows well, having been a backup for most of his NHL career. He signed a one-year contract on the first day of free agency to back up Quick, and even that became interesting when Jack Campbell turned heads with a great training camp.
But Kuemper is just grateful for different surroundings. He was reportedly the subject of trade speculation the summer before his final season in Minnesota. Then the Wild went into a freefall last spring and turned to Alex Stalock instead of Kuemper. It was an unfortunate turn after he spent the first seven years of his NHL career in Minnesota's organization.
"I don't want to overanalyze it too much," Kuemper said. "I had a lot of good times there, but it's exciting to have something new this year.
"It was hard not to get frustrated, but I was trying to have a good attitude at the rink every day, and support my teammates, and I thought I did a good job of that."
Christian Folin, a defenseman who also landed with the Kings from Minnesota over the summer, said Kuemper probably took too much blame.
"We didn't really help him the way we should have," Folin said. "That comes back to us a little bit. We were struggling pretty hard. But he's always been a really good competitor. He always works really hard, so it's fun to see."
Kuemper worked with Kings goalie coach Bill Ranford on tracking the puck, particularly behind the net, and he also worked out with Quick before camp.
Ranford didn't necessarily need to build Kuemper's confidence back up so much as find different ways to keep him motivated, always the challenge for a No. 2 goalie. Ranford liked how Kuemper assimilated into the Kings.
"We've got a pretty close-knit group that's been together for a long time," Ranford said. "It's tough to come into this scenario for some of these new guys, but he seems to be fitting in great."
The Kings have a recent history of backup goalies who have gone on to better things, with Jonathan Bernier and Martin Jones. That was a plus for Kuemper as he tries to make the most of this chance while enjoying the ride.
"It's been fun," Kuemper said. "Everyone's been really welcoming. It's kind of nice, something fresh. It's new."
TONIGHT VS. NEW YORK ISLANDERS
When: 7:30
On the air: TV: FSW; Radio: 790
Update: The Kings activated Alec Martinez off injured reserve Saturday and assigned Paul LaDue. Islanders trade acquisition Jordan Eberle had two assists in his first four games, playing with John Tavares.
Follow Curtis Zupke on Twitter @curtiszupke
---
Get the latest on L.A.'s teams in the daily Sports Report newsletter.
You may occasionally receive promotional content from the Los Angeles Times.