Kings bond with an outdoor practice at Central Park in New York
Reporting from new york —
By the end of practice, the ice badly needed to be re-surfaced and the puck could barely slide.
The Kings didn't care.
It was time to be kids again. They held practice outdoors, at Lasker Rink in Central Park, on a sunny, 34-degree Wednesday afternoon with wind that swept ice chips into their faces.
The rules went out the window in a three-on-three scrimmage as Derek Forbort threw his stick to stop a breakaway. Jonathan Quick had his goalie stick taken from him and sent down to the other end of the rink. Drew Doughty skated by the bench and the entire opposing squad slashed him.
"Well, Dewey was offside every single time he was on the ice," Tyler Toffoli said. "He apparently doesn't count. But it was fun. It was a good day. I think we all didn't know what to expect, and when we got here, we took advantage of it and did the best we could."
Kings coach John Stevens planned the excursion months in advance, knowing there was an unusual two-day break between games in this New York swing. The weather mostly complied, except for the occasional gust that gave onlookers a shiver. Toffoli wore sunglasses, while his teammates donned eye black.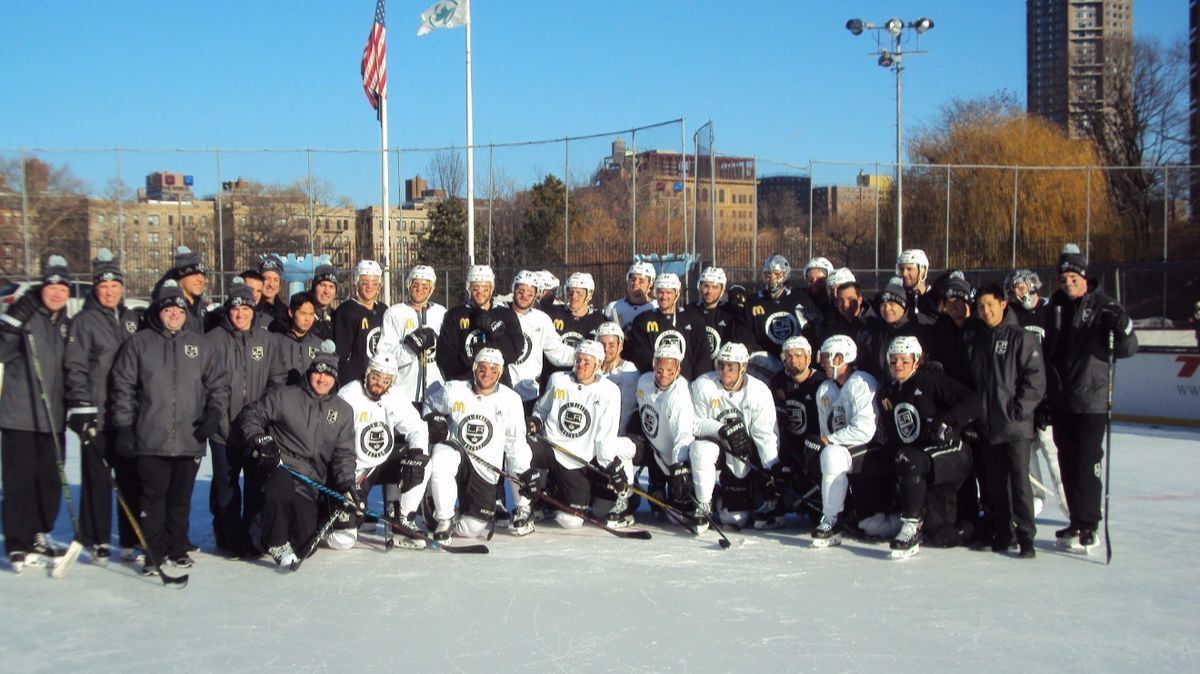 "A little bit of a different look for the guys, back to your roots — outside," Stevens said. "I was hoping it would be a little bit colder."
Stevens intended it to be part practice and part team-bonding, with the spirited three-on-three on a rink that is smaller than NHL size and has a chain-link fence instead of plexiglass at each end. Marian Gaborik ended the practice with the game-winning goal on a two-on-one, and Doughty hugged him as if it were a playoff win.
It was the type of loose energy Stevens wanted to see, a day after the Kings' win streak ended at eight games with a 5-1 loss to New Jersey.
"You got to be energized, physically and mentally, and I think hopefully it does both," Stevens said.
Stevens said he played a lot of outdoor hockey growing up in Turkey Point, Canada, on frozen lakes and irrigation ponds. Toffoli actually didn't play outdoors much and didn't play in the 2014 Kings-Ducks game at Dodger Stadium, but his teammates have some experience with outdoor rinks.
"We had one outside our school [in Canada], and one of my buddies had one in the backyard," Darcy Kuemper said. "We were out there almost every day."
Kuemper drew the short straw by defending the end with the sun in his eyes. How did that affect how he tended the net?
"Just hope the guys don't hit you in the head," he said.
Kuemper and Quick didn't have a discussion on who would face the sun.
"He pulled rank on me a little bit," Kuemper said. "I knew right away when I went out there. I was like, 'I think I'm going to be [at the other end].' "
Twitter: @curtiszupke
Get the latest on L.A.'s teams in the daily Sports Report newsletter.
You may occasionally receive promotional content from the Los Angeles Times.