Marian Gaborik makes strides in his recovery while the Kings prepare for the San Jose Sharks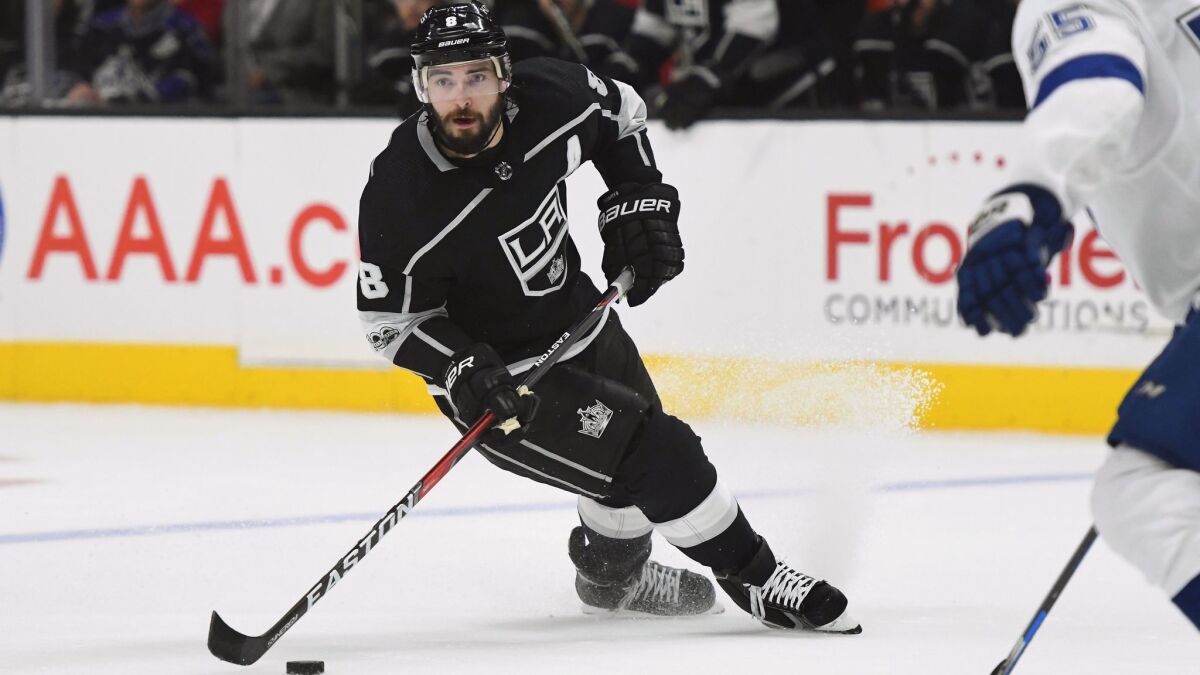 The strong stride was evident in Marian Gaborik's skating. So was the dose of playfulness in his greeting to reporters.
"It's been a long time," Gaborik said.
Indeed, Gaborik's recovery from an April procedure on his left knee has now stretched into mid-November, and it wasn't until Saturday that he took his first full practice with the Kings.
"That's the first time he's skated with the team in six weeks," Kings coach John Stevens said. "It was great that he was with the team. I think it was great for him. It's good for us."
Gaborik does not seem likely to be activated soon. The Kings are being careful with the 35-year-old, whose knee and foot issues have limited him the last two seasons. Gaborik started to intensify his recovery program last month but then stopped skating.
But Saturday was an encouraging sign, if only visually, to see Gaborik move with vigor.
"I felt pretty good," he said. "Things have been getting into flow. Obviously I've missed a lot of time so [I need to] get used to everything — my legs, just the whole body as a hockey player, to get back into things, and to just keep going and ramping things up, and get my timing back. It's pretty much the whole package I have to get back."
The Kings have achieved scoring surplus without Gaborik. They would still like to see what a healthy Gaborik can do in their offense.
"I think that fits right into his game," Stevens said. "He's an explosive guy. He can really push teams back with his speed. He's got a nose for the net, and he's not afraid to go to those hard areas to score goals. I think he's excited to participate in that."
Gaborik has been out so long he has grown a playoff beard. He just doesn't want to wait until the postseason to get back into a game. He likes what he sees from his teammates.
"The guys have done a really good job and I have to get back into it and [be] ready to go," Gaborik said. "Just go from here. We'll see."
In other injury updates, Kyle Clifford is not skating but is progressing from an upper-body injury, general manager Rob Blake said. Blake also said that prospect Gabriel Vilardi (back strain) is skating but not yet cleared to practice.
VS. SAN JOSE
When: 7:30 p.m. Sunday.
On the air: TV: FS West; Radio: 790.
Update: Martin Jones is expected to start for San Jose in the second of consecutive games, according to the San Jose Mercury News. The Sharks were on an uptick before a 5-1 loss to the Tampa Bay Lightning. Stevens said the Kings allowed their most chances of the season in their loss to Tampa Bay, and he graded their puck management poorly. "Those are games you have to learn from," Stevens said. "We clearly are not where we need to be and there's some work to be done to get there. Games like that really force you to take a look at those areas."
Twitter: @curtiszupke
---
Get the latest on L.A.'s teams in the daily Sports Report newsletter.
You may occasionally receive promotional content from the Los Angeles Times.