NHL accepts Seattle expansion application; Hurricanes sold but will stay in Carolina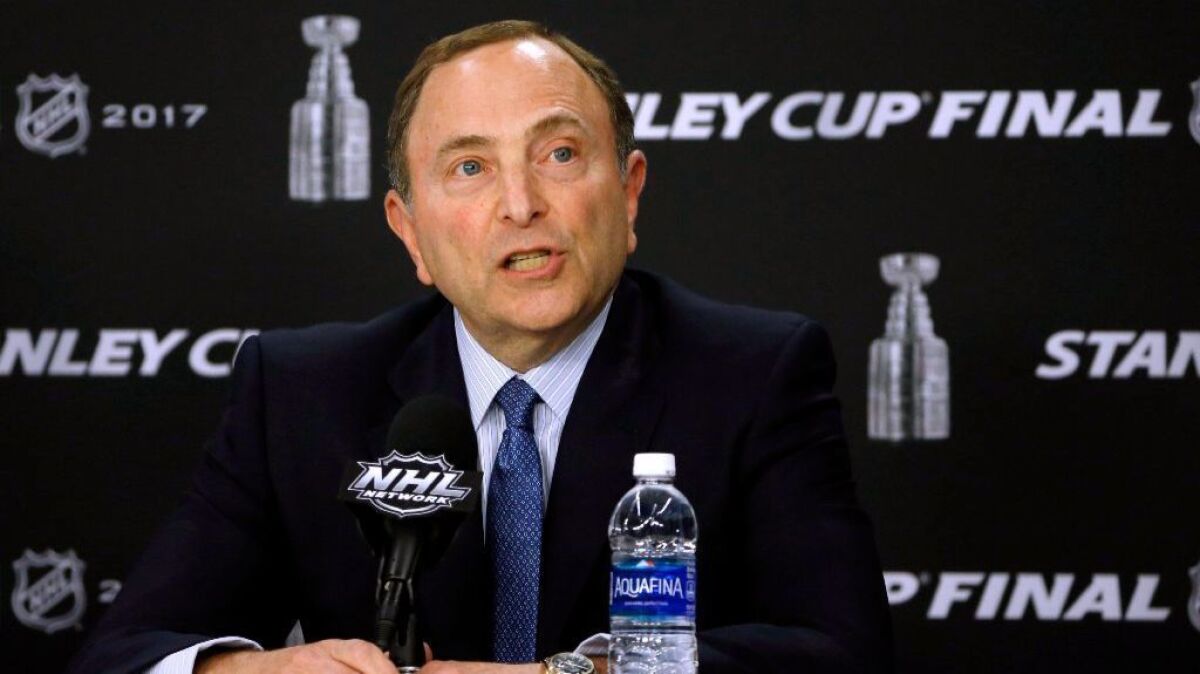 The NHL took a significant step toward expanding to 32 teams when Commissioner Gary Bettman said Thursday the league had agreed to consider an application from a group led by renowned film and TV producer Jerry Bruckheimer and investment banker David Bonderman to place a team in Seattle "and to let them run in the next few months a season ticket drive." Bettman said the expansion fee was set at $650 million, which is $150 million more than Vegas Golden Knights owner Bill Foley paid to establish a team in Las Vegas that made its debut this season.
"That doesn't mean we have granted an expansion team," Bettman told reporters after a Board of Governors meeting in Manalapan, Fla.
The process of allowing an application to be filed and measuring fan interest via potential ticket sales is the same the league carried out with the Golden Knights, who have been a success story on and off the ice in their first season. "We're a little familiar with the city, but the level of due diligence that we will do is something the expansion process contemplates," Bettman said of Seattle. "From everything I know viscerally I think it will be a good market. … But we've got homework to do."
Another team in the Western Conference would leave the league with 16 teams in each conference.
Bettman also said the Seattle group is the only one being allowed to begin the expansion process, a blow to fans in Quebec City, Canada, who lost the Nordiques to Colorado in 1995 and have hoped the NHL would return. However, Seattle does have a history with hockey: The Seattle Metropolitans of the Pacific Coast Hockey Assn. won the Stanley Cup in 1917, and the city hosted minor-league hockey for decades. The Seattle Thunderbirds play in the Western Hockey League.
Seattle's candidacy for an expansion team improved dramatically with a recent agreement between the city of Seattle and the Oak View Group to complete a $600-million renovation of Key Arena. The Oak View Group is headed by Tim Leiweke, a former executive of the Kings and their parent company, AEG. Key Arena was the home of the NBA's Seattle SuperSonics, who left for Oklahoma City in 2008. The renovated arena is not expected to open until 2020.
Seattle Mayor Jenny Durkan told the Seattle Times she expects a season-ticket drive will be launched after the holidays. "I think there's a lot of pent-up appetite here in Seattle for this, and so I think we can meet the benchmarks we need to meet," she said.
Separately, Bettman said the Carolina Hurricanes had entered into a purchase agreement to sell the majority interest in the franchise to Dallas-based businessman Tom Dundon, who would keep the team in Raleigh, N.C. Current owner Peter Karmanos, Jr., would keep an equity stake. "This is not a team that's being moved," Bettman said.
Club owners prefer expanding into potentially promising markets rather than relocating an existing team because owners split the expansion fees among themselves. The money isn't considered hockey-related revenue and so is not shared with players. Moving a team from a troubled market wouldn't produce an expansion fee.
Follow Helene Elliott on Twitter @helenenothelen
---
Get the latest on L.A.'s teams in the daily Sports Report newsletter.
You may occasionally receive promotional content from the Los Angeles Times.