NHL Commissioner Gary Bettman expects formal application for expansion team soon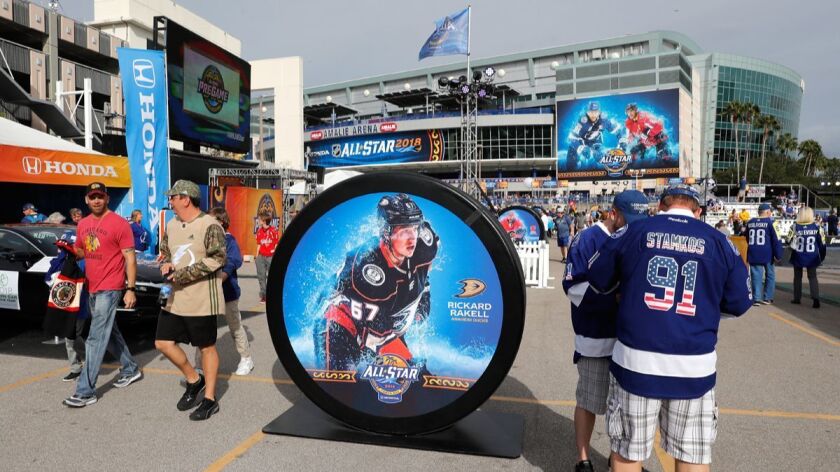 Reporting from TAMPA, Fla. —
The number of teams qualifying for the Stanley Cup playoffs would stay at 16 if the NHL admits a 32nd franchise, NHL Commissioner Gary Bettman said Saturday.
Bettman said he expects to soon receive a formal application from the Seattle-based Oak View Group, which is led by former Kings executive Tim Leiweke. Bettman wouldn't provide a timeline for the prospective team's debut but said he expects future applicants to seek the same favorable expansion rules the Vegas Golden Knights got last June. The Golden Knights lead the Western Conference with 68 points and trail league-leading Tampa Bay by three points.
On other topics, Bettman said on-ice officials will get a memo to guide them on reviews of goaltender interference.
"We've gotten to the point everybody is overthinking the review," he said. "Take a quick look, but don't search it to death."
Continuing the NHL's international push, the Edmonton Oilers and New Jersey Devils will open next season in Stockholm, Sweden, and the Winnipeg Jets and Florida Panthers will play two games in Finland in November. The NHL, which staged two exhibition games between the Kings and the Vancouver Canucks in China last September, will return for exhibitions, but the dates and cities have not been finalized. The teams are expected to be the Calgary Flames and Boston Bruins.
Also, the 2019 All-Star weekend will be held in San Jose.
George Parros, head of the NHL's Department of Player Safety, told the Board of Governors his decision to suspend Ducks winger Andrew Cogliano for two games — ending Cogliano's streak of 830 consecutive games — was difficult but correct because Cogliano's hit on Kings forward Adrian Kempe made "significant head contact" and was late. Cogliano's streak was the fourth-longest in NHL history. The record of 964 is held by Doug Jarvis.
Parros told NHL.com the hit wasn't comparable to Kings forward Dustin Brown's cross-check of Pittsburgh's Justin Schultz because Brown exerted less force than was exerted on other hits that were punished. Brown was fined $10,000.
Kings defenseman Drew Doughty, whose potential free agency in 2019 has spawned speculation he might leave, hopes to remain a King. They can offer him an extension starting on July 1.
"I truly never want to leave L.A.," he said. "I don't know if a lot of people think our future looks bright, but I think our future does as the L.A. Kings organization…. I think we're trending in the right direction and getting back to hopefully where we were a few years back."
This is the fourth All-Star selection for Doughty and teammate Anze Kopitar but the first for Ducks forward Rickard Rakell. "It's been a lot of fun so far. Just trying to take it all in as it comes," Rakell said. Doughty knows the feeling. "You come in those first couple of years and see all these big names and you kind of feel like you don't belong," Doughty said. "I guess that's the biggest difference because I kind of feel like I belong here."… Brian Boyle, a former member of the Lightning who is fighting chronic myeloid leukemia, was loudly cheered. Boyle, who has 11 goals and 17 points in 38 games, replaced injured teammate Taylor Hall…. Vegas goaltender Marc-Andre Fleury won the new Save Streak event by stopping 14 straight shots…. Edmonton's Connor McDavid won the fastest skater event, circling the rink in 13.454 seconds…. Washington's Alexander Ovechkin won the hardest shot, at 101.3 mph.
Follow Helene Elliott on Twitter @helenenothelen
---
Get the latest on L.A.'s teams in the daily Sports Report newsletter.
You may occasionally receive promotional content from the Los Angeles Times.