What we learned in the NHL: Mike Richards is off to a good start with Capitals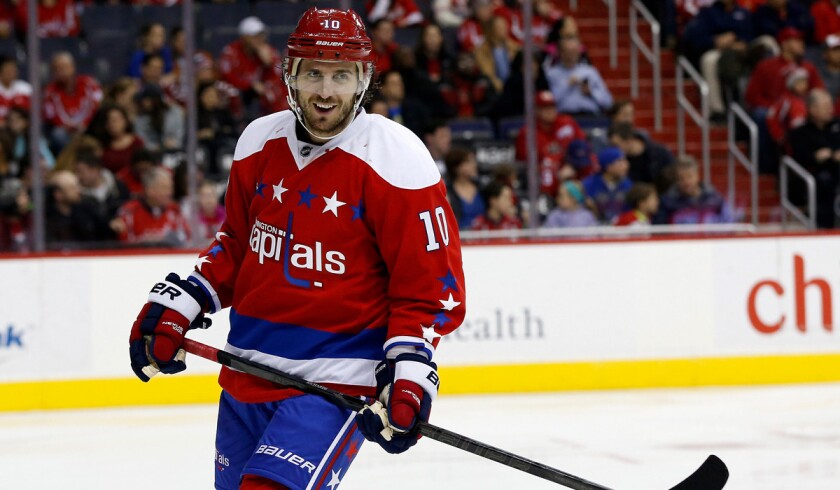 What we learned from the past week in the NHL:
•Mike Richards' return to the NHL has had a good start. Richards, who signed with the Washington Capitals after the Kings voided his contract and he became a free agent, played 13 minutes and one second Saturday as a fourth-line center in a 4-1 loss at Buffalo. The next day, he played 11:47 in a 5-2 victory over the New York Rangers and won 14 of 20 faceoffs. "When a guy who hasn't played for eight or nine months comes in and is one of your better players, that doesn't say much about us. Or we're saying a lot about Mike," Coach Barry Trotz told the Washington Post on Saturday. "He didn't look at all out of place."
•The Minnesota Wild has forgotten how to score — and how to win. The Wild has been shut out in its last two games, at home Friday by Winnipeg and Saturday at Nashville, to extend its losing streak to four and has scored only three goals in that span. One culprit in the Wild's woes: its power play, which is six for 63 (9.5%) on the road this season. And guess what the Wild has next: three straight road games, at Honda Center on Wednesday, at Staples Center on Thursday, and at San Jose on Saturday.
•The Tampa Bay Lightning, plagued by injuries most of the season, is getting players back and is getting on a roll. The Lightning stretched its winning streak to a season-high five games with a 3-1 victory over the suddenly slumping Florida Panthers on Sunday and moved up into the top three in the Atlantic Division.
•When you're hot, you're hot. Calgary Flames rookie forward Sam Bennett went 19 games without a goal but came alive to score six in his last three games, including four against Florida Wednesday. "He's a kid and he found the candy bag," Flames Coach Bob Hartley told the Calgary Sun. "He got one, got four and right now he's digging in." The Flames, who are outside a playoff spot, need all the candy they can get.
---
Get the latest on L.A.'s teams in the daily Sports Report newsletter.
You may occasionally receive promotional content from the Los Angeles Times.