Column: Penguins take 2-0 series lead over Predators in Stanley Cup Final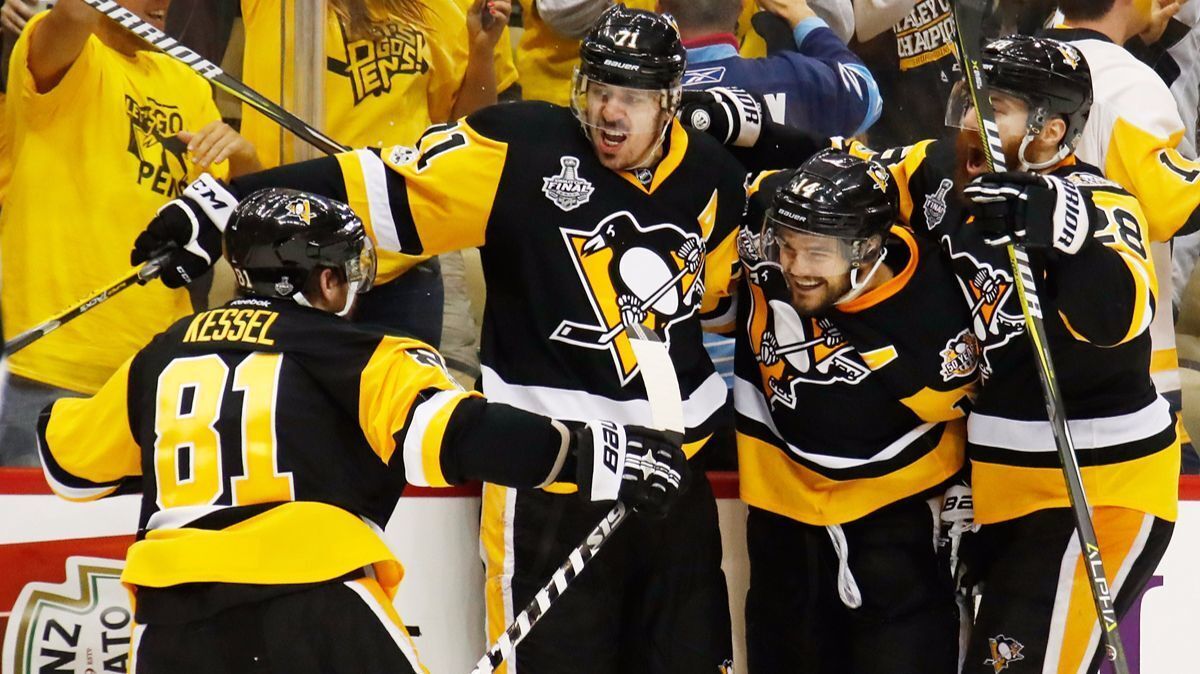 Reporting from pittsburgh —
Proving that the quality of their shots on goal matters more than the quantity, the Pittsburgh Penguins were outshot by the Nashville Predators for the second straight game to start the Stanley Cup Final. And for the second straight game the Penguins prevailed, taking flight toward a 4-1 victory when rookie Jake Guentzel ignited a third-period scoring spree that ended when previously impeccable Pekka Rinne was removed from the Predators' net in order to preserve what remained of his dignity.
Guentzel recorded his second goal of the game and playoff-leading 12th when he converted a rebound to give the Penguins a 2-1 lead 10 seconds into the final period, Scott Wilson was credited with a deflection at 3:13 after Phil Kessel put the puck into the slot, and postseason scoring leader Evgeni Malkin beat Rinne with a wicked shot high to the goalie's glove side on a two-on-one at 3:28. That triggered roars and chants of "We want the Cup!" from fans at PPG Paints Arena. Two more Penguins wins and those fans will get their wish.
"It's fun. We're excited. It's always fun to score," Malkin said of the outburst. "We have emotions to keep going. We score one, we don't stop. We want to score more. Our game is never stop."
So far, the Predators haven't been able to make them stop.
"When we come with that kind of hunger and come out with those shifts and start building on it, that's when we become a really good team," veteran Penguins center Matt Cullen said. "Getting that goal early in the third was big, but we need to continue to work to get that earlier in the game and sustain it throughout the game.
"You get that big early goal and guys want to hop over the boards and get that next one."
Rinne, who played exceptionally well to lead the Predators past the Chicago Blackhawks, St. Louis Blues and the Ducks and to the Western Conference title, has given up eight goals on 36 shots in the Final. He was replaced by backup Juuse Saros after yielding Malkin's goal, and coach Peter Laviolette wouldn't commit to starting Rinne in Game 3 on Saturday at Bridgestone Arena.
"Pekka has been terrific through this entire playoffs," Laviolette said. "I think there's things we can do better. All three goals in the third period, we could have done something better. We're leaving them odd-man rushes. I believe all of them were odd. Three-on-twos and two-on-ones makes it more difficult."
The Penguins, held to 12 shots in their 5-3 victory in Game 1, launched 27 shots at Rinne and Saros.
Nashville scored on only one of its 38 shots at Penguins goalie Matt Murray, getting the first goal of the game when Pontus Aberg danced around Pittsburgh defenseman Olli Maatta and patiently waited before lifting a forehand into the net at 12:57 of the first period.
The Penguins matched that at 16:36, when Guentzel somehow squeezed the puck between Rinne's left arm and the goalie's body. After a scoreless second period, the Penguins took control in the third and seemed to score at will.
"I don't know about that, but you certainly want to test their goalies," Pittsburgh defenseman Ian Cole said. "Any time you can put pucks on the net it's a good thing. They're certainly doing it from everywhere. They're running the shot totals up."
That doesn't matter because Guentzel is running up the Penguins' scoring totals. He has scored the winning goal in each of the first two games of the Final and his 12 goals are the second-highest total by a rookie in a playoff season and the most by an American-born rookie. His 19 points is also the highest playoff total by an American-born rookie.
Canadian Dino Ciccarelli set the rookie goals record by scoring 14 for Minnesota in 1981.
"It's crazy. You can't even put into words what it feels like," said Guentzel, a native of Omaha. "We know the ultimate goal is two more wins. Obviously, they're going to be tough to get."
The Predators, who hadn't lost two straight playoff games this spring until the Final, hope to feed off the enthusiasm of their fans in Game 3.
"We're going back home, we're going to win the next game and we'll see what happens from there," said Predators defenseman P.K. Subban, who got into a third-period fight with Malkin.
If the Penguins again get so many quality scoring chances, it won't matter if they're outshot again.
"We haven't seen our best game yet," Cullen said, "and we need to continue going in that direction."
All signs point to that direction being toward a second straight Stanley Cup championship.
Follow Helene Elliott on Twitter @helenenothelen
Get the latest on L.A.'s teams in the daily Sports Report newsletter.
You may occasionally receive promotional content from the Los Angeles Times.