NHL fines Ryan Getzlaf, who says inappropriate remark during Game 4 was not directed at referee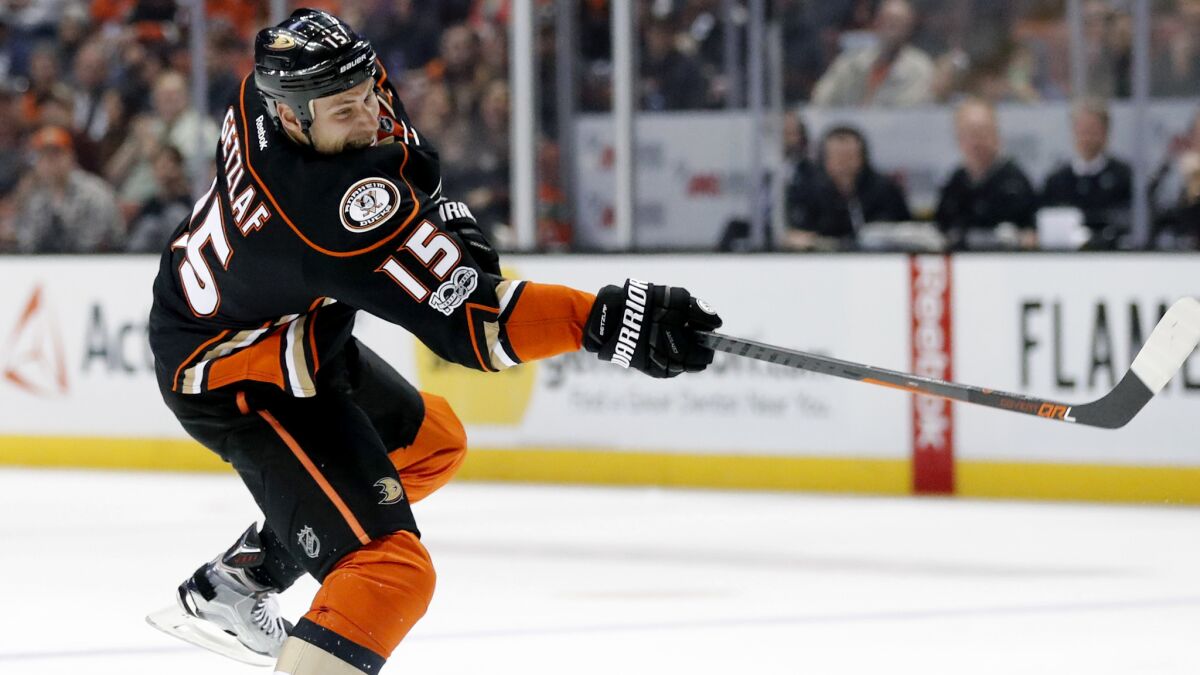 Ducks captain Ryan Getzlaf was fined $10,000 by the NHL "for directing an inappropriate remark toward another on-ice participant" in Game 4 of the Western Conference finals against the Nashville Predators, the league said Saturday. That's the maximum fine allowed under the collective bargaining agreement between the league and the NHL Players' Assn.
It's been reported that Getzlaf said a homophobic slur to a referee, although he said his remarks were not directed at anyone in particular and he did not admit using a slur.
"Obviously, a situation like that, where I'm on the bench by myself, frustration set in," Getzlaf said after the Game 5 loss to the Predators. "There was obviously some words said, not necessarily directed at anyone in particular. It was just kind of a comment. I've got to be a little bit more responsible with the words I choose.
"Definitely as a father, as somebody that takes a lot of pride in this game and the respect for it. … it's tough to see somebody refer to it as what TSN did [as homophobic]. I didn't mean it in that manner in any way. For that to take that route was very disappointing for me. I do accept responsibility and I accept the fine. We talked to the league and I understand that it's my responsibility to not use vulgar language. Period. Whether it's a swear word or whatever it is. We've got to be a little bit more respectful of the game, and that's up to me. I accept that responsibility and we'll move forward."
Getzlaf violated an NHL policy that prohibits inappropriate and offensive remarks and the use of obscene, profane or abusive language or gestures in the game.
"Getzlaf's comment in Thursday's game, particularly as directed to another individual on the ice, was inappropriately demeaning and disrespectful and crossed the line into behavior that we deem unacceptable," Colin Campbell, the NHL's senior executive vice president of hockey operations, said in a statement. "The type of language chosen and utilized in this instance will not be tolerated in the National Hockey League."
The NHL, teams and players have worked with the You Can Play project, which promotes equality, respect and safety for all athletes regardless of sexual orientation and/or gender identity. A year ago, the NHL suspended Chicago Blackhawks forward Andrew Shaw for one game for uttering a homophobic slur to an official. "Words matter and Ryan Getzlaf's words are offensive," You Can Play said in a statement. "No language considered homophobic belongs in sports. It's not the language of role models. This is yet another opportunity to educate athletes, teams and fans."
No comment
Nashville coach Peter Laviolette did not comment on the specifics of Ryan Johansen's season-ending thigh injury that required emergency surgery after Game 4.
Johansen was the Predators' leading scorer and formed a dynamic top line with Viktor Arvidsson and Filip Forsberg, in addition to his contentious matchup against Ryan Kesler.
"Obviously, we're going to miss him," Predators defenseman Mattias Ekholm said before the game. "He was a big part of our team and it's a tough break for him. But we got depth in our roster. In the first two series we use a lot of guys up front. And the same guys know how to step in and do a good job. So we're confident in our group."
It was unclear when Johansen was injured but video replays showed that Ducks defenseman Josh Manson hit him at the boards in the second period.
"That was the one that they showed, and to be honest with you, I didn't even know that I had done anything," Manson said. "I didn't know until I saw it on video, to be honest. I didn't feel I caught him any differently than I have any other time I've gone to go hit a guy."
Ducks wing Jared Boll, a teammate of Johansen's with the Columbus Blue Jackets, said it was unfortunate. "It just kind of sucks for him because he's a good player and a huge part of that team," Boll said. "But it's part of the game."
Etc.
Ducks right wing Patrick Eaves skated on his own Saturday as he recovers from a foot injury he suffered in Game 2 against the Edmonton Oilers in the second round. "He's testing it, and obviously that's a good sign when we have players on the ice," coach Randy Carlyle said. "It means he's one step closer to joining our lineup."
---
UPDATES:
8:05 p.m.: This article has been updated with information regarding Ryan Getzlaf's fine as well as other news from the playoff series.
This article was originally published at 11:55 a.m.
---
Get the latest on L.A.'s teams in the daily Sports Report newsletter.
You may occasionally receive promotional content from the Los Angeles Times.