Ducks' Getzlaf, Kesler take steps forward in returning from their injuries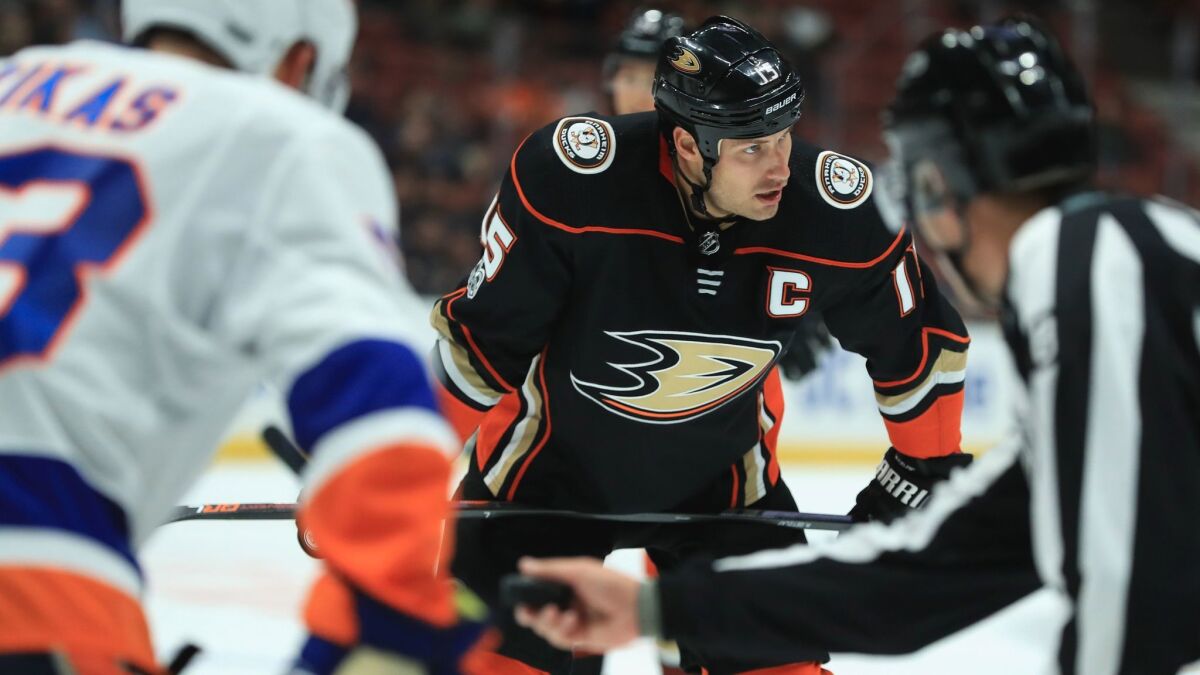 Ryan Kesler, who has not played this season because he's recovering from extensive hip surgery, and Ryan Getzlaf, who has been limited to six games because of injuries, participated in the Ducks' morning skate Friday at Honda Center, a happy occasion for the two veteran centers and for a team that has been beset by injuries all season.
Kesler said that the timetable for his return remains uncertain and that he won't play before Christmas. But Getzlaf, who started the season with an upper-body injury and had to undergo facial surgery after he was hit by a puck on Oct. 29, is close enough to returning that he's scheduled to accompany the team when it departs next week for a six-game trip.
"I'd play tonight if they let me. I feel good," Getzlaf said after his teammates prepared for Friday's game against the Minnesota Wild. "There's obviously going to be some bumps and bruises and things to build through when you come back off a layoff like this, but you can't really do that until you're in a game. I can do anything I want out here. Once you get in a game, things are different and the minutes and stuff add up. I'll just do my best to prepare and be ready to go when they say I can."
Getzlaf, who was told he might miss up to eight weeks after the surgery, has been told he must wear a visor when he returns. He was among the shrinking number of players who don't wear the protective gear. The NHL and NHL Players' Assn. agreed in 2013 to make visors mandatory for anyone with less than 26 games' experience starting in the 2013-14 season, but those who entered the league before then were permitted to play without visors. More than 90% of NHL players wear them now.
"I'm going to have to for a little while, for sure," Getzlaf said of adopting a visor. "That was part of the stipulation of me being able to come back as early as I am going to be. I don't have any choices right now."
He also said the practice went well. He and Kesler were joined on the ice by injured right wing Jakob Silfverberg — who will be a game-time decision Friday — and forward Jared Boll (lower-body injury).
"It was good. One thing that you can't really emulate on your own is that camaraderie with the group and able to kind of skate and push at the level the guys are practicing at," Getzlaf said. "It's been a good last couple of weeks here. I had two weeks where I couldn't do anything, so it was really, really boring. It was nice to get back on the ice and skating again, and I felt pretty good."
Kesler called his participation in the morning skate "another milestone" but cautioned that he is not close to being able to play. He also said he doesn't have a target date for his return, but added that it won't be before Christmas.
"It's always fun getting back with the guys and skating with them. And for me it's a huge step," he said. "I still have a long ways to go. We'll see. Every day is a challenge. Every day I still push myself to the breaking point, and I'm trying to get back as fast as possible. It's just not moving as fast as I'd like. But it is moving."
Merely seeing them on the ice was a boost for their teammates.
"It's tough how we've started the year with injuries and stuff like that, but now that you see the guys back on the ice, having some laughs, they're key players on our team. They're leaders," defenseman Brandon Montour said. "So it's a huge bonus having them back."
Forward Nick Ritchie agreed. "It's great to see we're getting guys coming back and skating with the team again," he said. "Players of that magnitude, they're extra special, and hopefully they can rejoin us as soon as possible."
The Ducks entered Friday's game in sixth place in the Pacific division. "We're treading water; we're playing some good games here and there. Consistency hasn't been where we want it to be as a group," Getzlaf said. "We have expectations for this group and that doesn't change based on our personnel. They've been battling hard and working to keep this team going."
---
Get the latest on L.A.'s teams in the daily Sports Report newsletter.
You may occasionally receive promotional content from the Los Angeles Times.