Steven Manfro turned in his UCLA football uniform for an LAPD uniform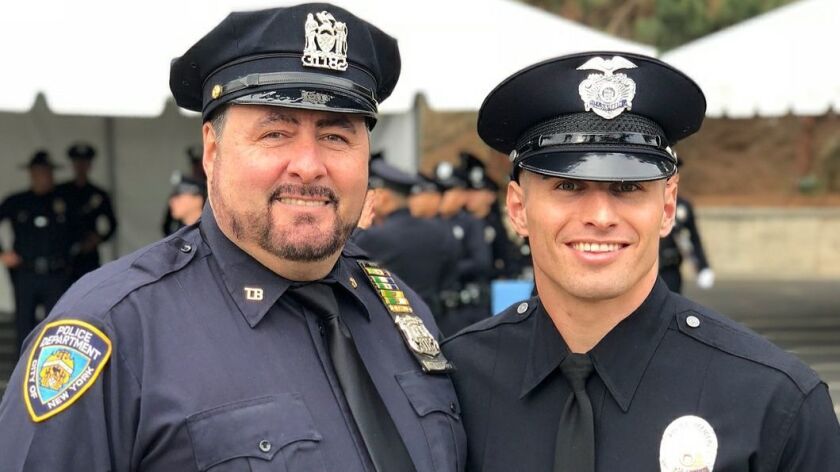 The Los Angeles Police Department has a rookie cop you shouldn't even try to run away from. He used to run 40 yards in 4.41 seconds as a running back and a slot receiver at UCLA.
Steven Manfro begins his LAPD career Tuesday, his 25th birthday. Working in law enforcement is in his blood.
His grandfather was a New York State court officer captain. His father spent 17 years working as an NYPD transit officer, until an illness caused by exposure at the World Trade Center after 9-11 forced him to retire.
"He's very proud," Steven said of his father. "I keep following in his footsteps. Originally, he didn't want me to because of the struggles he's faced and all the things he's seen. The more and more I pushed, the more and more he was going to support me."
On Friday, for the first time since Dec. 31, 2002, Marc Manfro put on his NYPD uniform — to celebrate his son's graduation from the LAPD academy. He watched Steven receive the William H. Parker Award for being the No. 1 recruit in his class.
Steven retired from football in April 2016 because of a shoulder injury that required three surgeries. He also suffered a torn knee ligament.
Those setbacks didn't stop him from contributing to the football team or graduating from UCLA with a double major in political science and history.
He believes playing football at Valencia High and UCLA helped prepare him for being a police officer.
"You never know what to expect," he said of his new job. "That's what I liked about football. There's a lot of struggles. You're physically fit. It's a brotherhood, and we have each other's backs all the time. I couldn't imagine myself sitting at a desk doing the same thing over and over."
His father moved the family to Valencia after retiring from the NYPD at the end of 2002. It took him years to regain his health, but he went into private security, becoming a bodyguard for celebrities. Now he's trying to offer insights to his son.
"The police business is quite complicated," he said. "Each generation has their hardships to deal with. I became a cop during the 1980s just as the crack epidemic struck."
He remembers his first day.
"I found a car being stolen," Marc said. "Had my first arrest on the way going to my first precinct locker."
Steven will spend a year on probation, learning to be a patrol officer. He's already creating excitement among officers who play for the LAPD's Centurions football team. One day he might join the team, but for now his focus is on his new job.
"I'm just open to learn," he said. "I want to be the best police officer I can be."
He said playing football with teammates from a variety of different backgrounds and neighborhoods has provided great preparation for community outreach.
"It was a great learning experience,'' he said. "I think it will help because the community in Los Angeles is very diverse."
Manfro is not the first former UCLA athlete to go into law enforcement. Former basketball player Trevor Wilson joined the LAPD and former women's basketball player Anita Ortega rose to captain in the LAPD.
Valencia football coach Larry Muir said Manfro is perfectly suited for the profession.
"It's just awesome," he said. "I'm incredibly proud. … It's in his DNA."
Follow Eric Sondheimer Twitter @latsondheimer
---
Get the latest on L.A.'s teams in the daily Sports Report newsletter.
You may occasionally receive promotional content from the Los Angeles Times.