NHL: Predators' Austin Watson suspended 27 games for domestic abuse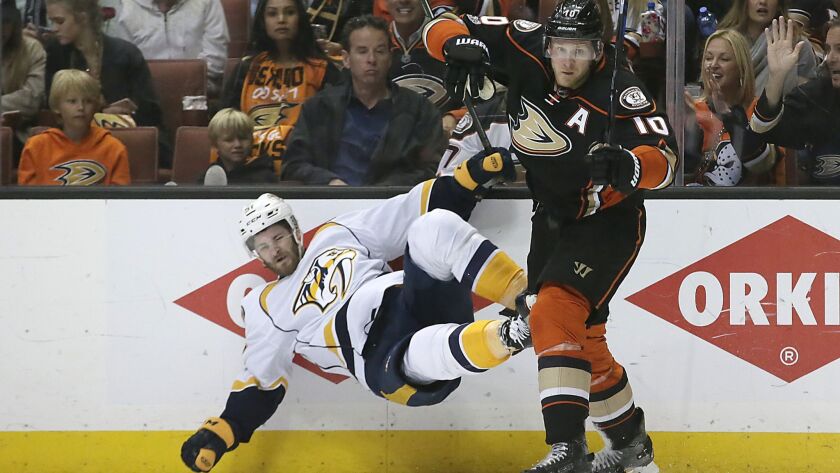 Predators forward Austin Watson has been suspended without pay for the entire preseason and first 27 games of the regular season for domestic abuse.
Commissioner Gary Bettman handed down the suspension Wednesday after an investigation and a hearing with Watson last week. Watson pleaded no contest in July to a charge of domestic assault stemming from an incident in June, and the NHL found Watson engaged in unacceptable off-ice conduct.
"I have determined that Nashville Player Austin Watson engaged in a physical confrontation with his domestic partner," Bettman said in a statement. "Today's ruling, while tailored to the specific facts of this case and the individuals involved, is necessary and consistent with the NHL's strongly held view that it cannot and will not tolerate this and similar types of conduct."
The NHL does not have a written domestic abuse policy and has chosen to judge each incident separately. Slava Voynov is currently still suspended indefinitely for a 2014 incident.
The NHL Players Association announced Wednesday night that it will be filing an appeal on Watson's behalf.
Watson, 26, was charged in an incident June 16 with his girlfriend after a witness flagged down a police officer to a gas station in Franklin, Tennessee. Watson told police he and his girlfriend were arguing and that he pushed her. Officers said they found red marks on her chest, and she said Watson caused them. Watson pleaded no contest to domestic assault on July 24 .
The Nashville Predators issued a statement that the team supported and worked closely with the league investigation into Watson. The franchise also reiterated its support for AMEND, a program designed to teach men and boys how to help end violence against women and children.
"During his suspension, we wish Austin, Jenn and their baby the best as they take the necessary steps to move forward, with the support of the Nashville Predators, the NHL, the NHLPA, and all the collective resources they can provide," the Predators said. "Our commitment to AMEND is the same today as it was when we partnered six years ago with the mission of making Nashville the safest city for girls and women."
The Predators won the President's Trophy last season with Watson scoring 14 goals and adding five assists, and he tied for fifth in scoring in the postseason with eight points in 13 games as Nashville lost the Western Conference semifinals to Winnipeg in seven games. Watson was a first-round draft pick in 2010 by Nashville at No. 18 overall.
Watson now would be eligible to return Dec. 3 when Nashville hosts Buffalo, the Predators' 28th game of the season.
Blues goalie Jake Allen out 10-14 days with back spasms
Blues goaltender Jake Allen is expected to miss the first week or more of training camp because of back spasms.
General manager Doug Armstrong announced Allen's injury Wednesday on the eve of camp. Allen is out at least 10-14 days, which would put him in position to return for the end of the preseason and be ready for the start of the regular season.
St. Louis signed veteran Chad Johnson during the offseason to replace Carter Hutton as Allen's backup. Allen, 28, had a 2.75 goals-against average and .906 save percentage splitting time with Hutton last season.
The Blues also re-signed restricted free agent defenseman Jordan Schmaltz to a $1.4 million, two-year contract. They also said forward prospect Erik Foley is out indefinitely with a concussion and goaltending prospect Luke Opilka is out indefinitely after hip surgery.
Blue Jackets sign Tortorella to 2-year contract extension
The Columbus Blue Jackets have given coach John Tortorella a two-year contract extension.
The team announced Wednesday that Tortorella, who has led the Blue Jackets to the playoffs in his first two full seasons, has been signed through the 2020-21 season. Financial terms weren't disclosed.
The 60-year-old Tortorella is the franchise's all-time leader in wins, guiding Columbus to a 129-87-23 record since being named coach in October 2015. His current $2 million-a-year contract runs through this season.
He won the Jack Adams Trophy as the NHL's coach of the year after Columbus posted the best record in franchise history with a 50-24-8 mark in 2016-17.
Tortorella has compiled a 575-462-138 record (.548) in 1,175 games as coach of four different teams.
He won a Stanley Cup with the Tampa Bay Lightning in 2003-04. He also coached the New York Rangers and Vancouver Canucks.
---
Get the latest on L.A.'s teams in the daily Sports Report newsletter.
You may occasionally receive promotional content from the Los Angeles Times.