What we learned in the NHL last week: Rough times in Anaheim call for some changes with Ducks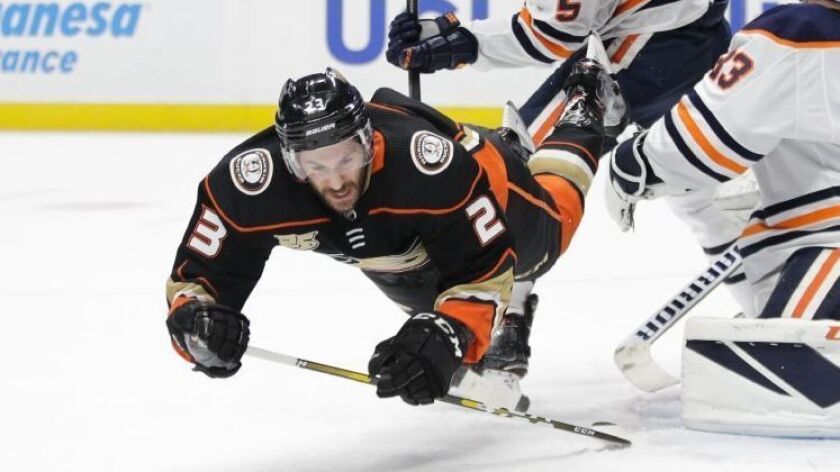 What we learned from the last week of play in the NHL:
The Ducks need changes. Or help. Or both.
Their slump reached 0-6-2 on Sunday and they're barely clinging to a playoff spot. They ranked 30th in goals per game at 2.35 through Sunday's action and their top scorer, Ryan Getzlaf, stood 96th in the league with 29 points. But it's virtually certain general manager Bob Murray, who last month got a two-year extension through the 2021-22 season, won't lose his job. Murray doesn't want to dismiss or displace coach Randy Carlyle, who's under contract through this season and has an option for next season, but it's time for a new voice.
The only reason they're still contending for a playoff spot is the dramatic drop in quality of Pacific Division teams after Calgary, Vegas and San Jose. Getzlaf said the team's woes aren't limited to one factor. "If there is one issue, it's a lot easier to fix," he said after they were shut out by Edmonton on Sunday.
"It's a matter of just buckling down, getting in a groove here again and playing the right way shift in, shift out. There are small areas of the game we're making mistakes all the time. When they're repeated mistakes, that's when it hurts you."
Murray has wanted to wait for injured players to return before he evaluates the team, but he should have a solid sense of the team's offensive failings by now. This season can still be salvaged but Murray, who is saddled with several fat contracts that outlasted players' productive years, will have to make a significant move soon.
Scoring is up
The NHL schedule passed the halfway point Saturday and glory be: The number of goals per game was up compared to the same point last season and to the final average last season. According to the Elias Sports Bureau, teams scored 3,848 goals in the first 635 games, a number that excludes shootout-deciding goals. That's an average of 6.06 goals per game, up from 5.80 at the midpoint of last season and the final total of 5.86 goals per game.
According to the NHL, there were 285 comeback victories, the highest total through 635 games in league history. Also, 25 players had reached the 20-goal mark this season; the last season in which there were as many 20-goal scorers through the first 644 games was 1996-97, when 30 players had reached 20. One more intriguing stat: 75.3% of goals were scored at even strength (2,927), the highest rate at this stage of a season since 1979-80 (76.1%; 3,381 of 4,439).
It's time to overhaul the All-Star game
Alexander Ovechkin, the NHL's top goal scorer and one of its marquee players, said last week he will skip the All-Star game in San Jose so he can rest for the second half of the Washington Capitals' season. It's tough to blame him for deciding to forgo a cross-country trip that would be followed by a couple of shots in the skills competition and a few minutes in a three-on-three mini-game. Montreal goaltender Carey Price also decided to pass up the honor.
"Carey has had a nagging injury for some time, and we want to make sure to have him healthy and rested for the second half of the season," Canadiens general manager Marc Bergevin said in a statement released Monday.
It wouldn't be surprising to see other players withdraw before the Jan. 26 game. No-hit, three-on-three games don't represent the sport. In the interest of promoting hockey, how about scrapping the All-Star game and instead requiring each team to set up a weekend of skills contests/clinics in their respective cities, with players joining kids from local youth teams? That would grow the game and strengthen community bonds.
The All-Star coaches, incidentally, will be Tampa Bay's Jon Cooper (Atlantic Division), Winnipeg's Paul Maurice (Central), Washington's Todd Reirden (Metropolitan) and Calgary's Bill Peters (Pacific). Their teams had the highest points percentage in each division at the halfway point. Voting for what the NHL is calling the "Last Men In" opened Sunday, and fans will choose one player to be added to the roster of each division.
Henrik Lundqvist deserves better
The New York Rangers' stalwart goalie has been pulled from two straight games, a rare occurrence in his distinguished career. He's not as dominant as he once was but he's also being abandoned on a regular basis, as happened in the Rangers' 5-0 loss to the Coyotes at Arizona on Sunday. They've lost three straight games and seven of their last 10.
"Right now, we're a team that does not have a lot of confidence, I can tell you that much," forward Mats Zuccarello told the New York Post.
First-year coach David Quinn's team hit the halfway point of its schedule well out of a playoff spot and with little hope of making up that ground.
---
Get the latest on L.A.'s teams in the daily Sports Report newsletter.
You may occasionally receive promotional content from the Los Angeles Times.