NHL expansion team in Seattle begins to form its foundation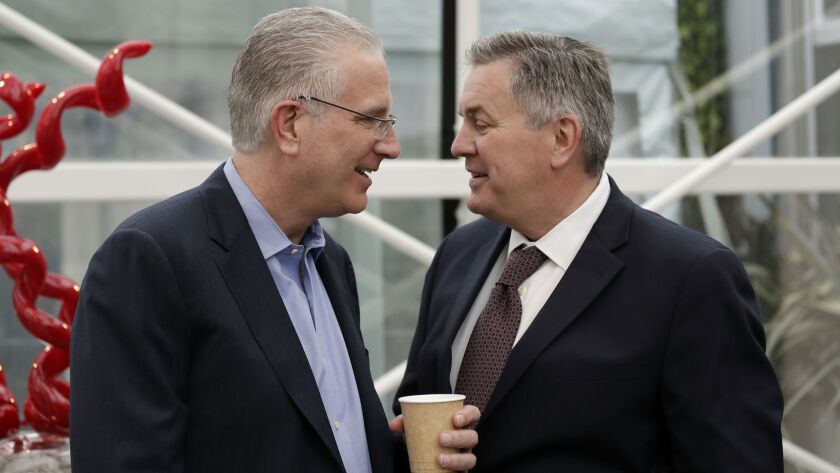 Reporting from Vancouver, Canada —
No, the new NHL team in Seattle does not have a name or colors yet, but everything else is going swimmingly.
Tod Leiweke, president and chief executive officer of Seattle, and Jerry Bruckheimer, film producer and principal owner, were brimming with optimism when they spoke publicly before the NHL draft at Rogers Arena.
Seattle will join the NHL in the 2021-22 season and is taking baby steps toward its identity, starting with the nickname, which occupies most fans' interest.
"It's something people ask a lot about," Leiweke said. "We're deliberate about it, but again, there's not a sense of urgency. We want to get it right.
"Part of it is, the longer we're going as an enterprise, the more we know what we stand for, and the more we know what we don't stand for. And it's really helping inform that. I think, as anxious as people are to have us wear a name on our chest, taking our time is going to serve us well."
Leiweke called the team's new arena "spectacular." Demolition work has begun on the interior, and the lower bowl will be set 15 feet deep.
"It's a very tight bowl," Bruckheimer said. "It's going to be loud. … The size is phenomenal for hockey presentation. It's going to be a great arena for music, for events. … It's going to be one of the best [arenas] in the world."
Sign up for our daily sports newsletter »
Leiweke and Bruckheimer each have connections to the Kings. Leiweke is the younger brother of Tim Leiweke, formerly the president and CEO of Anschutz Entertainment Group, owner of the Kings. Bruckheimer is based in L.A. and plays recreational hockey at the Kings' practice facility in El Segundo, sometimes with NHL players in the summer, such as P.K. Subban.
"We have a lot of great pros come to that game," Bruckheimer said. "[We play at] 6:15 on Sunday nights."
Seattle will look to hire a general manager this summer, Tod Leiweke said, and will expand upon its current 40-person staff, including various hockey operations personnel. The team won't take shape until the 2021 expansion draft, when it will select from unprotected players of other teams, like the Vegas Golden Knights.
Vegas made the Stanley Cup Final in its inaugural season. Leiweke said he was taking a long view of immediate success but didn't mind taking a cue from the Golden Knights.
"I think Las Vegas has done a remarkable job," Leiweke said. "We're going to be our own unique franchise. We're going to have our own unique executives who are going to be proud, who are going to chart the course. I hope we're really competitive that first year [and] long term."
Twitter: @curtiszupke
---
Get the latest on L.A.'s teams in the daily Sports Report newsletter.
You may occasionally receive promotional content from the Los Angeles Times.