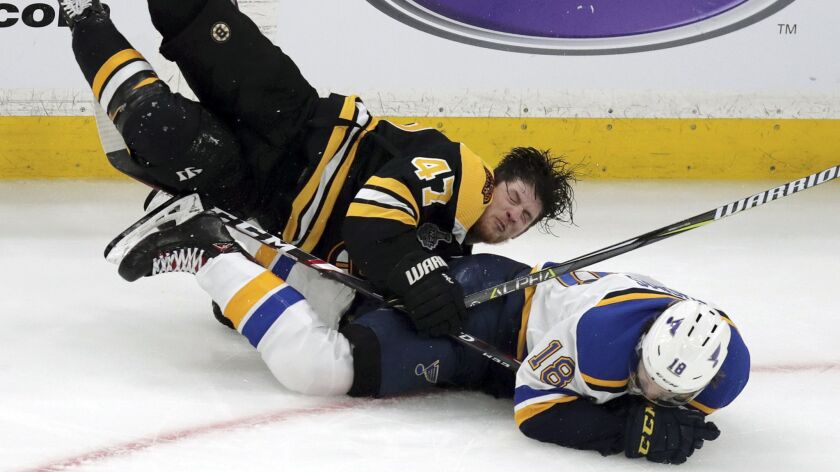 Reporting from Boston —
Greetings from Boston, where puck drop for Game 2 of the Stanley Cup Final between the Bruins and the St. Louis Blues at TD Garden is scheduled for 8:20 p.m. Eastern (7:20 in St. Louis, 6:20 Mountain time and 5:20 p.m. Pacific). The Bruins rallied to win the opener 4-2 on Monday and extend their winning streak to eight, putting the Blues in position of needing to win on Wednesday in order to even things up before the series moves to Enterprise Center in St. Louis on Saturday.
Blues Coach Craig Berube, speaking after his team's morning skate on Wednesday, said forward Robert Thomas won't play in Game 2 because of an undisclosed injury. However, Berube said the injury had "nothing to do with the hit" that Thomas took in Game 1 from Bruins defenseman Torey Krug. Thomas has been managing a prior injury.
Berube also said defenseman Vince Dunn will miss a sixth straight game as the result of injuries Dunn suffered when he took a puck to the mouth during Game 3 of the Blues' Western conference final series against San Jose. Berube said he made the decision Tuesday to take Thomas out of the lineup but wouldn't say whether forward Robby Fabbri would replace Thomas, as seems a likely choice.
Asked what the Blues must do to improve in Game 2, Berube was succinct. "Manage the puck a lot better," he said. "We had a good first period. We were tight, connected. But the second period we got loose, not supporting the puck enough, just turning it over in the wrong areas. Really fueled their momentum. And the penalties, for sure, too. We've got to clear up the penalties. We can't take five penalties in a game."
Bruins coach Bruce Cassidy made a crucial matchup adjustment during Game 1 when he moved his top line, which is centered by Patrice Bergeron, away from the Blues' top line, which is centered by Brayden Schenn. That proved a key decision when the Bruins' fourth line, led by Sean Kuraly, silenced Schenn after the former Kings first-round pick had helped the Blues build a 2-0 lead. But Cassidy said after the Bruins' morning skate on Wednesday that he might try the Bergeron-Schenn matchup again in Game 2.
"We'll probably go back to it at some point, whether we start that way or not. It's what we've typically done all year," Cassidy said. "Bergy's going to get a hard matchup. What I mean by hard is not hard all game but who we feel on the other team is the biggest threat, or one of the biggest threats. I thought they weren't bad. I just thought they just turned a couple pucks over against that line. No disrespect to the other lines but it's like Bergy's line, if teams don't manage the puck against them, they're going to make you pay. They made us pay, so we just went a different direction.
"Kuraly tends to play a straight-line game, a little more physical. So we thought that might be a better fit. … I didn't think [Bergeron, David Krejci and Brad Marchand] were that bad. As the game went on they got some looks. They had a real good chance out of the gate on a faceoff play. We just didn't manage some pucks and allowed them some point-blank chances and that's dangerous."
Cassidy also said he doesn't expect the Blues to go after Krug in retaliation for the Game 1 hit. "They're a pretty honest team," Cassidy said. "If Torey's in a bad spot or puts himself in a bad spot, they're going to hit him. I think that's what's going to happen."
Krug's hit drew a lot of attention, especially — but not only — because his helmet had come off during a previous wrestling match with Blues forward David Perron in the Bruins' zone. It was a clean hit, one that sent him flying after he made contact with Thomas. His acrobatics drew unwarranted comparisons to Bobby Orr's flight through the air after scoring the Cup-winning goal against the Blues in 1970, and Krug had the grace to downplay the notion that his feats were equal to Orr's.
"Pretty ridiculous," he said. "I can't even come up with words. I think it's ridiculous but hopefully it turns out to be something we remember for a long time." He also said he got a lot of texts after the video of the hit went viral, but he has been staying away from social media and hasn't seen comments on the hit. "It's pretty cool, but eyes on the prize right now."
---