Kings outduel Oilers' Connor McDavid, Leon Draisaitl in rout
Todd McLellan would rather not remember his first time coaching against the NHL's arguably most dynamic duo.
The Edmonton Oilers coach for most of the previous four seasons, McLellan helped cultivate the coming-of-age for Connor McDavid and Leon Draisaitl, the NHL's two leading scorers by a wide margin this season. In his first game coaching the Kings this October, McLellan found out how little fun it can be facing the two, who combined for six points in the Kings' season-opening loss in Edmonton.
"They're a pair that, you can't give them anything," McLellan said this week. "Because they'll take advantage of it — and that's impossible."
Thursday night was a different experience. Exactly one year and one day removed from his firing in Edmonton, McLellan and the Kings knocked off his old team 5-1 at Staples Center by following a simple, unexpected formula: Their top lines outdueled Edmonton's usually unstoppable pair.
"Complete team win," McLellan called it. "Something we're happy about. You can see progress."
The Kings are grooming what they hope is part of their future roster in the American Hockey League. They're avoiding the temptation of rushing prospects to the NHL.
Added Draisaitl: "I think they played well and we played really bad, especially our line. We weren't ready off the start, so that's on us."
Indeed, McDavid and Draisaitl picked the puck out of their net early and often Thursday night, matching their season-worsts with minus-two and minus-three ratings, respectively.
On their first shift, Kings winger Tyler Toffoli buried a wrist shot high on Oilers' goalie Mike Smith's glove side. Later in the first, their line got pinned in their own end, leading to a one-timer that Anze Kopitar blasted into the upper corner. With 2.5 seconds left in the opening frame, the Kings struck against McDavid and Draisaitl again, with Jeff Carter whacking home a rebound spilled by Smith, who was pulled after stopping just nine of 12 shots in the opening period.
McDavid momentarily responded by beating Kings goalie Jonathan Quick — who earned his fourth-straight win with a 25-save effort — on a breakaway 38 seconds into the second. But after that, the Kings stiffened again. A combination of Kopitar's line, Carter's line, and even the young trio of Blake Lizotte, Austin Wagner and Adrian Kempe kept the Oilers' explosive duet off the scoresheet the rest of the night.
"That was huge," said Doughty, often tasked with stopping McDavid on defense. "We had two really good shifts after [McDavid's goal]. I remember Todd saying something about it on the bench. We came out hard, we attacked, we got some chances."
Kings' fourth-line center Michael Amadio tacked onto the lead late in the second before the Kings' power-play, on its sixth opportunity, finally broke through in the third with Toffoli's second goal. Toffoli, Carter and Doughty all finished with three points.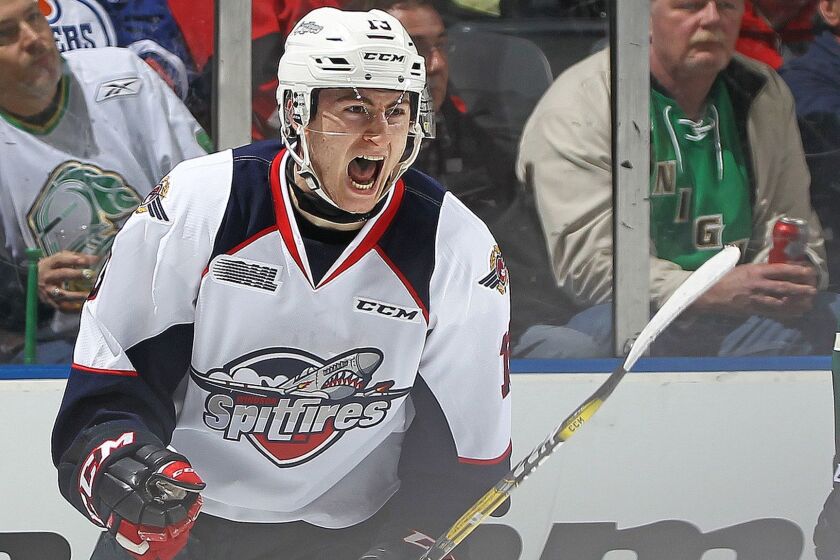 The former 11th overall pick by the Kings, Gabe Vilardi, appeared in just four games last season with the Reign before he losing his season to an injury. Now, he's ready to play.
"I thought we were pretty good the whole way through," Doughty said. "We haven't done that too much this season. … To beat them pretty handily, that's huge for us."
Thursday's win was the Kings' fifth straight on home ice (their longest-such streak since the end of the 2017-18 season) and pulled them within seven points of the Western Conference's second wild-card spot. Moreover, it was a reminder that, when the Kings are at their best, the gulf between McLellan's current squad (in last place) and his former club (in first place) might not be as wide as the standings would suggest.
"You can see how much we've grown over the first 20 games," Doughty said. "I'm just looking forward to hopefully moving up in the standings and hopefully giving a push for playoffs. I know a lot of people don't think that's possible, but all of us in here think there's a chance at it."
---
Get the latest on L.A.'s teams in the daily Sports Report newsletter.
You may occasionally receive promotional content from the Los Angeles Times.