Diversity is a family value for Kings coach Darryl Sutter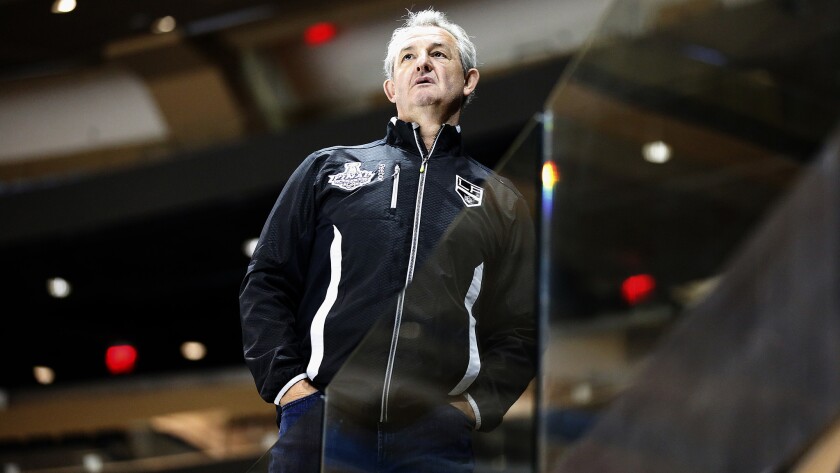 Darryl Sutter grew up between Montana and the North Pole, in a tiny Alberta prairie town so isolated and homogenized that debates which consumed the outside world only occasionally seeped in.
"All that stuff, it was irrelevant to us," he said of issues such as racial equality and gay rights. "Growing up, if there was any diversity it would have been we saw kids as rich kids. We thought we were poor kids."
But if Sutter's childhood lacked the melting-pot experience of a big city, it was rich in small-town values. So even though the minority population of Viking, Canada, is about 3%, Sutter and his six hockey-playing brothers never treated anyone differently.
"It goes way back [to] how we were raised as a family," the Kings' coach said. "My mother would have never allowed it. I don't have any recollection of that growing up."
Those values haven't softened, turning Sutter — a gruff 58-year-old with a Calvinist affinity for hard work and a Belichickian aversion to smiles — into a passionate if unlikely spokesman for equality. And while many see the cause as a political issue, Sutter seems it as a human one.
"I'm a spiritual guy and a religious guy. So there's a lot of different feelings, beliefs, everything," said Sutter, who will become the winningest coach in franchise history with his next victory. "But you still have to be able to make people comfortable and understand.
"And I feel strongly about it. It's not something that I just came up with. I feel strongly about it."
The Kings will mark the growing diversity in hockey during Saturday's matinee with the Ducks at the Staples Center. It's their third such celebration in the last six weeks, following a Martin Luther King Jr. Day commemoration of blacks in hockey last month and last week's LGBT pride night.
The goal of Saturday's "Hockey Is For Everyone" night, the team said, is to recognize inclusion in the sport, from women and minority players to those with special needs. Sutter, however, wonders what the fuss is about. His son Chris, 23, was born with Down syndrome, so the idea of inclusion is one the Sutter family celebrates every day.
"Everybody can play?" he says with mock surprise. "Well everybody can play. What's the difference if I was gay or not gay? Or black or white or Native American? What difference does it make?
"We're acknowledging it. And making it a point of emphasis. But once you get to the point, going forward in our lives, it's not an issue. It's accepted."
That's led Sutter to conclude a gay player would find nothing but acceptance in hockey. Demographic trends suggest there are perhaps dozens of gays among the estimated 1,500 players at the top ranks of professional hockey in the U.S. and Canada. If any of them came out to their teammates, Sutter said it wouldn't have an impact in the dressing room.
"Absolutely not," he said. "They're like your family. And the better you get to know everybody, the better you always are. It's so much of our culture."
That's a point Cyd Zeigler, co-founder of the LBGT sports website Outsports.com and author of "Fair Play: How LGBT Athletes are Claiming Their Rightful Place in Sports," has been making for years.
"Actual homophobia, a hatred of gay people, is totally overblown in sports," he said. "We hear foolish, casually homophobic comments and slurs. But we know that doesn't mean people hate gay people or would reject a gay teammate. In fact, we know they would accept them.
"Sadly many of us continue to push this idea that athletes need to be 'fixed.' What needs to be fixed is the way we talk about homophobia as some dominant force in sports. It's not."
As society has become more diverse and accepting, so has hockey. When the Sutter brothers began turning professional in the mid 1970s, the vast majority of players were white and Canadian.
This season there are players from 20 countries, as well as 16 blacks, in the NHL.
"We're seeing kids playing [from] every walk of life. Hispanic, Asian, African. It's a world game now," Sutter said. "So it's a big change."
Change, he said, doesn't always have to be uncomfortable.
Sutter tells a story about his father, Louis, who spent his whole life in rural Alberta. He didn't meet a black man until he was in his 50s when his son introduced him to a friend, Spider Webb, a maintenance worker at the old Chicago Stadium.
Webb quickly extended his hand toward the elder Sutter, who simply stared at it for an uncomfortably long time.
"I still remember him saying, 'That's the first time I shook a black man's hand.' Because he'd never had that opportunity," Sutter said.
A couple of hours later Sutter found Webb and his dad laughing in a small room under the grandstands, getting to know each other over a half-empty bottle of Jack Daniels that sat between them.
Sutter doesn't want the rest of his family to wait until the drinking age to experience their epiphany.
"I'm at the age where I understand I want my grandchildren to really know what's going on in the world," he said. "And the sooner I can help educate them by what I've seen and went through and experienced, I'll make them better people too."
Twitter: kbaxter11
---
Get the latest on L.A.'s teams in the daily Sports Report newsletter.
You may occasionally receive promotional content from the Los Angeles Times.