Column: Break over, Kings and Ducks ready to attack NHL's second half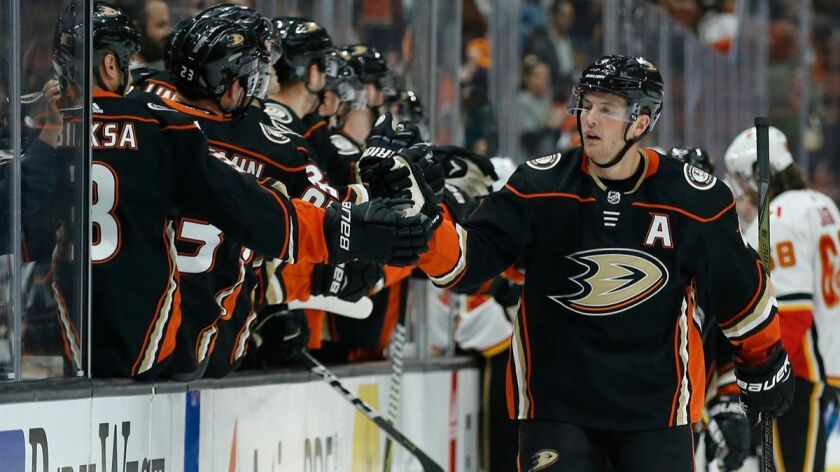 The atmosphere at the Ducks' first practice after their bye week felt like the first day of school after a happy summer vacation. "The energy displayed in just the chatter on the ice and the intensity, they were out there like a bunch of kids having fun today," Coach Randy Carlyle said. "We want to make sure we can continue with that fun, but the No. 1 thing that makes it fun is winning."
Neither the Ducks nor the Kings, who also returned to the ice on Friday, carried happy thoughts into mini-vacations that will end when they meet Saturday night at Staples Center.
Each team lost its last two games before the break. The Kings, 4-4-2 in their last 10 games, still hold second place in the Pacific division behind the surprising Vegas Golden Knights. The Ducks, 5-4-1 in their last 10 games, finally got as healthy as they'll be this season aside from the absence of winger Patrick Eaves, who was diagnosed with Guillain-Barre syndrome. But the Ducks are still outside of a playoff position.
"What really sticks in our craw is the game in Calgary," Carlyle said, referring to their 3-2 loss to the Flames last Saturday before the break began. "We were 16 seconds away from it. That left a real bad taste in our mouth over the last five days, specifically, the break. And even today talking about it, coming back, now you see Calgary comes back and wins and there's a momentum swing for a team you're trying to catch and battling with for those points. Those are the kind of things that make it really hurt."
Kings coach John Stevens used the break in the schedule to repair a lower-body injury — he had an arthroscopic procedure on his knee — and to analyze areas where the Kings must improve during the second half of the season. Asked for particular points of emphasis, he took a broad view. "All of it, to be honest with you," he said after the team practiced in El Segundo. "We want to continue to build our team game. We want to get better defensively. I think there's parts of our game we can better. I think our gaps and our ability to hold our lines better. Continue to play faster in the neutral zone. One area we'd like to continue getting better is our forecheck. I think all those areas are going to help us if we want to be a good defensive team that has the puck more and can attack more."
Their power play was on an upswing before the break, converting five of 14 opportunities in the last four games. Kings center Anze Kopitar saw that as a sign of progress to come. "We just want to have a solid game going down the road," he said. "We've got [seven] games before the All-Star break and then after the All-Star break the picture's shaping up for the playoffs. At the end of the day, you want to have your best game in April. We're just making steps toward that and I think we're on the right path."
The Ducks' path has been rockier because of injuries and inconsistency. They've let their goaltenders face an average of 34 shots per game, second-most in the NHL, and have had too many lapses in concentration and defensive coverage. "That's what's been our Achilles heel lately, is two really strong periods and one poor one where we might lose the game," defenseman Cam Fowler said. "I think we're just a team that's still finding its way. The results are there when we play consistently so we just need to find a way collectively to do that together."
They Ducks do have a history of being a strong second-half team. They were 29-11-7 for 65 points after the Christmas break last season, including a 14-2-3 surge after their bye week. That carried them to their fifth straight Pacific division title.
Andrew Cogliano believes that facing the Kings right out of the break could be good for the Ducks, even though the Kings won both of the teams' previous matchups this season, in overtime on Nov. 7 and in a shootout on Nov. 25.
"They bring the best out of us," Cogliano said. "They're a team that demands you play the right way and be emotional, so it's a good start for us to play a team like that and we're going to need to be at the top of our game not only to play them, but the teams after that."
For both the Kings and the Ducks, the playoff push begins on Saturday. "We had some injuries but certainly, no excuses now," Fowler said. "We have a full, healthy group. A veteran group, with guys with lots of experience, so we need to make sure that we start getting the ball rolling in the proper direction here because we're going to have to and it's going to have to happen quick."
Times staff writer Curtis Zupke contributed to this report.
Follow Helene Elliott on Twitter @helenenothelen
---
Get the latest on L.A.'s teams in the daily Sports Report newsletter.
You may occasionally receive promotional content from the Los Angeles Times.