Kings' handling of Ilya Kovalchuk is beyond bizarre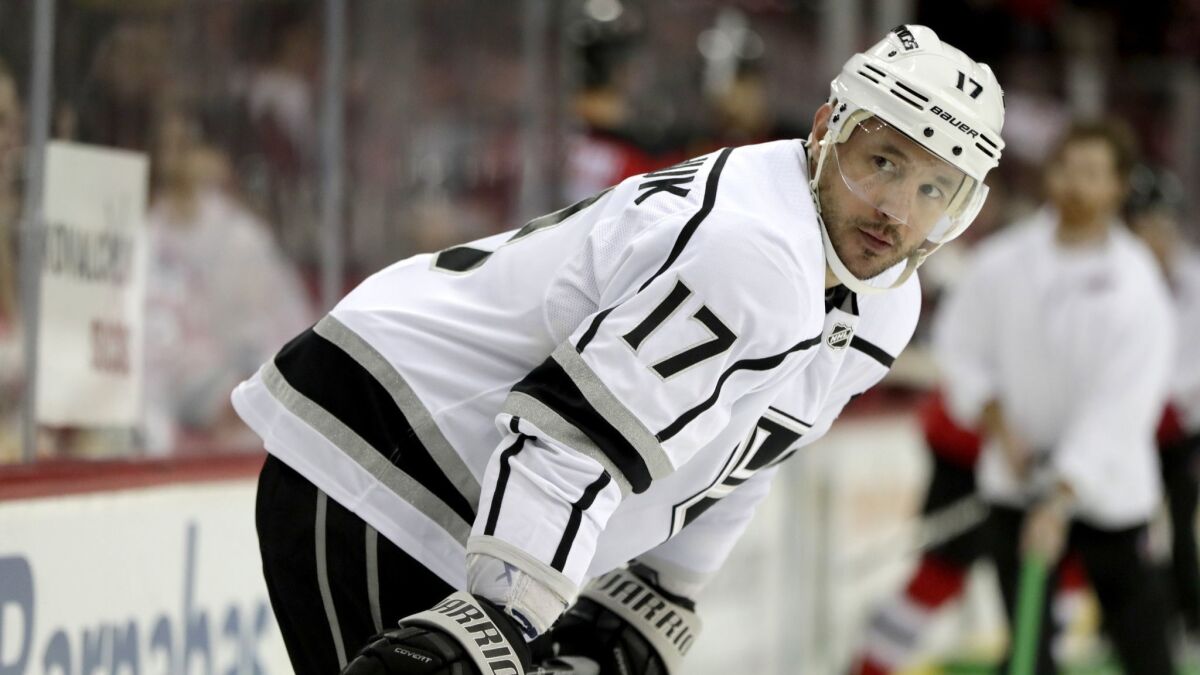 Here's what we've learned from the last week in the NHL:
When the Kings outbid several teams last summer to sign Ilya Kovalchuk for $18.75 million over three years, they saw him as a vital ingredient for another Stanley Cup run and they gushed about his talents.
"He gives us an added element of skill and scoring along with a desire to win," general manager Rob Blake said in a statement.
"He's very explosive," team President Luc Robitaille said. "He's a great fit."
The Kings weren't close to contending, which isn't Kovalchuk's fault. He's tied for third on the team with 14 goals in 60 games and is fourth in power-play goals with four, or four more than Anze Kopitar and Adrian Kempe. Yet, interim coach Willie Desjardins has made Kovalchuk a scapegoat for the failures of a bad team, evident again when Kovalchuk, after meeting with Blake, didn't accompany the team on its Western Canada trip this week.
"Lack of practice time on this trip — better to stay and get good work done with our skills and development group," Blake told The Times' Curtis Zupke, noting injured forward Brendan Leipsic also didn't travel.
A 35-year-old who has scored 431 NHL goals needs skills work? It's another inexplicable decision in a season full of head-scratchers, including Desjardins deploying 11 forwards and dressing seven defensemen when playing young forwards would have accelerated the rebuilding process.
"After Willie came here, I don't have a chance," Kovalchuk told The Times last week. "I play five, six minutes a game." He also said sitting out hasn't been easy but, "the guys are great around the locker room. They support me and say good things."
Blake and Robitaille's mistake in thinking Kovalchuk would put them over the top was compounded by their mistake in hiring Desjardins as a caretaker to replace John Stevens. Desjardins will be gone after the season but Blake is in a weak position to trade Kovalchuk, who has a no-move clause.
The bigger question: Will free agents want to play for the Kings after seeing them treat Kovalchuk this way and seeing a team that is several seasons from contending?
March Madness translates to hockey
The Carolina Hurricanes continue to celebrate home victories in creative ways. After leading fans in a Skol clap they begin their "Storm Surge," which has included turning players into a human bowling ball and pins, pretending to be curling, and celebrating the start of spring training with a "batter" clubbing a home run and skating around the bases.
After Carolina's 5-1 rout of Minnesota on Saturday, Trevor van Riemsdyk dribbled and dunked a basketball into a goal. That's not easy on ice, and it went over big in Atlantic Coast Conference country.
After the Hurricanes' 2-1 overtime victory over Montreal on Sunday, a couple of players threw fishing lines out from the bench toward teammates "swimming" in a darkened area at center ice and reeled them in when they took the bait. Remember, they do it after the visiting team leaves the ice, they're entertaining fans, and they're winning often enough to hold the first East wild-card playoff spot.
First-year coach Rod Brind'Amour has given them motivation and structure, and 21-year-old forward Sebastian Aho has emerged as a star with career highs of 30 goals and 80 points. The celebrations should be put on hold for the playoffs, but for now it's fun.
No tall tale: Zdeno Chara will return to the Bruins
The 6-foot-9 Slovakian had a big week. He turned 42, signed a one-year extension with Boston that will pay him $2 million in base salary plus up to $1.75 million in performance bonuses next season, and became the 22nd defenseman with 200 NHL goals when he scored in the Bruins' playoff-clinching 7-3 romp over the Florida Panthers on Saturday. It's interesting that he took a cut from this season's $5-million salary.
Sign up for our daily sports newsletter »
"At this stage of his career, it was important for 'Z' to work within the confines of the Bruins' cap situation to give the Bruins the very best chance to win a Cup," his agent, Matt Keator, told the Boston Globe. "[New England Patriots quarterback Tom] Brady and Z are both willing to sacrifice to win and play as long as they can, well into their 40s."
Chara, the NHL's second-oldest player — Pittsburgh's Matt Cullen is 136 days older — remains valuable for his presence and experience.
"I enjoy my role," said Chara, who's in his 21st season and 13th as Boston's captain. "I really take a lot of pride to be a captain and be one of those mentor guys that we try to help younger guys to lead them in the right direction and make sure that they keep getting better and better."
Buffalo Sabres' fall is complete
A 10-game winning streak lifted Buffalo to first overall after games of Nov. 27 with a 17-6-2 record and 36 points. The Sabres were a point ahead of Tampa Bay and Nashville, each 17-7-1. That turned out to be the Sabres' peak: They were eliminated from playoff contention with a loss at Montreal on Saturday, their eighth consecutive exclusion from the postseason party.
Phil Housley's days as coach appear numbered, though the team's lack of skill and depth isn't his fault.
"It's been a long process here, it's been a long year," team captain Jack Eichel told the Buffalo News. "These same issues seem to continue to haunt us."
---
Get the latest on L.A.'s teams in the daily Sports Report newsletter.
You may occasionally receive promotional content from the Los Angeles Times.