Three things we learned from the Kings' 5-4 loss to the Minnesota Wild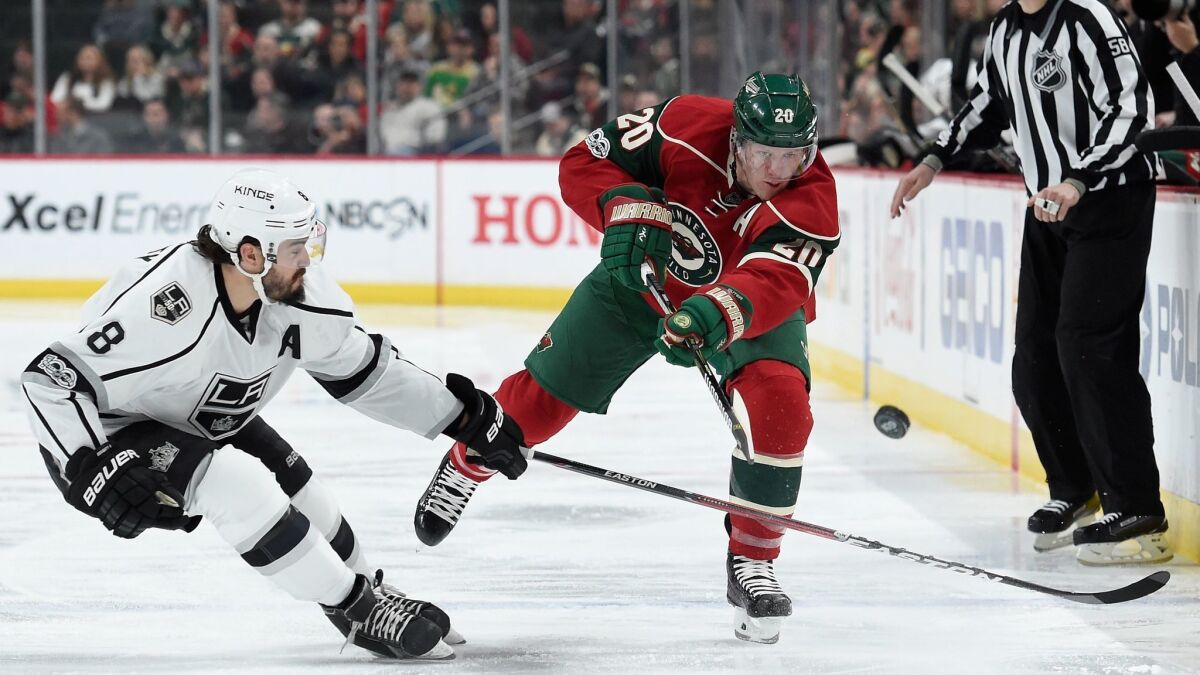 Reporting from ST, PAUL, Minn. —
Newly acquired goaltender Ben Bishop was supposed to make his Kings debut Monday in the opener of a brief but crucial two-game, two-nation, 27-hour road trip. But his late arrival from Tampa led Coach Darryl Sutter to start Jonathan Quick in goal and keep Bishop on the bench, where he saw Quick give up five goals for the first time since December 2015, the last one coming 12 seconds into overtime. Here are some of the things Bishop may have concluded from rinkside:
1. What offensive slump?
The trade for Bishop left many people scratching their heads. With Peter Budaj in goal for most of the season, the Kings had allowed the fifth-fewest goals in the league. And with Quick returning from a season-long injury, the goaltending looked solid.
The team ranked 24th in the NHL in scoring, though, so what it really needed with some offensive help. And the Kings may have found that missing offense hiding on the roster, scoring four goals Monday for the second time in three days. The output against Minnesota matched the Kings' total from the previous three games combined and included the first goals in February from Nick Shore and Jake Muzzin. And there's still plenty of room for improvement: Nic Dowd hasn't scored this year while both Anze Kopitar and Kyle Clifford have yet to score this month.
"You score four goals, usually when you give up five. It's pretty much a whitewash," said Coach Darryl Sutter, whose team gave away a one-goal lead four times. "So I give our team credit for getting a point."
2. A point a game is not enough
The Kings go into Tuesday night's game in Calgary trailing both St. Louis and Calgary in the race for the Western Conference's two wild-card playoff spots. And that makes it a critical game for the Kings, who can't afford to concede any more points.
"It's a must-win game for us," Muzzin said.
"A point's a point right now but, you know, we've got to tighten up some things if we want to make two points. Low coverage, cycle game, we gave back a lot of pucks back that we had. So we've just got to clean up some of the low plays that we made and win some games that way."
3. Are the Kings snakebit?
Conspiracy theorists could certainly conclude the hockey gods are working to keep the Kings out of the postseason. The team hasn't won consecutive games since its season-long, five-game winning streak ended Feb. 5. And Monday it lost in overtime for the first time this year.
Since the advent of the 3-on-3 overtime last season, the Kings had won 22 of 26 OT games, four more than any team in the NHL. Minnesota's Mikael Granlund spoiled that record, scoring off the opening faceoff.
The Kings aren't done yet though. Although they have just 20 games left, one of those is with St. Louis and four are against Calgary, beginning Tuesday night. That gives them plenty of opportunities to make up ground, but they have to be better than they were Monday.
"We need all the points we can get right now," Shore said. "We've got to be a little bit better [Tuesday]."
Twitter: kbaxter11
Get the latest on L.A.'s teams in the daily Sports Report newsletter.
You may occasionally receive promotional content from the Los Angeles Times.