These three Kings find win over Avalanche fulfilling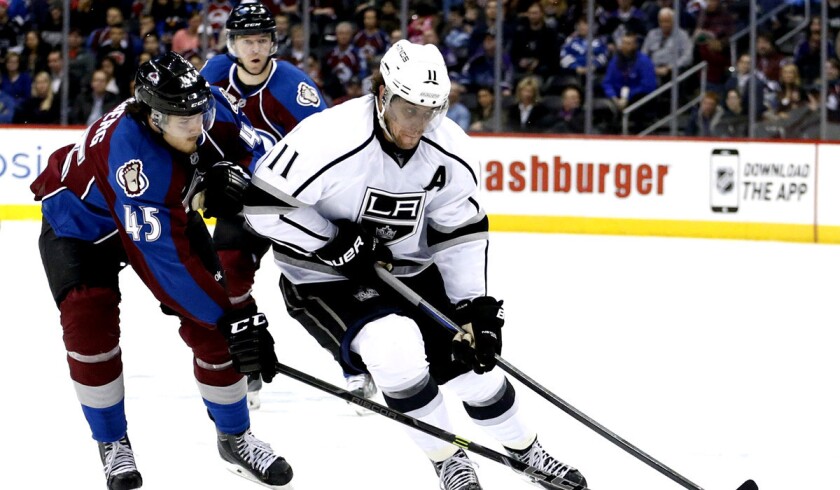 Reporting from DENVER —
There was one King, combining on a nicely executed give-and-go with center Jeff Carter for their second goal.
Another one of the Kings managed to score in close with one hand on his stick and the other on the stick of Avalanche defenseman Brad Stuart, who was none too happy with the intrusion.
Then there was the Kings defenseman who had three points Tuesday night.
Just who were these deft guys helping the Kings to a 5-2 victory over the Colorado Avalanche?
How about defenseman Brayden McNabb and forwards Kyle Clifford and Jordan Nolan? They combined for six points at Pepsi Center as the Kings pulled within a point of the final wild-card playoff spot in the Western Conference.
McNabb had a career-high three-point performance. Clifford, who scored with one hand on his stick, also had an assist. Nolan set up Carter for the latter's 23rd goal of the season.
"They're getting the opportunity to play some more minutes," Kings Coach Darryl Sutter said. "You can call it whatever you want. If I was a young player and I was given a few more minutes, I would try and fulfill the prophecy."
Sutter, however, said that recently acquired defenseman Andrej Sekera, who was McNabb's partner, was "probably the best player on the ice."
McNabb's confidence is increasing with experience and an uptick in ice time in the last month.
"The more that you go on, you get a little bit more comfortable," said McNabb, who has 22 points this season, including two goals. "And Sekera, he's a great player, a good skater. It's easy to give him the puck knowing he's going to do something good with it."
Kings center Anze Kopitar had one assist, and Marian Gaborik opened the scoring on the power play with his 20th goal of the season, putting the Kings up, 1-0, at 7:47 of the first period. Kings forward Justin Williams had two assists and defenseman Jake Muzzin had the other goal for the Kings.
This is the ninth time Gaborik has scored 20 or more goals in a season and it is his most productive regular season in terms of goal scoring since he had 41 for the New York Rangers in 2010-11.
The Kings forced the Avalanche to pull starting goalie Calvin Pickard after he gave up three goals on eight shots, replacing him with Reto Berra after McNabb scored at 14:15 of the first period, making it 3-1. Colorado's No. 1 goalie, Semyon Varlamov, is out because of an injured groin.
For the Kings, the often-disjointed nature of the contest worked in their favor as Sutter changed up his lines, enabling them to establish the lead.
"It kind of did," Williams said. "You didn't know who you were going out with. The next guys that were up were going and you just go. I think that's when we're at our best, anyway. ...
"I'm always at my best when you use your instincts and moving your feet and not thinking about where you should be, getting the puck before asking somebody else to get the puck."
Said Sutter: "We're trying to win a game. Not play favorites. I couldn't care less if they play eight minutes or they play 25 minutes, if we win."
With Winnipeg losing in regulation to St. Louis, the Kings are within a point of the Jets, who hold the final wild-card spot. Whether it's urgency or desperation, it seems to bring out the best in the defending champions.
"It seems to be we're at our best when we're in dire need of a win and we're in dire need of 16 more wins," Williams said of urgency/desperation. "To answer your question, I don't think there's any difference. Play on words. You can look at the thesaurus and find the same thing."
lisa.dillman@latimes.com
Twitter: @reallisa
---
Get the latest on L.A.'s teams in the daily Sports Report newsletter.
You may occasionally receive promotional content from the Los Angeles Times.