Dustin Brown's overtime goal lifts Kings over Avalanche 3-2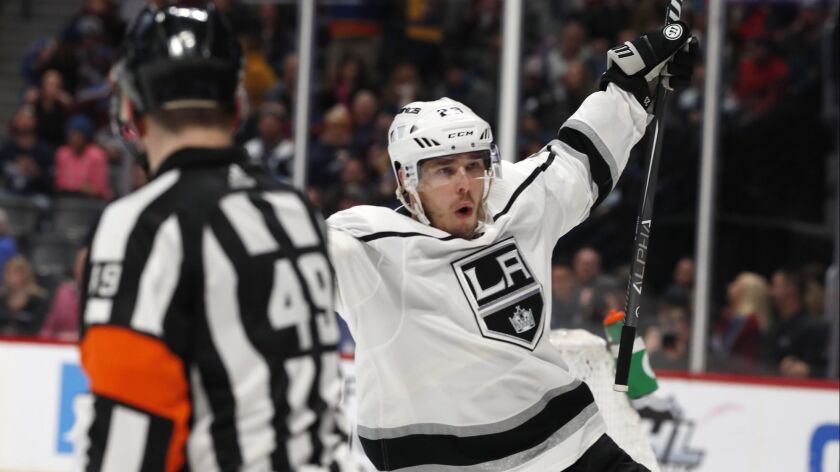 Reporting from Denver —
Sean Walker waited for an equipment staffer to retrieve his souvenir puck when a teammate jokingly asked a question:
Does he get one puck or two pucks?
Walker's initial score was nullified Monday night, but he eventually did get his first NHL goal, and it was the running gag in a relaxed Kings dressing room at Pepsi Center. It was emblematic of a delayed victory by the Kings, who thought they secured a regulation win but needed Dustin Brown's overtime breakaway goal for a 3-2 New Year's Eve triumph against the Colorado Avalanche.
It was a mix of youth and veteran leadership in a clutch victory, their fifth in six games. Walker, Brown and Drew Doughty scored, and Anze Kopitar and Jonathan Quick provided blue-collar work as the Kings ended the calendar year with reason to celebrate.
"We feel a little bit more confident in our game," coach Willie Desjardins said. "We feel, when we're going in, we've got a chance to win every night, and that's a good feeling. We've had lots of tough games lately ... nothing's ever easy."
Tell that to Walker. He initially celebrated his first goal in the first period but it was waved off because officials ruled that Matt Luff interfered with goalie Semyon Varlamov. But Walker made it count in the second period when he took Kopitar's clever no-look pass and executed a wraparound goal.
It's not a move Walker practices.
"I think I can honestly say that might be my first wraparound goal ever," he said. "It was definitely a roller coaster — pretty high and then pretty low and then luckily I got the other one, so it was good."
Brown took a stretch pass from Jake Muzzin and beat Varlamov 54 seconds into an overtime in which Colorado never had the puck. It righted the game for the Kings after they lost a 2-0 lead on third-period goals by Nathan MacKinnon and Carl Soderberg, who had the puck bounce off his leg and into the net with under two minutes left in regulation.
The Kings won with only 18 shots. They killed eight minutes of power-play time given to the NHL's fourth-ranked unit, and Quick made 22 saves for his 299th win.
"I think ultimately what's happening is we're playing a lot better in our d-zone, and that's been something we've been really good at for a really long time here," Brown said. "We weren't very good for the first … part of the season. We haven't given up nearly as many chances, nearly as many shots and, as a result, it helps us win games."
Kopitar buzzed from the start and hit the post twice in the opening eight minutes. He drew a tripping penalty that led to Doughty's power-play goal, and won 13 of 24 faceoffs while matched up frequently with fellow Hart Trophy finalist MacKinnon.
"He plays good in this building," Desjardins said of Kopitar. "He's a big, strong guy. He had to go against that big line a lot tonight, and that's a tough line to play against."
Jack Campbell returns
It always pains Jack Campbell to be away from the Kings, so he was in expectedly good spirits upon his recall earlier in the day.
"It's such a good feeling," Campbell said. "It's been so long. I missed it."
Campbell tore the meniscus in his knee in a Nov.10 game against the Calgary Flames, and his initial thought was to wear a brace and play through it. The Kings quickly nixed that idea and opted for surgery, but it showed Campbell's stubborn passion to keep the net.
"Just whatever I had to do to help the team," Campbell said.
Campbell also said it helped that Quick and Cal Petersen "played amazing, so it was great to see that and it definitely helped [when I was] out, seeing success with the goalies. It was really tough to not be out there, at least practicing with the guys."
Petersen was reassigned. Dion Phaneuf returned to the lineup.
UP NEXT
AT VEGAS
When: Tuesday, 6 p.m.
On the air: TV: FS West; Radio: iHeartRadio (LA Kings Audio Network)
Update: This is the fourth matchup between the teams in 24 days. Vegas is the first franchise in NHL history with 50 points or more before New Year's Day in each of its first two seasons. Goalie Marc-Andre Fleury is 6-0-3 in his last nine appearances, his best streak since an 11-0-1 run in 2012, according to the NHL.
Twitter: @curtiszupke
---
Get the latest on L.A.'s teams in the daily Sports Report newsletter.
You may occasionally receive promotional content from the Los Angeles Times.