Column: Kings' standing on Thanksgiving doesn't bode well for their playoff chances
In an odd but undeniable pattern that began with the 2005-06 season, more than 75 percent of NHL teams that have held playoff positions at Thanksgiving have gone on to make the playoffs. The percentage dipped a bit last season when several teams faded out of the picture — including the then-West-leading St. Louis Blues — but in some seasons 13 of the 16 teams that were in playoff position in their respective conferences at Thanksgiving qualified for postseason play.
The difficulty of moving up doesn't bode well for the Kings, who were last in the league in points even before they were badly outplayed in a 7-3 loss to the Colorado Avalanche on Wednesday at Staples Center. To complicate their woes, forward Adrian Kempe left the game late in the first period because of a lower-body injury and did not return. With the NHL schedule past the one-quarter mark, the Kings have a lot of holes to fill and a lot of ground to make up. With Thanksgiving upon them, their chances of recovering and qualifying for the playoffs are slim.
"That's something that's been around a long time, a stat that's been unofficially kept," said defenseman Dion Phaneuf, who was honored in a pregame ceremony for having played 1,000 games. "I think everyone is aware of that statistic. For us, we want to be a team that tries to prove that stat wrong. That's all you can do about it. Right now we're in the position we're in. That's the reality we're in and we've got to find a way to claw our way back into it."
That's looking unlikely. They allowed three power-play goals on Wednesday to the high-powered Avalanche and fell to 3-5 under interim coach Willie Desjardins, who's still trying to find effective line combinations and defense pairs. Desjardins managed to get the team to accelerate its tempo in winning two of three games during a trip to Chicago, Nashville and St. Louis, but that hasn't led to an uptick in scoring.
"I thought when the game was on the line, they took it away from us," Desjardins said.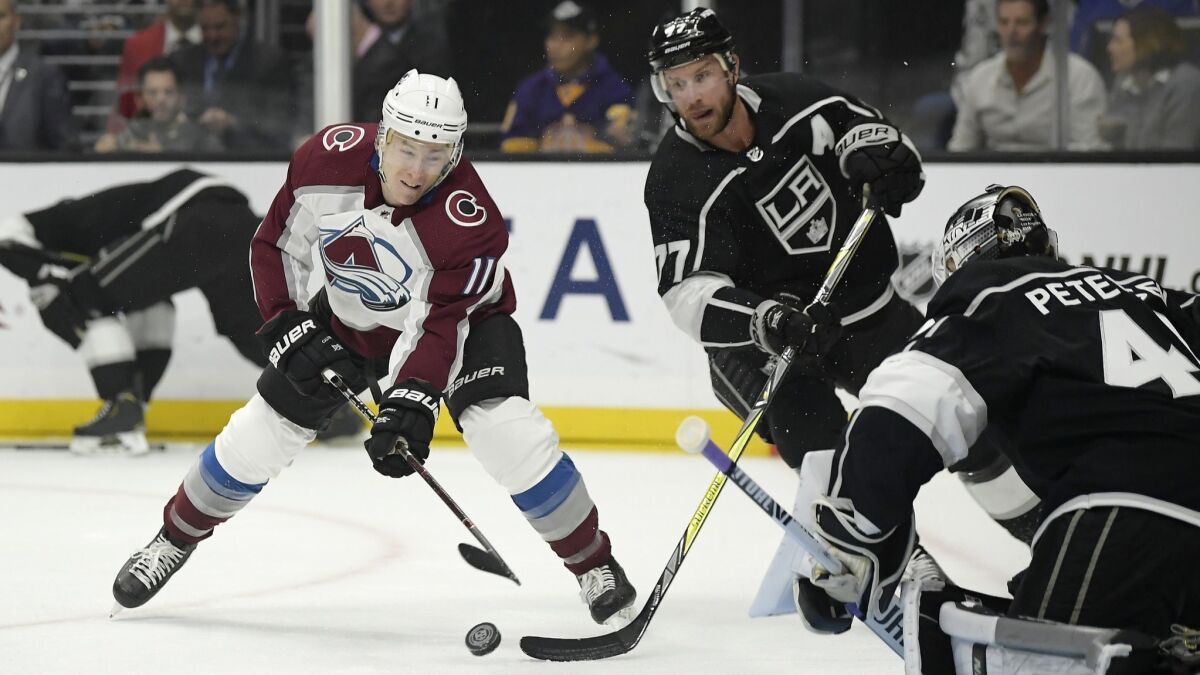 It's interesting that Desjardins chose to bench team scoring leader Ilya Kovalchuk for most of the third period on Monday at St. Louis; Desjardins said he wanted to protect a one-goal lead and called Kovalchuk "more of an offensive guy." But Kovalchuk isn't helping much on that end, and Wednesday he took a penalty in the offensive zone that allowed Colorado to take a 2-1 lead 50 seconds after the Kings had tied it on an opportunistic goal by Kyle Clifford.
The Kings' other goals came from rookies Matt Luff and Austin Wagner in the third period after Colorado had taken a 7-1 lead. Luff has scored in two straight games. Wagner's goal was his first in the NHL.
"I dont know what to say, really," the Kings' Anze Kopitar said. " There's no emotion, desperation, energy, no nothing."
Kovalchuk shares the team lead in power-play points with six, but the Kings don't get many power plays and they're not doing enough with the few they get: they squandered three power plays on Wednesday and have gone seven straight games without scoring a man-advantage goal. Kovalchuk has a personal seven-game point drought and his ability to contribute is becoming an issue.
General manager Rob Blake took a big risk when he signed the 35-year-old winger to a three-year, $18.75-million free-agent contract last summer and it has become problematic. If Desjardins continues to sit Kovalchuk late in close games, that means other forwards will have to play more minutes, possibly tiring them and hampering their ability to play the uptempo pace Desjardins wants. And sitting for long stretches won't help Kovalchuk during power plays. Scoring is up slightly league-wide compared to the same point last season but the Kings haven't participated in the spree. Their average of two goals per game ranks last in the NHL and is down from the 2.15 goals they averaged before John Stevens was fired as coach.
Slick passing with a man advantage allowed Colorado to sandwich tic-tac-toe goals by Vladislav Kamenev at 11:25 of the first period and Nathan MacKinnon at 16:16 around Clifford's third goal of the season. In the second period, PatrikNemeth's long shot appeared to deflect off someone in the slot before eluding Kings goaltender Cal Petersen at 11:33 of the second period to give Colorado a 3-1 lead. Colin Wilson, in the slot, made it 4-1 during a late power play in the second period. Mercifully, Petersen was pulled after Colorado added even-strength goals by Tyson Barrie and Nikita Zadorov. This was a team failure and not in any way goaltending failure.
The Kings made a small trade before Wednesday's game, acquiring 22-year-old forward Pavel Jenys from Minnesota for defenseman Stephan Falkovsky, who was playing for Manchester (N.H.) of the ECHL. Jenys, who's listed at 6-foot-2, had four goals in nine games for Allen (Texas) of the ECHL. The deal might boost their minor-league depth but won't help them buck the Thanksgiving curse. "It's a tough hole. And I think it's tough because when it comes down to those last 20 games everyone's gearing up for the playoffs and getting ready so it's even tougher to get points," defenseman Jake Muzzin said. "That's why you want to get as many as you can early, and obviously we haven't done that."
Follow Helene Elliott on Twitter @helenenothelen
Get the latest on L.A.'s teams in the daily Sports Report newsletter.
You may occasionally receive promotional content from the Los Angeles Times.