Kings look like the regal deal, beat Chicago 5-2 for 3-1 series lead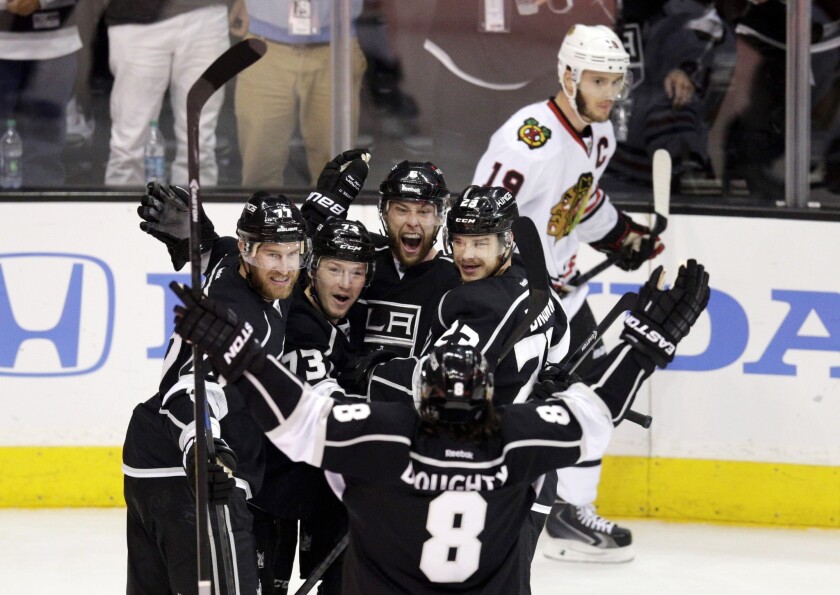 One game from the abyss has turned into one game from the bliss of the Stanley Cup Final.
The Kings may not always be the world's most interesting team in the regular season, but they have seized that mantle in the postseason and owned it in the month since they nearly exited the playoffs in the opening round against the San Jose Sharks.
They took another step toward dethroning their nemeses of last season, moving to within one game of eliminating the reigning Stanley Cup champions, the Chicago Blackhawks. The Kings took a four-goal lead and held on for a 5-2 victory over the Blackhawks in Game 4 of the Western Conference finals Monday night at Staples Center.
With a 3-1 series lead, they can clinch it Wednesday if they win Game 5 at the United Center in Chicago.
The Kings exploded for three first-period goals Monday night, in their first six shots. Defenseman Jake Muzzin and captain Dustin Brown scored on the power play and, in between, winger Marian Gaborik beat Blackhawks goalie Corey Crawford for an even-strength goal, all in the opening 16 minutes, for a 3-0 lead.
Their penalty-killing was flawless and they went two for three on the power play. And they had the usual scoring balance, as five different Kings had goals in Game 4.
Kings defenseman Drew Doughty, continuing his compelling bid for playoff MVP recognition, scored once and had an assist. He has three goals and 14 points in the postseason.
Perhaps just as important, Doughty has talked big and followed it up in a big way.
"I know how much I mean to our team and how much I mean to this series if we want to win it," he said. "Even though I'm playing against a guy like [Blackhawks captain Jonathan] Toews every single night, it's a tough battle. I just know I've got to out-compete him. He's still getting his chances. He's still going to get his opportunities. I've just got to do everything I can do minimize him."
Doughty's will to win against the Blackhawks is two-fold, starting with the fact that Chicago dethroned the Kings as Stanley Cup champions last season in the conference finals. There's also the fact that Doughty was a shadow of himself in the second and third rounds a year ago, playing on a severely injured ankle.
"That stuck with me. It was a frustrating time," he said. "I wanted to win that Cup again so bad along with all the other guys on my team. It hurts when you can't get what you want and what you want back.
"It really gave me the drive, even more of 'the want' to beat this team just because they did take our season away last year and it's our turn to do it back to them."
The Blackhawks mounted some push-back Monday, starting late in the second period with Brandon Saad's goal at 14:03. They then cut the Kings' lead to 4-2 midway through the third period.
That goal came off a furious scramble finished off by Bryan Bickell's backhander at 9:29, just seconds after Doughty had made a stick save on Toews. Patrick Kane got the first assist on the goal — his first point in this series.
Chicago pulled Crawford for an extra attacker with 3:01 remaining, and Kings rookie forward Tanner Pearson scored an empty-netter with 1:02 left to make it 5-2.
The Blackhawks rallied from a 3-1 series deficit against Detroit last year in the playoffs, and the Kings were quick to mention that.
"Every team has been through experiences which make them better, especially Stanley Cup championship teams like Chicago and us," said Kings winger Justin Williams. "We've been through a lot. Persevered through a lot. They're down 3-1. We're trying to squash them. They're trying to get some life."
Toews, who assisted on Bickell's goal, said it starts with the small things, to try to recapture confidence
"Here we are. We've got to give it everything and nothing less," he said. "Credit that team, they're a good team, but we know we've got more. We know that there's something else we can bring to the table.
"We've just got to do some little things here and there to make ourselves feel good and get that confidence, get that swagger back to our game."
Twitter: @reallisa
---
Get the latest on L.A.'s teams in the daily Sports Report newsletter.
You may occasionally receive promotional content from the Los Angeles Times.