Kings suffer double downer in 5-4 loss to Blackhawks in Game 5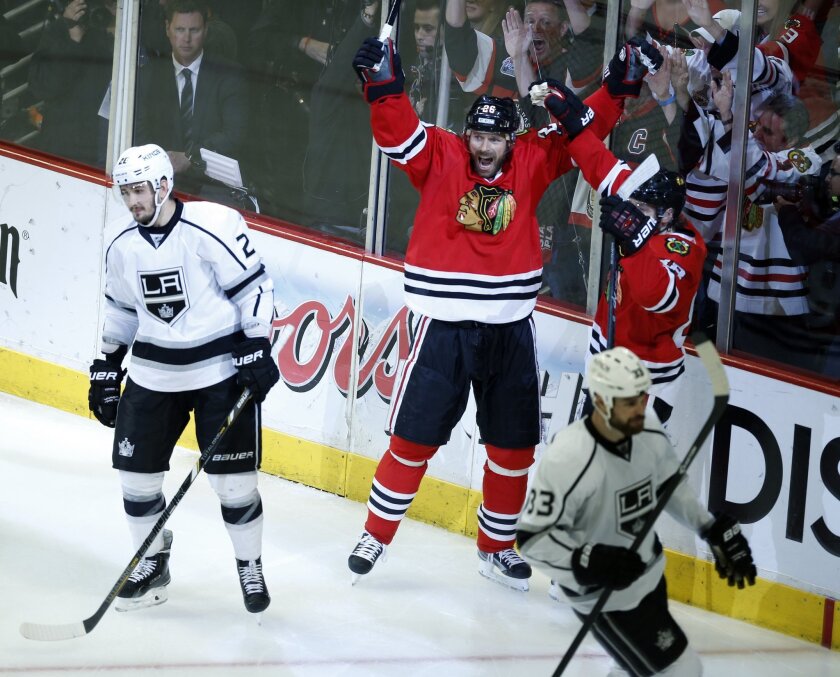 Reporting from Chicago —
Almost eight eye-catching minutes flew by — 7:56, to be precise — without a stoppage in play between the Kings and Chicago Blackhawks in the first overtime period at the United Center.
The edge-of-your-seat, frenzied action surely had to favor a young, fast player by the time the second overtime rolled around Wednesday in Game 5 of the Western Conference finals?
Leave it to the oldest player on the Blackhawks' roster, and if you listened to recent criticism, perhaps the slowest, to settle the issue. It was none other than 37-year-old Michal Handzus putting a backhander past Kings goalie Jonathan Quick at 2:04, giving the Chicago Blackhawks a 5-4 win over the Kings in double overtime.
Handzus stopped his current team from getting dethroned by his former team. Chicago, the reigning Stanley Cup champions, trails the Kings, three games to two, in the series. Game 6 will be Friday night at Staples Center.
Brandon Saad set up the game-winner, one of his three points in Game 5, and Patrick Kane broke out of his series malaise with a huge showing, sparking the Blackhawks with four assists. The Kings fought back from deficits of 2-0 and 3-1 and had balanced scoring, again, with goals from four players — Jarret Stoll, Marian Gaborik, Dustin Brown and Tanner Pearson.
"It's a good hockey game. It's a great hockey game," Stoll said. "Any time you get double overtime and two good teams going at it, it's going to be a great hockey game."
The Kings' season ended here last year, in Game 5, when Kane won it at 11:40 in double overtime, the longest game in Kings' playoff history.
Kings Coach Darryl Sutter was asked if it was more difficult to take, knowing that they were within 20 minutes of advancing to the Stanley Cup Final for the second time in three years.
"Not really. It's a tough building," Sutter said. "Damn near got it."
The Kings clawed back and led, 4-3, heading into the third period. Chicago's Ben Smith tied it, 4-4, at 1:17 of the third and Kings defenseman Drew Doughty lamented the lost opportunities.
"It's going to hurt a little bit tonight," Doughty said.
Doughty has said in the past that he wouldn't mind playing 40 minutes, if necessary, and he nearly got his wish. He logged 39:04 of ice time and had another game-high moment, nine shots on goal. Doughty had as many shots on goal as Anze Kopitar and Gaborik combined. Defenseman Duncan Keith had the most ice time for the Blackhawks, 37:37.
"I felt really good out there. I felt fresh. I wasn't tired at all. I wish I could have done something to win the game for us, but I thought I played well," Doughty said. "I'm tired now obviously. I'll probably take a nap on the plane. The more I can be out there, the better I like it. I thought it was a good game, but we've just got to win.
"I was just finding the puck and space, and I was able to go end-to-end about 10 times. ... I should have scored tonight. I had so many opportunities and I felt really good. When I'm feeling good, I've got to score."
The pace of the overtime was mesmerizing, in particular, the nearly eight minutes of continuous action.
"We were into it," Kings winger Justin Williams said. "Everyone's into it. We weren't even sitting down on the bench, most of us."
Said Chicago goalie Corey Crawford: "Probably the highest pace we've seen all year. Overtime was crazy."
Then it was decided by Handzus, who had all of two points in 16 playoff games before his Game 5 heroics. Kane called Handzus a "warrior." Back when he was with the Kings, then-coach Terry Murray raved about his two-way abilities. Doughty also played with Handzus at the start of Doughty's Kings career.
"A really good player, a good defensive player," Doughty said. "Very good professional. He can score when he gets those kind of opportunities."
He got one Wednesday.
---
Get the latest on L.A.'s teams in the daily Sports Report newsletter.
You may occasionally receive promotional content from the Los Angeles Times.