Patrick Kane's assessment of pressure no joke to Kings now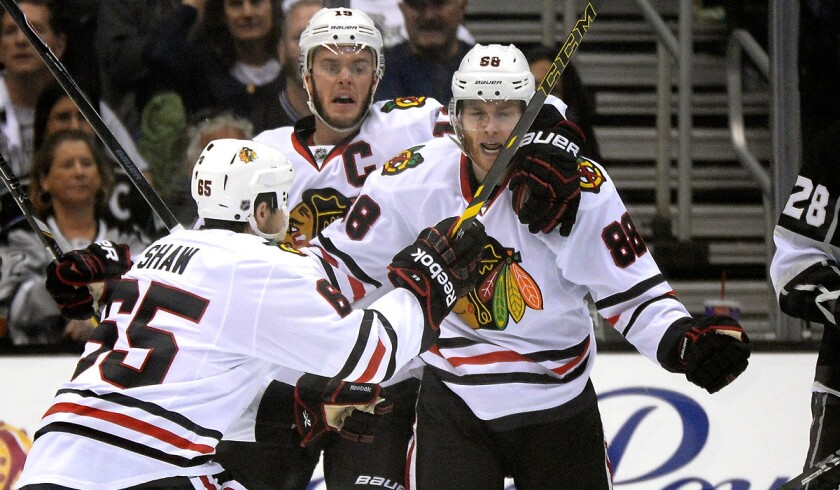 In a personal slump, his team trailing the Western Conference finals by two games, Chicago Blackhawks forward Patrick Kane drew some chuckles from Kings players earlier this week when he said they were the ones under the most pressure.
Kane on Friday night in Game 6 at Staples Center continued to take it upon himself to prove he wasn't joking.
He scored two goals, including the game-winner with 3 minutes 45 seconds remaining and contributed a third-period assist to lead his Chicago Blackhawks to a 4-3 comeback victory that forces Game 7 on Sunday in Chicago.
"There's pressure on both teams, but obviously we have some momentum, so want to keep it," Kane said.
"Once again, they were up 3-1 in the series, so we'll put all the pressure on them and [play] the way we have the last couple of games."
Kane, who had 29 goals and 40 regular-season assists for Chicago, answered a game-opening goal by Kings forward Dwight King with his own off a power-play give-and-go with Blackhawks center Jonathan Toews 72 seconds into the second period.
After struggling to find his way with just one assist through the first four games, Kane showed in his first goal of the series that the ignition switch he pressed with a four-assist Game 5, hours after his surprising "pressure" assessment, has made him the series' most lethal weapon.
Kings defenseman Drew Doughty looked to have made the game his own with a third-period goal and assist, but in a series that has been likened to a great heavyweight prizefight from long ago, Kane answered again by assisting Duncan Keith's tying goal with 8:26 left in the third.
Kane then held the puck when he didn't see an opening, skated hard to an opening and launched a shot through traffic that got past Kings goalie Jonathan Quick.
"It's amazing how he turns it on in these big games," Toews admired. "A lot of guys, maybe, are making sure they don't make mistakes with the puck and getting rid of the puck in certain areas. He's as calm as ever with it, even if it's late in the period and the ice is a little rough.
"He just keeps that puck flat and has his head up.
Kane said he didn't feel compelled to talk to his teammates when they trailed in the third.
"He doesn't say too much, but he wants to take charge and do it on the ice," Chicago Coach Joel Quenneville said. "His actions on the ice in the last two games speak very loudly about the kind of competitor he is and what kind of player he is. He made us a couple plays in that third period that are moving us forward.
"Bigger the stage, he likes that challenge. Special player he can get it done as good as anyone in the game."
Kane praised the Kings, saying, "There's still not much room out there against this team You have to take advantage of the opportunities when you do get space."
One more chance at finding more space — in the United Center, where Chicago is 8-1 this postseason — exists thanks to Kane.
"Last two games have been pretty wild," Kane said. "They've won two Game 7s on the road. We're happy to get the win, but it doesn't mean anything because we haven't won anything yet."
---
Get the latest on L.A.'s teams in the daily Sports Report newsletter.
You may occasionally receive promotional content from the Los Angeles Times.