With big shoes to fill, Kings' new broadcaster Alex Faust steps up to the mic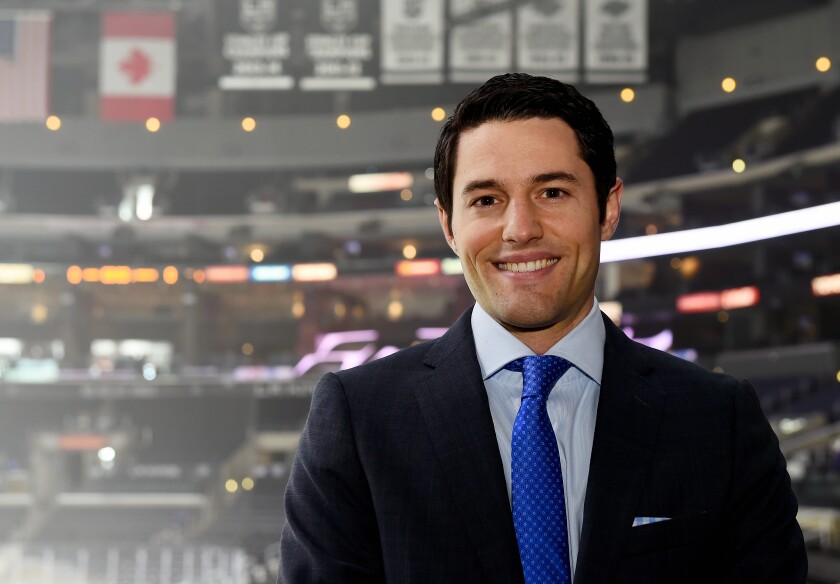 Alex Faust isn't sure whether he will formally introduce himself to the audience when he makes his debut as the Kings' play-by-play television broadcaster Thursday.
He hadn't planned that part, and, frankly, it might not matter.
"I won't spoil anything for the audience mostly because I don't know what I could spoil for the audience," said Faust, who will call the Kings-Arizona Coyotes game at Staples Center.
Such is the newness of Faust as he officially begins another era of Kings broadcasting, following Bob Miller's retirement from a 44-year Hall of Fame broadcasting career with the Kings. Faust is tasked with replacing a legend and greeting folks who will allow him into their homes with longtime color commentator Jim Fox.
Is he nervous?
"I'd be lying if I said I wasn't," Faust said.
But Faust said the support the team has given him as a 28-year-old to take over the role has made the transition easier. He's leaned on colleague Joe Davis, who replaced Vin Scully as the Dodgers' play-by-play announcer and told Faust he knows exactly what he's going through.
A recent chat with Miller over coffee helped as well.
Miller can relate to Faust's moving to a new area to broadcast a new team because that's what Miller did when he took the Kings' job in 1973. Miller said Faust, from Brooklyn, already has a jump in one regard.
"He's done one NHL game," Miller said. "That's one more NHL game than I did when I got the job. He's vastly more experienced than I was."
Miller likes Faust's preparation and eagerness to tackle all assignments. Faust's broadcasting passion was sparked by calling hockey at Northeastern University, but he's covered everything from college basketball to lacrosse.
Miller had a specific piece of advice for Faust when it comes to hockey conversations, both on and off the ice.
"I told him, 'Don't come on too strong,' " Miller said.
That will rub people the wrong way, Miller said. Faust's style is instead marked by a patient cadence that lets the action tell the story. And he's made it a point to study the franchise history to better identify with a fan base he learned is "fiercely, fiercely loyal."
He's reading a book about the 1988 trade of Wayne Gretzky to the Kings, and Kings radio play-by-play announcer Nick Nickson, also in the Hall of Fame, has pulled out some 1980s photos and anecdotes to share.
"I may not be able to give you exact days and events, but telling that broad story — being able to understand someone who's coming from a perspective of 20, 30, 40, 50 years following this team — it's incredibly important," Faust said. "It's probably been the most challenging part of this job."
One hurdle Faust might have to clear is simply getting fans used to his young face. One of the Kings coaches jokingly introduced Faust as "our new 12-year-old announcer," Miller said.
But Fox said that runs contrary to Faust's professionalism.
"His on-air personality is very mature and is probably different from how he looks in person because he does look so young," Fox said.
Faust won't be spinning hockey tales and memories at intermission like Miller did, but Fox said that the seeds are planted. Faust will get to know the team and eventually tell his own stories.
"One day, 10 years from now, he'll have that background and he'll have that history," Fox said.
curtis.zupke@latimes.com
---
Get the latest on L.A.'s teams in the daily Sports Report newsletter.
You may occasionally receive promotional content from the Los Angeles Times.