New coach Willie Desjardins has a message for Kings: 'You've got to win now'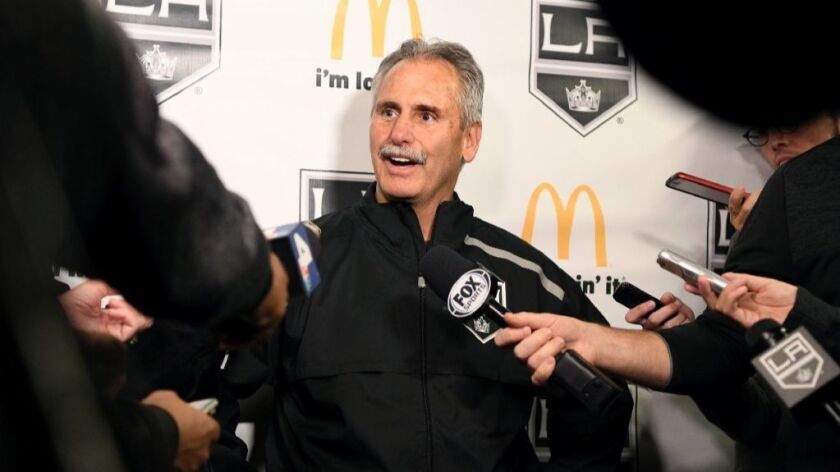 The sun peeked through the morning haze and greeted Willie Desjardins when he got up early and walked out of his hotel room in El Segundo. It was more than 30 degrees warmer than his home in Medicine Hat, Canada, and Desjardins was already energized to meet his new team.
Then he got lost.
"I walked for about 25 minutes and I had to phone [assistant] Dave Lowry and say, 'OK, where exactly is the rink?'" Desjardins said.
Desjardins and the Kings will eventually learn the right direction. That was the expectation Monday after his first practice as the 25th coach in franchise history. His interim status put Desjardins on the same ground as the team in terms of urgency.
"You can't wait," Desjardins said he told the players. "You only have so many years that you have a chance to win. You've got to win now. The easy road would be to say, 'Hey, we can't do it this season.' But you can't afford to waste a season, because you never know what's going to happen in the future.
"It's the same with me. I didn't know if I'd get another shot at the NHL, so this is my chance, I've got to make it work. And I think that's the same message to the players: You have to find a way to make this season work. What exactly it is, well, we have to find out."
Desjardins must raise a level of emotional investment that general manager Rob Blake said was missing. Captain Anze Kopitar disagreed with that assessment.
"The care level was never questioned here," Kopitar said. "It never was. For, again, whatever reason, whether [it was] the lack of, definitely not care, but maybe it was passion? Some work? We just didn't have that extra step, that extra jump that put us over the top and we've got to find it now."
Desjardins believes he knows why they lost that step, having coached against the Kings when he was an assistant with the Dallas Stars and coach of the Vancouver Canucks.
"That was a team that, when they turned it up, they were so hard to stop," Desjardins said. "And I think in a lot of ways, they probably lived off that a little bit because they were just that good. And now the league's getting a lot better. A lot of the teams are a lot more even. I think it's more of a challenge every night."
Desjardins, like the fired John Stevens, favors a push-the-pace style and is known for developing player relationships. His success in the Western Hockey League and the American Hockey League was a springboard to the NHL, and his varied coaching experiences, from Japan and the Canadian college ranks, shaped him personally. Like former coach Darryl Sutter, Desjardins brings a rugged, western Canadian work ethic that was evident Monday with a slew of one-on-one drills, in tight spaces.
"You'll see each practice it's always, the first 15-20 minutes, no stopping, no talking," said goaltender Jack Campbell, who played for Desjardins with the Texas Stars. "Everything's fast. It's kind of like a routine … it translated to games. I think we saw the first glimpse of that."
Desjardins, though, doesn't have time on his side. Many of the veterans are well into their 30s and he said he can coax them to being a faster team by moving the puck faster and "'because of how smart they are." Desjardins also doesn't have a break-in period.
"Trust is gained over time," he said. "But we don't have time for that … it's kind of like you've got to trust each other right now. That's harder to do, but we have to do that."
The last in-season coaching change turned historic for the Kings, who got an immediate lift when Sutter was hired in December 2011. They were 8-1-6 in his first 15 games and went on to raise the Stanley Cup.
Sutter's first game as Kings coach was against the Ducks. Desjardins will also make his debut against the Ducks. It's tempting to think that past is prologue, but the past is too fresh of a wound.
"Every loss we've had has been a wakeup call, but this is a huge change, and obviously we wanted to win for John," defenseman Paul LaDue said. "I wish him all the best. He helped me out a lot in the first few years. But now we've got a new coach and new energy. This is kind of our last reset of the year, and we've got to pull it together and start winning games and start climbing up the standings."
KINGS VS. DUCKS
When: Tuesday, 7:30 p.m.
Where: Staples Center.
On the air: TV: FS West/Prime; Radio: 830/iHeartRadio (LA Kings Audio Network).
Update: Ducks center Ryan Getzlaf skated Monday and is questionable because of an upper-body injury, a team official said. LaDue said he's ready to return from an upper-body injury. Kings prospect Jaret Anderson-Dolan is expected to have surgery for a broken wrist bone, a team official confirmed.
Twitter: @curtiszupke
---
Get the latest on L.A.'s teams in the daily Sports Report newsletter.
You may occasionally receive promotional content from the Los Angeles Times.