Column: Kings know their play is a big reason why John Stevens got fired as coach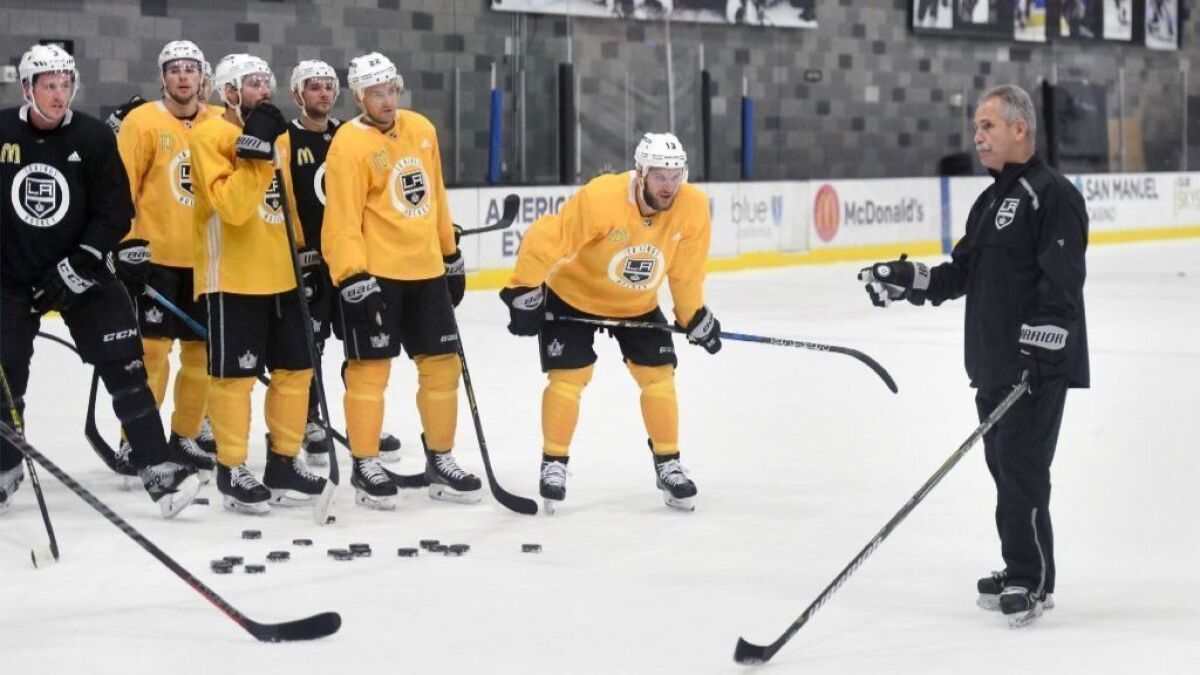 If the Kings had new spring in their legs during their first practice under interim coach Willie Desjardins on Monday, if they moved through his drills with more purpose than they had shown in the weeks leading up to John Stevens' firing, it's because they were motivated by guilt as much as by a desire to please the man who will try to salvage what has been a drearily unsuccessful season.
When Darryl Sutter was fired, players barely restrained themselves from publicly singing "Ding Dong! The Witch is Dead," at the top of their lungs. Stevens' dismissal was different. It sobered them, as it should have.
Sutter had berated and belittled players toward the end of his coaching term. They were grateful for his guidance during their 2012 and 2014 Stanley Cup runs but their relationship with him had turned irreconcilably sour long before the divorce became official in April 2017. Stevens' main flaw was that he failed to stir players' emotions, but an experienced team should have done that on its own. This time, players knew the blame was on them, not the coach.
Team captain Anze Kopitar called it "a sad day." And it was. "We're certainly responsible for it. We didn't play up to our potential and we know it. And he lost the job because of it," Kopitar said of the message sent when general manager Rob Blake fired Stevens and assistant Don Nachbaur on Sunday. "We're talking about the reset button, that's the last resort, the last chance, really, for us to get it going and really not fall behind too deep."
Defenseman Alec Martinez, always thoughtful, wore a grim expression Monday after practice. "This not on John. This is on us," he said, adding an expletive to express the depth of his remorse. "Any time anyone loses a job, I don't care whether it's management, a player, coach, someone in the front office, it's obviously something that causes you to reflect and take a look in the mirror. I think that any time this happens, it wasn't his fault. This was our fault, in the locker room."
Defenseman Dion Phaneuf echoed that theme. "When a coaching change is made it's on the players," he said. "We didn't get the job done and ultimately it falls on them but as players we're responsible for it and it's not a very good feeling. I've got a lot of respect for John and Don. Both of them. I really enjoyed working for them. And now Willie coming in, I'm excited to work for him. But as players we didn't get the job done. And we're sitting here today because of that."
Winger Kyle Clifford acknowledged that Blake was right about the team's lack of passion. "You don't get to the bottom of the standings playing with passion," Clifford said. "It's something that's got to be in your game. We've built that type of culture where we've had the mindset that we're going to win every night before, and it's something that we have to get back to."
If these players want to stay together, they'll have to get back to their old, winning ways. Firing the coach is usually the first option for a general manager because it's easier than revamping the roster through trades, especially during the season.
"I think all coaches kind of understand that," Dustin Brown said. "But I think players aren't happy with how we've been performing. If they aren't that way then they probably won't be here much longer, anyway. It's one of those things where players have to look in the mirror."
If this move fails, Blake's next step will have to be breaking up the team. That wouldn't be easy with an older group that carries a bunch of hefty, difficult-to-move contracts. In addition, he has consistently said that the Cup-winning core has another championship in it. Shaking up the roster would be conceding the season and starting a rebuild.
"I think that's something that might have crept in to the group, players just being too comfortable. I think top to bottom that could be probably said," Brown said. "There's something to be said for being a little uncomfortable every day coming to the rink. Just your mentality. It's a fine line. You want to have fun coming to the rink every day but you want to be working every day, and sometimes one part of that scale gets tipped too far."
Brown doesn't see the need for rebuilding yet. "The underlying theme for a lot of people is questioning whether we have it anymore. I believe we do," he said. "But guys have to take a look in the mirror and play better and be better. You've got to quit saying it and start doing it eventually."
Desjardins said that he felt for Stevens and the difficulty Stevens faced in motivating players. Desjardins also credited the former coach for installing a solid foundation. "We've just got to find a way to build on that right now," Desjardins said.
Martinez knew little about his new coach but said he heard good things when he spoke to Blake and to players who had played for Desjardins.
"He brings the energy. All of his teams, they played fast and that's obviously something that we've got to start doing a lot better," Martinez said. "It's an odd, strange … feeling. That said, with Willie here, we've had plenty of resets but there's no more time for resets. The time is now."
It's win now, or feel more regret they didn't do more to prevent the Cup core from being broken up.
Follow Helene Elliott on Twitter @helenenothelen
Get the latest on L.A.'s teams in the daily Sports Report newsletter.
You may occasionally receive promotional content from the Los Angeles Times.