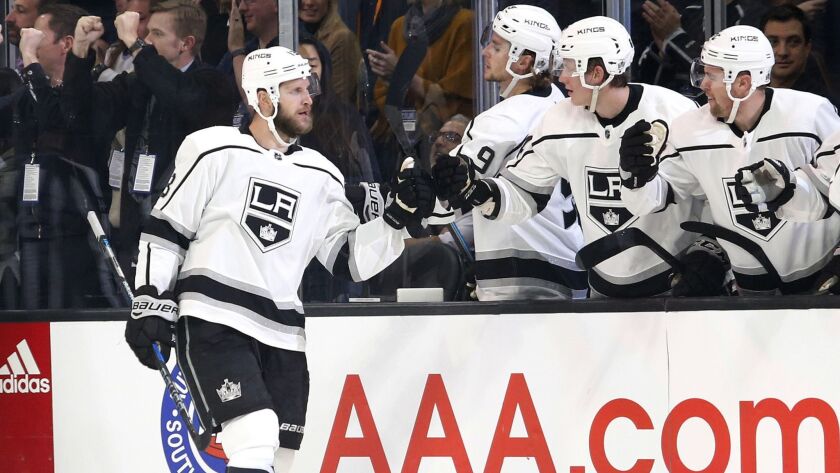 Standing in the narrow space behind the Kings bench at Staples Center, Willie Desjardins stared intently at the ice Tuesday night and swayed gently from side to side, probably without realizing it.
Hired as the team's interim coach Sunday, he'd had minimal preparation for his Kings coaching debut. He watched a lot of video of recent games and didn't change his mind about coaching for the rest of this season. He conducted practice Monday, met with each player the same day and put them through a swift morning skate Tuesday before they faced the Ducks.
Desjardins, whose compact physique and graying mustache give him more than a slight resemblance to former Kings goaltender and executive Rogie Vachon, had to get a quick read on a complex situation. There was no time to waste, no opportunity to gradually build trust before he plunged in to try to revive a team that had become too passive. To accomplish so much in so little time, his focus had to be fierce. "He was talking. He was in the game," winger Ilya Kovalchuk said. "He was calling lines and stuff and if you make a good play he will let you know, so that's good."
Desjardins had plenty of reasons to like what he saw in the Kings' 4-1 victory over the Ducks, whose own early struggles (6-7-3) might yet trigger a roster shakeup or a coaching change.
For the first time this season, the Kings (5-8-1) have won two straight games. They're 3-1 in this seven-game homestand. They're still last in the West and they may have to reconfigure their roster to add speed and, ideally, a top-six forward, but they did enough little things right Tuesday and with enough determination to launch Desjardins' tenure to a triumphant start in a meaningful game at home against a division rival.
"I thought tonight everybody played together," said rugged winger Kyle Clifford, who showed unexpected skill when he beat Ducks goalie John Gibson with a nifty backhander off a feed from Alec Martinez at 13:22 of the first period. "We were five up and we were five back."
Players knew the stakes and responded. This season, that had been too rare. "When those kind of changes happen you always think [about] what you can do better," Kovalchuk said. "We have to take full responsibility for that move and I think the guys did a good job."
The timing of firing John Stevens and hiring Desjardins seemed surprising since it occurred in the middle of the homestand. But it emphasized management's determination not to let the season lurch off the rails and put players on notice that the same old same old wouldn't be acceptable anymore.
They've now won three of their last four games, a modest surge but an important one. "That's the direction we want to head. We want to win on a consistent basis. We want to win every night," Clifford said. "It's hard to win in this league and it's going to take everybody."
Although three-time Stanley Cup-winning coach Joel Quenneville surprisingly became available Tuesday when the Chicago Blackhawks fired him, the Kings' plans won't change. Desjardins, who was supported behind the bench Tuesday by assistant coaches Bill Ranford and Dave Lowry and will soon be joined by new assistant coach Marco Sturm, remained club executives' choice to right a team they believe can overcome advanced age and its lack of cohesion and become a Cup contender again. If he can't do that, there's always the draft lottery and the opportunity to launch a full-scale coaching search after the season ends.
Forward Jeff Carter saved the puck as a souvenir for Desjardins, though the new coach joked that he might have to share it with Ranford. His thoughts, he said, were focused on the game and not on his personal achievement of being behind the bench for an NHL game for the first time since he was fired by the Vancouver Canucks after the 2016-17 season. "It was good to get back," he said, but his next thoughts were game-related. "I guess I'm thinking about probably the first five minutes, make sure to get out and keep going. Keep shifts short."
His first impressions were that Alex Iafallo had more speed than Desjardins had thought, that Trevor Lewis is quicker than he'd known and that, with any luck, he can play four lines to keep players fresh for the uptempo style he wants to install. "The first period was good. We have to build on that so we carry that deeper and deeper into games so we kind of wear teams down," he said. "We didn't do it tonight but that's a start, and two in a row's pretty good."
Follow Helene Elliott on Twitter @helenenothelen
---