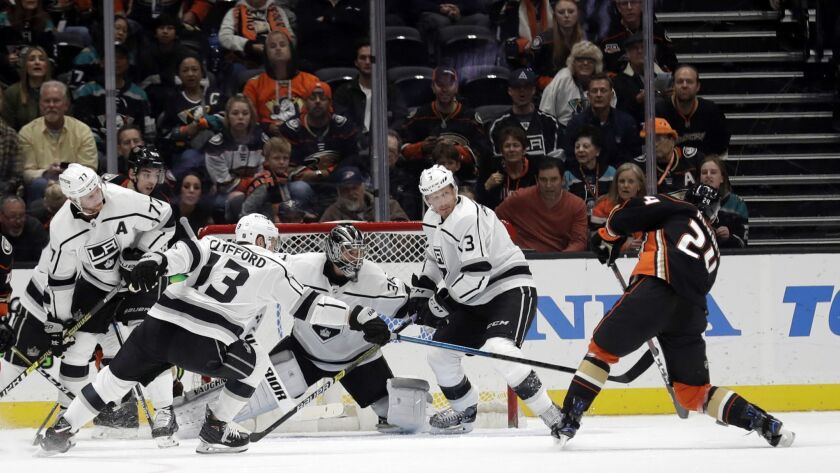 The NHL's schedulemakers must have congratulated themselves for setting the stage for potentially great drama when they arranged for the Kings and Ducks to meet at Honda Center on the final weekend of the regular season.
The game was guaranteed to have an emotional edge because of the teams' passionate rivalry. The possibility it might decide a playoff berth — or postseason positioning, at the very least— made it a date worth circling on the calendar.
Unfortunately it didn't work out that way. Not even close. Instead of battling for a playoff spot the Ducks and Kings were competing with their fellow bottom-feeders for better odds in the draft lottery and counting the minutes until the final buzzer would (mercifully and at long last) close out the season. "I think 'disappointing' is the word that comes to mind," Ducks defenseman Cam Fowler said, a sentiment the Kings know very well.
The Ducks reached the end of their rutted road Friday with a 5-2 victory over the Kings and finished at 35-37-10 for 80 points, down 21 points from last season. The Kings, eliminated long ago and standing 30th among the NHL's original 31, are 30-42-9 and will reach the finish line Saturday. It's the first time both teams will miss the playoffs in the same season since 2003-04, making for a longer offseason than we've had around here for a while. "At this point you've always kind of been getting prepared for the playoffs and now it's obviously the complete opposite. So it's a weird feeling," Ducks winger Jakob Silfverberg said.
The Kings and Ducks have spoiled us, with the Ducks bringing the Stanley Cup here in 2007, the Kings winning it in 2012 and 2014, and each team reaching the West finals in other seasons. But as the pace of play in the NHL grew faster and they did not, their oddly synchronized declines became unmistakable.
Both were swept out of the first round of the playoffs last spring but neither did much to remedy their problems. Kings general manager Rob Blake and team president Luc Robitaille thought they could contend for another couple of seasons with an old and slow core, a miscalculation that led to the disintegration of the Kings' identity as a strong defensive team and cost coach John Stevens his job. Signing 35-year-old winger Ilya Kovalchuk to a three-year, $18.75-million deal was a mistake. Allowing Kovalchuk to be misused by interim coach Willie Desjardins compounded the error and leaves the team with a salary-cap headache.
The Ducks, stuck with big contracts given to players long past their prime, should have replaced coach Randy Carlyle last summer, but general manager Bob Murray first blamed injuries and players' work ethic. When they lost 19 of 21 games and made no pretense of competing, Murray had to fire Carlyle though by then it was February and too late to salvage this season. At least Murray, who took on the coaching job, got a close-up look at the mess he's in charge of cleaning up.
The only good thing to come out of this for either team is they've started to rely more on their kids and should know who can step up into major roles next season. Both teams also have two first-round picks in the June draft, promising instant injections of youth and high-level skill.
The Ducks have an impressive amount of young talent on their roster as well as in in the pipeline, which allows them to reconfigure instead of rebuild. Center Sam Steel, 21, on Friday scored his sixth NHL goal in 22 games this season. Winger Max Jones, 21, had two assists. Max Comtois had two goals and seven points in 10 games before going back to his junior team. Troy Terry (broken leg) has shown he can play. "I think that in the next five years this is going to be a team that's going to be a contender," Silfverberg said.
Closing with an 11-5-1 surge was great for the Ducks' morale though harmful to their draft lottery odds. "We've been able to establish a few things that we want to create around here and the way we want to play on the ice and hopefully that will continue on into training camp," Ryan Getzlaf said. "You implement things, a certain direction you want the team to go, the positional play we want to be in. That way, in training camp it's not a new concept for anybody. So it's been a nice touch."
Next up, after Murray conducts exit interviews with players the next few days, is a coach search. He normally consults Getzlaf and other leaders on major decisions, but Getzlaf said Murray got a strong sense of what needs to be done after standing behind the bench. Getzlaf has some ideas about the qualities he'd like Murray to seek. "The game's changed a lot. The next coach has got to be somebody that can communicate with the players and understand how to deal with the young kids," Getzlaf said. "It's not really about me anymore. ... I don't think they're bringing in a coach to coach me. It's a matter of being able to go up and down our lineup and understand what each guy needs, and that's what he'll be going for."
Fowler also sees communication as essential. "The new age of hockey players have a lot more input on how their bodies are feeling, and I think communication is a big thing," Fowler said. "Just somebody that respects us as players, respects what we do on the ice and challenges us and someone that's fair, that brings a lot of energy to the rink and a lot of positive enthusiasm."
Just for old times' sake, the Ducks and Kings got into a tussle in the final minute of Friday's game.
It didn't change anything but their penalty minute totals, but it was a final show of feistiness the Ducks can carry into the summer while they dream of playing games with playoff implications next season.
Follow Helene Elliott on Twitter @helenenothelen
---