Column: What would it take for the Kings to become a dynasty?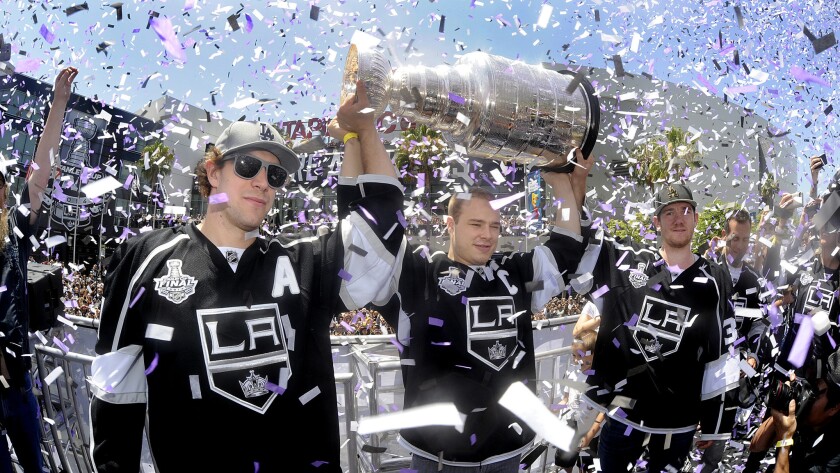 Two days after the Kings had won the Stanley Cup for the second time in three seasons — probably before some players had gotten any sleep — General Manager Dean Lombardi was back at work, focusing on his next project.
A student of sports history, Lombardi researched which major league teams in the past 25 years had won three championships in a span of four or five years. He wanted to learn how they sustained their success, knowledge he hoped to apply to his team.
He found the New England Patriots of 2001-2003-2004, the New York Yankees of 1996-1998-1999-2000 and the Lakers of 2000-2001-2002 who reestablished their dominance when they came back to add titles in 2009-2010. Others have won multiple championship in longer time spans — the NBA's San Antonio Spurs have won five times since 1999; the Detroit Red Wings won the Cup four times from 1997 through 2008 — but those didn't fit Lombardi's parameters.
"What's a dynasty? It's the Packers. It's the Cowboys. It's the guys down the hall," he said, nodding toward the Lakers offices in the teams' El Segundo practice facility. "It's four in five, boys, that's it, so let's go for it."
No NHL team has done that since the Edmonton Oilers won in 1984, 1985, 1987, 1988 and again in 1990, after they had traded Wayne Gretzky to the Kings. No NHL team has won consecutive Cup titles since the Red Wings of 1997 and 1998.
Would a repeat by the Kings make them a dynasty?
That's up for debate. But in winning the Cup twice and reaching the West final once in the past three seasons, the Kings have won the endorsement of an authority on dynasties — Bill Torrey, architect and general manager of the New York Islanders when they won the Cup in 1980, 1981, 1982 and 1983 and lost the Final in 1984.
"No one has given me an apt, complete description of what the word means, but they're about as much a dynasty this year as you could be," said Torrey, 80, now an alternate governor of the Florida Panthers.
"When you look at the way they went down in every series last spring and had to fight their way back, no team ever did it before, and they are due lots of recognition."
Sustaining success is difficult in any sport. It's especially tricky under the hard salary cap the NHL implements. Players want raises after they win, but the team's payroll can stretch only so far. Role players want a chance at stardom elsewhere. That creates the kind of upheaval that broke up the 2010 Chicago Blackhawks — though they retooled and won in 2013 — and often leads to years of rebuilding.
So it's impossible.
"I'm not sure I buy that," Lombardi said. "It seems that's the first thing out of everybody's mouths: 'You can't do it.' I think a lot of it comes from the NFL because there's such a high turnover, but part of that is it looks high because there's so many guys on the roster.
"I never wanted to accept that. You've heard me say, 'We're doing it slow so we can keep it together.' … I think it can be done."
Dynasties were common in the six-team NHL. The Montreal Canadiens won the Cup five consecutive times starting in 1956 and won four straight championships starting in 1976 with teams considered among the best ever.
"Each era has its own distinct obstacles to continue winning, and you have to deal with them," Torrey said. "You can't compare the '60s to the '70s. They're all different. And certainly the budget I had in running the Islanders wouldn't win me very many championships today."
One notable difference is that the Canadiens of the 1950s had to win only two playoff series to win the Cup; their 1970s counterparts had to win three series. As the NHL expanded and changed its playoff format, the road to the Cup lengthened and the 1980 Islanders were the first team to win four series. Consider this: They won an astonishing 19 straight playoff series.
"When I go to my grave, I think that's one record I will be safe to know will be there for a while," Torrey said.
The Islanders, Oilers and Kings relied heavily on the draft to build their teams. The Oilers, who had acquired Gretzky when they were in the World Hockey Assn., got a head start when they were allowed to keep him instead of possibly losing "The Great One" in the expansion draft that took place when four WHA teams joined the NHL in 1979.
The Islanders, after finishing last in 1972, drafted Denis Potvin No. 1 overall in 1973, then added Clark Gillies and Bryan Trottier in 1974 and Mike Bossy in 1977. All became Hall of Famers. Torrey resisted calls to blow up his team after playoff losses in 1978 and 1979 and made a deadline-beating trade in 1980 that remains the gold standard — Despite the objection of Coach Al Arbour, Torrey traded Billy Harris and Dave Lewis to the Kings for Butch Goring, who became the glue of their dynasty.
The Oilers, guided by scout Barry Fraser, drafted Kevin Lowe, Mark Messier (48th) and Glenn Anderson in 1979, Paul Coffey, Jari Kurri (69th) and Andy Moog (132nd) in 1980 and Grant Fuhr in 1981. All became multi-Cup winners. The Oilers' draft efforts have never come close to matching that.
The Kings, also drafting early after years of failure, chose Dustin Brown 13th in 2003, Anze Kopitar 11th and Jonathan Quick 72nd in 2005, and Drew Doughty second in 2008. Lombardi made his version of the Goring trade on Feb. 23, 2012, filling a need for scoring by acquiring forward Jeff Carter from Columbus. Two years later, he got free-agent-to-be Marian Gaborik from Columbus for Matt Frattin and two draft picks.
"I have a great deal of respect for him," Torrey said of Lombardi. "He's extremely thorough, and he's not afraid to take chances. He's very forward-thinking. It's paid off."
The Islanders and Oilers grew up together and became family, an atmosphere Lombardi promotes. Players have bought in, helping keep the group largely intact; Gaborik and defenseman Matt Greene re-signed for less than they could have gotten on the free-agent market.
Because they respect and push each other, they avoid complacency, a key to sustained success. "I think their bonds are stronger," Lombardi said. "I see none of this stuff that you've usually got to watch out for — who gets the credit, that type of thing.
"You can definitely tell they like each other, and I've always talked about what makes this group so special. It's that, and it seems like it's continuing to grow, which is pretty neat."
Just as the case for calling them a dynasty will grow if they win again.
---
Get the latest on L.A.'s teams in the daily Sports Report newsletter.
You may occasionally receive promotional content from the Los Angeles Times.