Luc Robitaille says Kings' cycle of losing is 'unacceptable'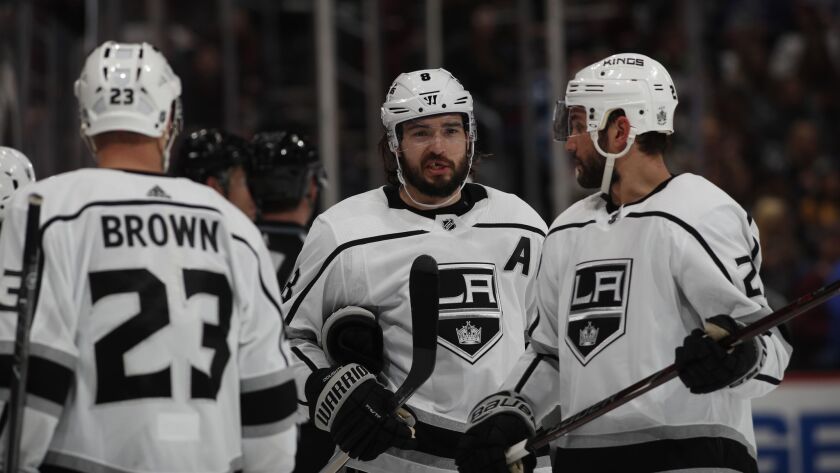 Rooted in the depths of the NHL standings — entirely on merit — is not where Kings President Luc Robitaille expected his team would be sitting at the start of the All-Star break and bye week.
"When we set out and we did our work at the end of last year and you take out that we missed Jeff Carter for over 50 games and we got 98 points, we kind of based this season off of that team," Robitaille said. "And that was the reasoning for adding a player like Ilya Kovalchuk that would hopefully help us get a few more goals. And then you look at it if you win two or three more games you end up with 102 and 104 points, and it changes your position for the playoffs."
That miscalculation by Robitaille and general manager Rob Blake is one of many mistakes that have consigned the Kings to defeat this season.
They stand 29th, with a league-low average of 2.26 goals per game and a league-worst goal differential of minus-36 at the break. Their defensive failures are the most surprising. They weren't a high-scoring bunch but during their Stanley Cup runs in 2012 and 2014 they established an identity as a tireless and formidable defensive team. That has been shredded by opponents who are faster and play faster, emphasizing the Kings' unaddressed need for speed. Kovalchuk, signed to a three-year contract at age 35 worth $18.75 million, has had some good stretches but also has been misused by interim coach Willie Desjardins. Kovalchuk has nine goals (three on power plays) and 22 points in 40 games.
Blake's attempts to ignite a spark have failed. He fired the coach he hired, John Stevens, after a 4-8-1 start and traded winger Tanner Pearson, who didn't fulfill projections he'd become a pillar of the next generation. And still the Kings haven't broken their cycle of losing. "To ask, 'Are you disappointed?' Yeah. It's unacceptable the way we've played this year and the way our team has responded," Robitaille said Wednesday, adding that he was speaking solely for himself. "Injuries are not an excuse. You always got to find a way to come through and we didn't. We have not. I would say we did not to this point and we have not because there's still 32 games."
Sign up for our daily sports newsletter »
At least publicly, Robitaille hasn't given up on mounting a playoff push. That means he's not ready to implement a "Lose for Hughes" strategy and tank in order to get in the draft lottery and improve the Kings' odds of choosing top-ranked forward Jack Hughes. That could change in the weeks before the Feb. 25 trading deadline, and it should. Making a brief playoff appearance is counterproductive to an organization that needs a massive infusion of talent through the draft and through trading whatever contracts they can off-load to teams seeking the final pieces to a championship roster.
"It's going to be a challenge but I never count these guys out," Robitaille said. "I will never count Jonathan Quick, Drew Doughty, Anze Kopitar and Dustin Brown out because I know they've done it in the past. We always believe in that. I expect them to play to win every day and I expect them to have a chance to make the playoffs. That's the way our guys think and that's the way I want them to think."
That kind of thinking got them in this hole.
Dean Lombardi, Blake's predecessor, traded away first-round draft picks in 2013, 2015, and 2016 to keep a championship team going. His reasoning was sound but his execution wasn't always good. Trading the 2013 pick, which brought Carter from Columbus and boosted the Kings to their two championships, was a success. The 2015 pick was thrown away for Milan Lucic and the 2016 selection was given away for 16 games of Andrej Sekera. Both left without compensation. Players the Kings might have drafted those years would have been blossoming now. That hurts, especially because 2017 first-round pick Gabriel Vilardi has had back problems that limited him to four minor league games this season. That's worrisome for a 19-year-old kid.
Robitaille also confirmed Desjardins will finish this season behind the bench and will be considered for the job on a permanent basis after the season. "I think we made it clear that in the summer that we were going to look at every option and Willie is ahead of everyone on his audition," Robitaille said. That seems like another mistake.
In the meantime, Doughty will represent the Kings at the All-Star game in San Jose this weekend and then join his teammates in taking a few days off before they reconvene for practice on Feb. 1. The break is also beneficial for fans, who have shown their displeasure through boos and shrinking attendance in the face of frequent dispirited performances.
"It's unacceptable," Robitaille said. "It's well below the standard we set out for this organization and this is not the expectation that we have and we know that's not what our fans expect from us."
He feels your pain. Now it's up to him and Blake to end that pain and provide reason for hope next season. No more miscalculations allowed.
---
Get the latest on L.A.'s teams in the daily Sports Report newsletter.
You may occasionally receive promotional content from the Los Angeles Times.