Column: Fiery Jarome Iginla helps keep alive Kings' slim playoff hopes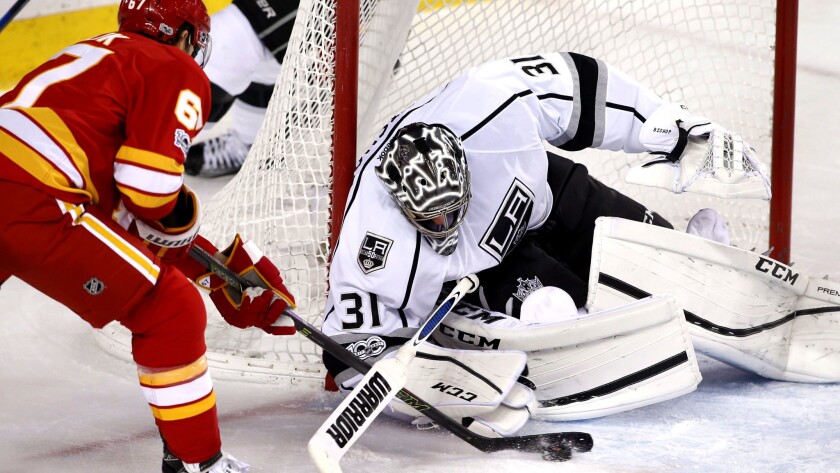 Reporting from Calgary, Canada —
Jarome Iginla has scored a few goals in Calgary over the years. He has settled a few scores here too. He did both Wednesday night for the Kings in a 4-1 victory over his old team at the Scotiabank Saddledome, feisty as he approaches his 40th birthday, a bright light fighting off the darkness of the Kings' still likely non-playoff finish.
Iginla recorded a Gordie Howe hat trick—a goal, an assist and a five-minute fighting penalty — to prevent the Kings' season from slipping irretrievably down the drain and, at the same time, postpone the Flames' clinching a playoff spot. "I don't know how many more games I'll play here," he said, "but this will be one that I will remember. It's special."
And not just to him.
"I think for the majority, if not all of us, we're very privileged to be in his presence, to be in the same locker room and just to see him being professional and how he prepares and competes," said Anze Kopitar, whose blistering shot from the right circle at 6 minutes 9 seconds of the third period gave the Kings a 3-1 lead. "I think he's a future Hall of Famer that everybody in here can learn a lot from."
The Kings would do well to learn from the combativeness he showed Wednesday, more than many of his teammates have shown all season. In their last visit here, on March 19, they didn't bother to avenge Flames rookie Matthew Tkachuk's elbow to the jaw of franchise defenseman Drew Doughty. Iginla and defenseman Brayden McNabb made sure the cheeky Tkachuk didn't get a free pass Wednesday.
"You could see how warmups went and you could see some intensity there and some animosity," said Iginla, who was among a cluster of players who gathered to yap at one another at the red line before the game. "It's fun. It's battling. You could feel it right from the drop of the puck. ... I thought it was close to a playoff game, and those are fun to be a part of with that intensity."
Unfortunately, that might be as close to a playoff game as he gets this season. The Kings have six games left and are 10 points behind the Nashville Predators, who fell to the second wild-card spot Wednesday. "He's a great role model for young players. That's a guy deserves to win the Stanley Cup," said Kings Coach Darryl Sutter, who coached Iginla in Calgary.
Iginla's contract expires after this season and he said he's not sure if he will continue to play. But his performance Wednesday kept the Kings' flickering hopes alive. "Nobody's giving up," he said, least of all him.
Hostilities were expected Wednesday because of Tkachuk's hit on Doughty, which wasn't penalized but later got him a two-game suspension from the NHL. Doughty called Tkachuk dirty, and Tkachuk responded by saying he "expected more" from Doughty, whose Stanley Cup and Olympic championships are feats Tkachuk can dream of someday matching.
Tkachuk dropped the gloves in the first minute Wednesday but Jake Muzzin was an unwilling partner; McNabb wrestled Tkachuk to the ice soon afterward and not long after that, Iginla took on bruising Deryk Engelland and got the better of the battle.
"It was a fun night for myself and obviously the way we won it," said Iginla, who has five goals, seven points and two fights in 13 games since the Kings acquired him from Colorado.
The Flames scored first, at 3:04 of the first period, when Dougie Hamilton batted the puck past Kings goaltender Ben Bishop after Alec Martinez was unable to clear it. The Kings pulled even at 12:04 on Trevor Lewis' first goal in 11 games and 10th this season, a deflection of a long shot by Derek Forbort. For Lewis, who was playing in his 500th regular-season game, it was the first time in his career he has hit double-digits in goals in a season.
Iginla was credited with the Kings' second goal, at 19:14 of the second period. The puck had come toward the net from long range and was in Iginla's feet in the slot, and it appeared that Calgary defenseman Mark Giordano put it into his own net while trying to clear it out of danger. "Nice bounce there on that goal," Iginla said, "but all around, I thought we played real hard right from the drop of the puck. … We're do or die at this point."
Kopitar padded it to 3-1 before Iginla set up Jeff Carter for the fourth goal, at 12:40 of the third period, ensuring the Flames would not clinch a playoff spot in front of their home fans. The Flames will get another chance soon. Iginla might not, but if this is his farewell to his longtime home, he made it a good one.
Follow Helene Elliott on Twitter @helenenothelen
---
Get the latest on L.A.'s teams in the daily Sports Report newsletter.
You may occasionally receive promotional content from the Los Angeles Times.