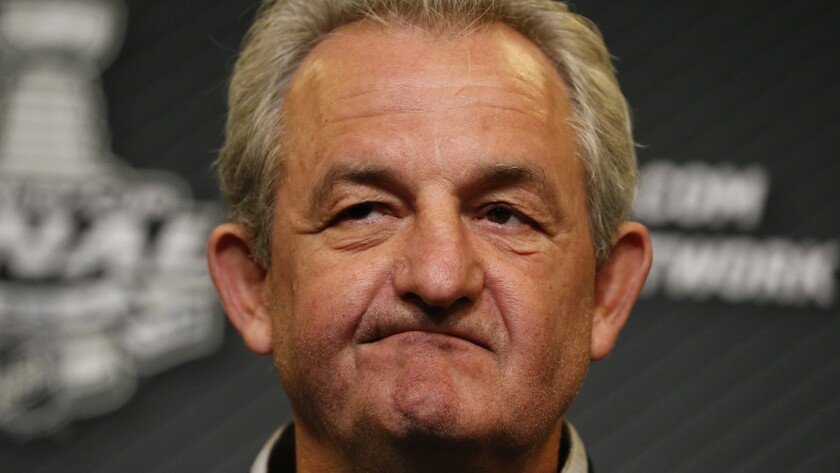 Kings Coach Darryl Sutter will be taking his talents, and two members of his coaching staff, to Columbus, Ohio, for the Jan. 25 NHL All-Star Game.
Sutter won two Stanley Cups, in 2012 and 2014, with the Kings and lost in the Stanley Cup Final in 2004 when he coached the Calgary Flames.
As much as Sutter appreciated his first All-Star coaching honor, which was first reported by the Columbus Dispatch, he indicated Wednesday that particular gap on his resume wasn't weighing on him.
"It's not about me," Sutter said.
It was more about his family and his assistant coaches, John Stevens and Davis Payne. The full coaching staffs for both teams will be announced Monday.
It won't be a pure Western Conference vs. Eastern Conference breakdown in the All-Star Game. Team captains will select the rosters, so Sutter could conceivably end up coaching against one of his players, say, defenseman Drew Doughty, goalie Jonathan Quick or center Anze Kopitar.
Or there could be the fun-filled scenario of Sutter possibly coaching Toronto forward Phil Kessel or Ottawa defenseman Erik Karlsson — players who can be difficult to coach and might give Sutter fits if the result meant anything.
"I'd be fine with it," Doughty said of the various scenarios. "When coaches are at those things obviously, they're not themselves. They're just there to have fun, like everybody else.
"I think it'd be pretty normal, kind of fun to see Darryl just let loose, and not have to be serious for a little bit. … Hopefully I make it."
Six players have been selected in fan voting — five Chicago Blackhawks and Buffalo's Zemgus Girgensons. On Saturday, the NHL will announce the balance of the All-Star selections.
The fact that Stevens and Payne would also be involved — and that Sutter's family could be on hand for All-Star weekend — helped the Kings coach decide to accept his All-Star Game appointment.
There was a certain symmetry about the All-Star news coming out on the eve of the Kings' first game against the New York Rangers since their meeting in the Stanley Cup Final in June.
"It's interesting because both teams got wrote off early [last] year and both teams played in the Stanley Cup Finals," Sutter said.
For Sutter, the final against the Rangers does not feel like a distant memory. The Kings clinched the Cup in five games, but two of the games required double overtime and another went to a single overtime.
"It's pretty fresh," Sutter said. "I think I can relive [it], just because I'm into the playoffs part more. I can relive that, not just last year's playoffs, but I can visually in my mind have a lot of playoff games I can think about that seem like really not [long] ago."
KINGS VS. NEW YORK RANGERS
When: 7:30.
On the air: TV: FS West; Radio: 790.
Etc: The short break between games helped the Kings rest and heal, and it has enabled defenseman Robyn Regehr to move closer to returning to action. Regehr, who sustained an injury to a finger against St. Louis on Dec. 18, resumed practicing. This will be the Kings' first game since Saturday's wild 7-6 overtime loss to Nashville. With Rangers goalie Henrik Lundqvist starting against the Ducks on Wednesday, it is expected that goalie Cam Talbot would start against the Kings.
Follow Lisa Dillman on Twitter @reallisa
---