Kings lose Tanner Pearson to injury, Tyler Toffoli to illness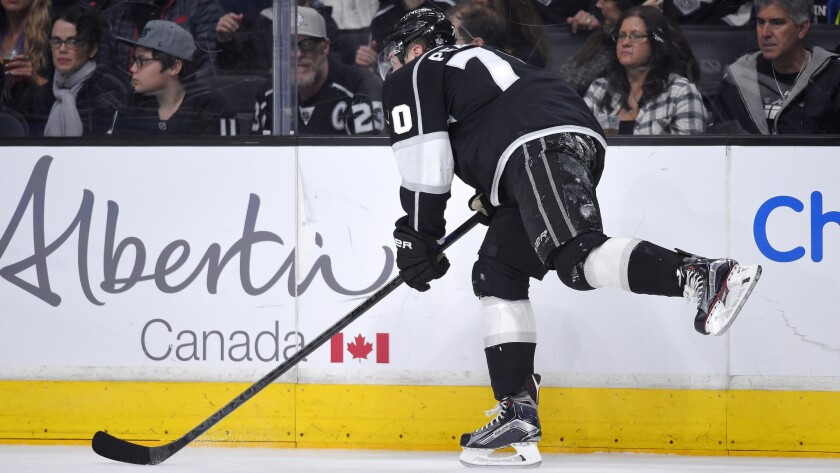 Another month, another dose of adversity.
In this case, it was a double dose for the Kings.
The Kings will be without forwards Tanner Pearson and Tyler Toffoli for an indefinite period. Toffoli was diagnosed Friday with mononucleosis and did not play against Winnipeg on Saturday. Pearson was injured in the second period against the Jets and did not return.
The Kings first thought Pearson had a broken left ankle, but announced Sunday that it was a fractured fibula. They offered no timetable for his return. New York Rangers center Derek Stepan suffered a similar injury and was sidelined for about six weeks.
Pearson was put on injured reserve and the Kings were planning on recalling center Nick Shore from their American Hockey League affiliate in Manchester, N.H. Shore has 20 goals and 41 points in 37 games with the Monarchs.
The youthful energy of Pearson and Toffoli sparked the Kings in the second half of last season and in the playoffs as they almost immediately clicked with center Jeff Carter. Pearson was the NHL's rookie of the month in October and was to have participated in the skills competition at the All-Star game this month in Columbus, Ohio, with five other top rookies.
Toffoli was the Kings' third-leading scorer with 12 goals and 27 points. Pearson and Toffoli were responsible for 24 of the Kings' 119 goals.
"I've said all along that it's been a challenging year from that personnel standpoint and we'll just continue to do it," Coach Darryl Sutter said after Sunday's optional practice.
"It's not like we fell off the face of the Earth or we're not in a playoff spot. Or we're not fighting for a playoff spot.
"We are and we've managed to do that to this point and that's what we'll continue to do."
The Kings lost to the Jets, 5-4, in a shootout and are 1-6 in shootouts. They are 2-2-3 since the Christmas break.
Defenseman Jake Muzzin addressed the challenge of going forward without Toffoli and Pearson.
"It hurts losing those guys," he said. "They bring a lot of energy and a lot of offensive ability. But we've got other guys that step up, no problem."
The Kings have been down this road many times and the experience has paid off, Dustin Brown said.
"If you look at our team, historically over the last however many years, that's what has made us a good team," Brown said. "When guys are down, one, we have guys that come in and play well, and, two, the current players elevate their game."
KINGS MONDAY
vs. Toronto
When: 7:30.
On the air: TV: FS West; Radio: 790.
Etc.: The Peter Horachek Era is off and running as the Maple Leafs' interim head coach is 1-1 since the firing of Randy Carlyle on Jan 6. In its last 11 games, Toronto has three victories, beating Columbus on Friday, Boston on Dec. 31 and Dallas on Dec. 23.
---
Get the latest on L.A.'s teams in the daily Sports Report newsletter.
You may occasionally receive promotional content from the Los Angeles Times.