Kings' Tanner Pearson might be returning soon from broken leg injury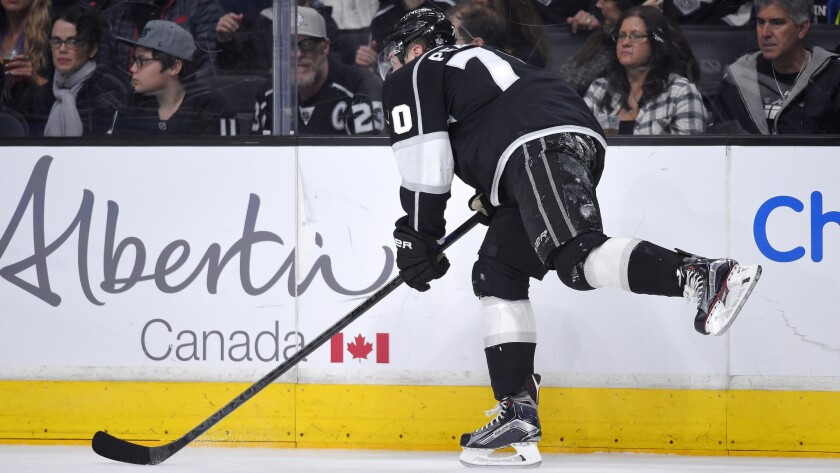 Reporting from UNIONDALE, N.Y. —
This was the scene of Tanner Pearson's breakthrough individual moment last season: his first NHL goal.
The Kings' left wing laughed and said he still didn't know whether the puck had crossed the goal line that night in Long Island on Nov. 14.
Unfortunately for the injured Pearson, he will have to wait to try to score another regular-season goal on the road against the Islanders, and it won't be at Nassau Coliseum. The Islanders will be moving to Brooklyn next season.
"It's unfortunate I can't play here again," Pearson said Wednesday after practice.
Pearson, who broke his left leg on Jan. 10 and required surgery, was among those taking part in an optional workout. He is moving along nicely and getting closer to returning to the lineup.
"We're getting pretty close," he said. "I mean, I don't see anything happening this road trip for sure. I think I still need another X-ray to see where I'm at. Hopefully when we get back, things show good signs and we'll go from there."
His last X-ray, taken before this trip, showed "a small piece of the bone" that still has to heal, he said. Kings General Manager Dean Lombardi said there is a chance Pearson could be ready to come back before the end of the regular season.
Having said that, there is a difference between being ready and the Kings feeling comfortable about putting him in the lineup at a critical point after having missed so much time. After this trip, there are six games remaining in the regular season.
Martinez update
After the rush and excitement of returning to the lineup wears off, the second game back after an injury is often more difficult. Kings defenseman Alec Martinez went through it at an accelerated pace, playing two games in two nights.
"You have a lot of energy and you're really excited to be back," said Martinez, who was injured Feb. 7 at Tampa Bay, suffering concussion-like symptoms. "You feed off that adrenaline of not having played in a while. I felt a little bit better than I thought I would in terms of my legs and my lungs.
"There were a few reads I could have made better and quicker. There's room for improvement. All in all, I felt pretty good."
There is a certain comfort level built in with his partner on defense, veteran Matt Greene.
"Ever since I've been in the league, I've probably played with him 75% of the time," Martinez said. "Having him back there, communication is key too, having played with each other for a while certainly helps."
Stoll progressing
Lombardi said injured center Jarret Stoll has resumed skating on his own back home. Stoll skated on back-to-back days (Tuesday and Wednesday) for the first time since his injury against the Vancouver Canucks on March 12.
He was hurt in the third period of that game and since then the Kings have followed the required protocol for suspected head injuries.
"He's making good progress," said Lombardi.
KINGS VS. ISLANDERS
When: Thursday, 4 p.m. PDT.
Where: Nassau Veterans Memorial Coliseum.
On the air: FS West; Radio: 790.
Etc.: The Islanders are coming off a 2-1 shootout loss to the Minnesota Wild on Tuesday night. Local and federal authorities are investigating Twitter threats made against Islanders defenseman Nick Leddy, according to Newsday and other media outlets. The Islanders confirmed to the newspaper the organization has alerted the appropriate authorities regarding the situation.
Twitter: @reallisa
---
Get the latest on L.A.'s teams in the daily Sports Report newsletter.
You may occasionally receive promotional content from the Los Angeles Times.