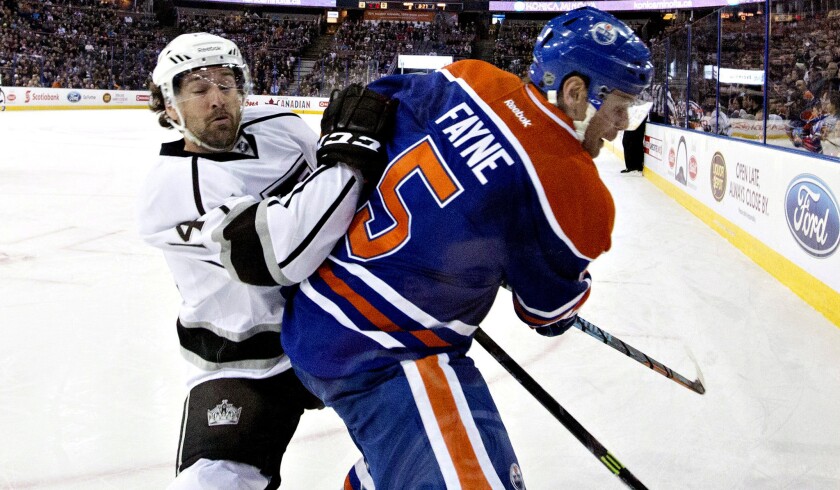 The math is simple, if daunting, for the Kings with six games remaining in the regular season — win them all and they're in the playoffs. Lose just once, though, and their destiny could be out of their hands.
"Every game now is the biggest game of the year," forward Justin Williams said ahead of Thursday's home date with the Edmonton Oilers. "And then after that, Saturday is the biggest game of the year. The hardest thing is just to get in. You just want a chance. There's no secret formula. Just win."
The Kings lost the last two games on their recent five-city trip, leaving them two points out of a wild-card playoff berth, and three points behind third-place Calgary in the Pacific Division.
Leap-frogging both second-place Vancouver and third-place Calgary in the division race, while still possible, is unlikely. But if the Kings pull that off, they would start the playoffs at home, where they are 22-9-7.
Doing that will require some help, though, since the Kings have just one game left with the Canucks and Flames.
"Everybody asks about 'Do you scoreboard watch?' Well, of course you [do]," Coach Darryl Sutter said. "It doesn't matter. You can do your own math. We've still got to take care of business at home."
Injury report
Sutter was curt when asked about Andrej Sekera, who appeared to sustain a knee injury in the second period of Monday's loss in Chicago when a Blackhawk fell on the defenseman's leg.
"He's out. He hasn't skated for a couple of days," Sutter said.
Sekera is likely to be sidelined longer than that and the team appears to be bracing for bad news. Robyn Regehr was already talking up a new pairing with Alec Martinez.
"Andrej and I were just starting to feel really good together, and it's really just horrible timing for something like that to happen," Regehr said. "But it does and it's happened quite a bit this year with our defensemen and messing up the pairs."
The outlook is better for center Jarret Stoll, who could be cleared to play Thursday. Stoll, who has been out since March 12 with what appeared to be a concussion, skated with the team Wednesday for the first time in nearly three weeks.
TONIGHT
VS. EDMONTON
When: 7:30.
On the air: TV: FS West; Radio: 790.
Etc.: The Kings have picked up five points in three games against Edmonton, which played Wednesday at the Ducks. ... The Kings have surrendered power-play goals in their last three games but scored just once with a man advantage on their trip.
---