Kings can't overcome long odds and are swept in playoff series against the Knights
They took those last steps over the bench, weary with disbelief. Drew Doughty skated by himself back to the Kings end, his teammates slowly behind him in tow.
A post-playoff series handshake line as the losing team is not what the Kings planned at this stage of the season. Neither was scoring three goals in four games against a team that didn't exist a year ago. That's what the Kings will ponder for another lost offseason after a 1-0 loss to the Vegas Golden Knights on Tuesday night that swept them out of the first round.
Marc-Andre Fleury recorded his second shutout of the series in a brilliant, defensive performance by him and his teammates in their inaugural season. The Kings couldn't put any of their 31 shots past him and were left stunned, along with 18,422 in Staples Center.
"Obviously you can't win a series scoring three goals, total," center Anze Kopitar said. "We have to give [Fleury] credit. I thought he was playing really well. But we also had some chances that we didn't score on. We just didn't score enough goals."
The sweep happened nearly two years to the day since the last Kings playoff win, on April 18, 2016, against the San Jose Sharks. Sadly, much hadn't changed.
The Kings scored three goals in four games, a head-shaking dearth of scoring that spoke to how far they still have to come offensively, as well as to the performance that Fleury delivered in stopping 127 of 130 shots.
"They have a really good hockey club," defenseman Alec Martinez said. "Fleury played really, really well. You've to give them credit, they played a hard series. It's a lot of disappointment in the room. You can't forget how this feels."
A series that many predicted would go long ended as quickly as possible. A Kings team set up well for the postseason with its stringent defense was done in by its inability to score, something that management made a point to address in the offseason regime change.
"There's a lot to be learned from this," winger Kyle Clifford said. "It's pretty fresh right now, but the feeling's not good."
Yet, the Kings came out with their hair on fire at puck drop with a ferocious, sustained forecheck from all four lines that was easily their best period of the series. It was a do-or-die opening statement from a team that has formed its identity on resiliency.
But Vegas weathered it behind Fleury in another excellent duel with Jonathan Quick. Fleury seemed to put his stamp on the series midway through the third period.
He made a glove-leg save on Kopitar when Kopitar skated freely into the slot, because of a fallen Vegas player, with center Trevor Lewis tying up Deryk Engelland. Moments later Fleury slid over to bottle up Dustin Brown's in-close shot from the left side.
The final seconds featured Brown with the game on his stick in the high slot, only to have Fleury get his glove on it.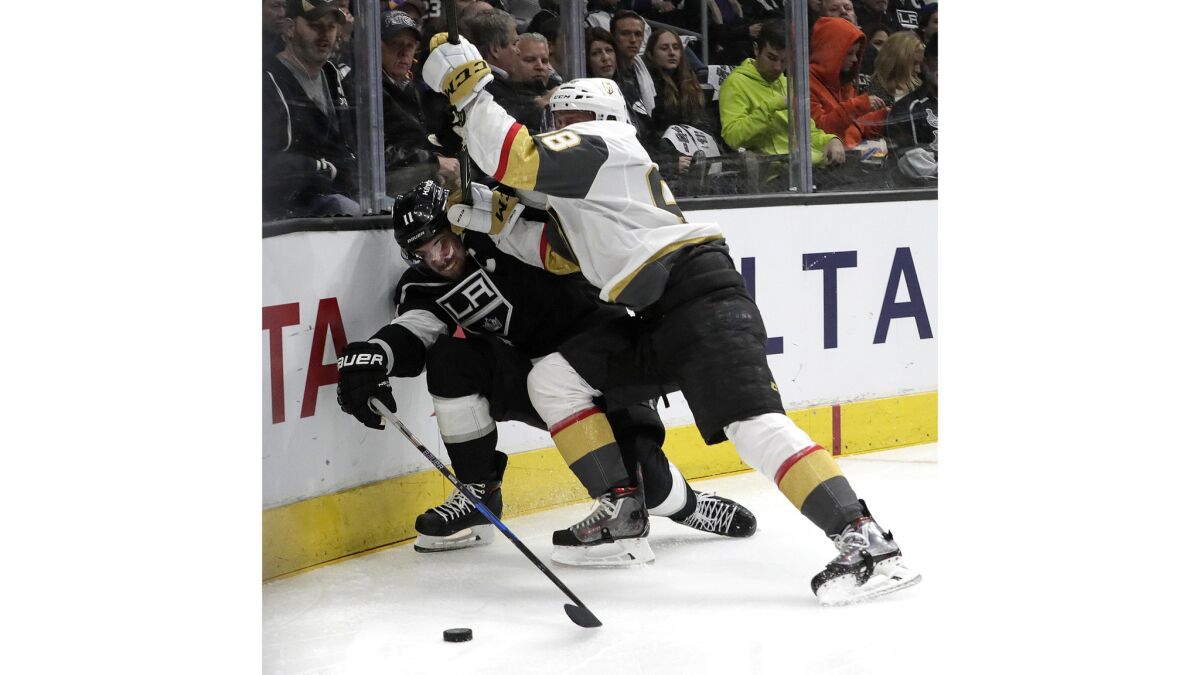 Vegas became the first franchise to sweep a playoff series in its inaugural season, according to the NHL, and it won with seven goals in the series. Total.
The Golden Knights regrouped after the Kings' initial onslaught and imposed their opportunistic ways for the only goal.
Fleury stopped Brown and Vegas went the other way. Center Jonathan Marchessault made a first pass at the boards to spring a three-on-two break and former Kings defenseman Brayden McNabb joined the rush to one-time Reilly Smith's cross-ice pass just more than four minutes into the second period.
Despite a thorough opening 20 minutes, it was scoreless because Fleury stopped all 14 Kings shots and Engelland made a great stick deflection on Tyler Toffoli's shot from the slot in the final seconds.
Asked how long it will sting, Martinez was short.
"All summer," Martinez said. "Losing sucks. There's no way around it."
Twitter: @curtiszupke
Get the latest on L.A.'s teams in the daily Sports Report newsletter.
You may occasionally receive promotional content from the Los Angeles Times.