Kings let another game slip from grasp, this time 4-3 to Panthers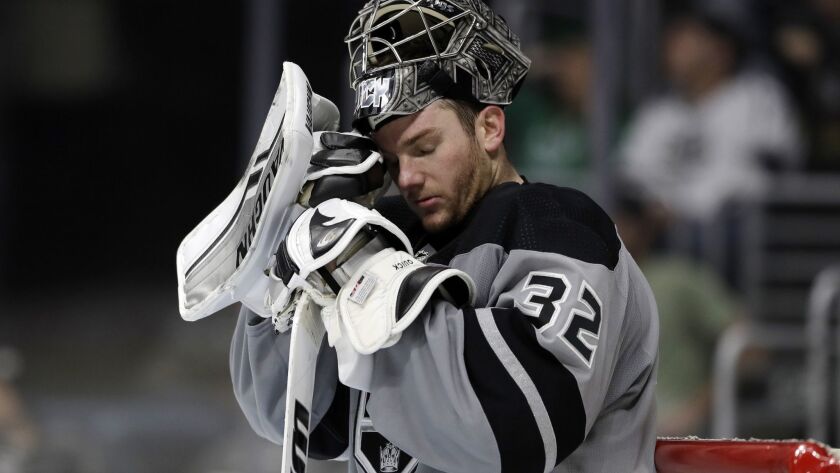 It was a thousand-yard stare for a game decided by a quarter of an inch.
Jonathan Quick sat at his locker postgame still wearing his leg pads, along with a drained, distant look on his face that illustrated the latest Kings loss.
His anguish was understandable given how it went down against the Florida Panthers on Saturday, when Jonathan Huberdeau's backhand shot just did slide across the goal line with 1:56 remaining for the difference in a 4-3 Kings loss at Staples Center.
Up-close replays showed white space between the red line and the puck, despite Quick's presence of mind to reach back and stop it with his left leg. Hard luck, yes, but the Kings can only ask so much of their goaltender.
"There's probably a lot of those games lately that he's deserved a better fate," Jeff Carter said.
The Kings didn't give Quick much help in curtailing Florida's attack. The Panthers' top line of Huberdeau, Evgeny Dadonov and Aleksander Barkov ran rampant with a combined three goals and five assists to send the Kings to their 15th loss in 17 games.
"Skilled players are going to make skilled plays, but it's the same story every … game here," Carter said. "We let him hang out to dry again. We can sit here and talk about it, but we've been talking about it for a while now."
Sign up for our daily sports newsletter »
The talk before the game was that interim coach Willie Desjardins scratched Ilya Kovalchuk in order to mix up his line and give other players a look in another 11-forward, seven-defensemen lineup.
That setup, albeit with Kovalchuk, produced a win against the Ducks last week, and Desjardins wanted to try it even if it meant benching his 431-goal scorer.
"That's a hard thing," Desjardins said. "He's a good person. He takes lots of pride in what he does. I got a lot of respect for him, so whenever you do anything like that it's always hard."
At times it looked like the Kings could have used a finisher like Kovalchuk, but they did get strong games from Anze Kopitar and Dustin Brown, who scored on a breakaway in the first period and was moved to the half wall on the first power play unit.
It was Carter that drove the middle and put two shots on goal to allow Brendan Leipsic to follow through for the score-tying goal 65 seconds into the third period. Carter recorded his 700th career point on the play.
That was after Quick got the Kings through a second period with 15 saves. He had to help defend four Florida power plays, two of which were the result of penalties for delay of game and too many men.
Kopitar finished Brown's feed for a 3-2 lead, which clinched his 10th season of at least 20 goals, and the Kings looked like they might get only their second win this season when trailing after two periods.
But Dadonov's second goal of the game occurred on a rush with more than six minutes remaining, and then he forced a turnover in the Kings' end that led to Huberdeau's goal.
"It was close," Leipsic said. "I know if that was us, we would have probably thought it probably would have went in. I'm sure they thought it went in. [It's] one of those ones where it's tough to give up a goal late in the end. It kind of pulls a little steam out of the bench. It's hard to get right back."
Thomas signs
The Kings signed Akil Thomas to a three-year entry level contract. Thomas was a second-round draft pick last year and has 99 points in 61 games with the Niagara IceDogs of the Ontario Hockey League.
Twitter: @curtiszupke
---
Get the latest on L.A.'s teams in the daily Sports Report newsletter.
You may occasionally receive promotional content from the Los Angeles Times.