Kings trying to stay positive after ending four-game trip without a victory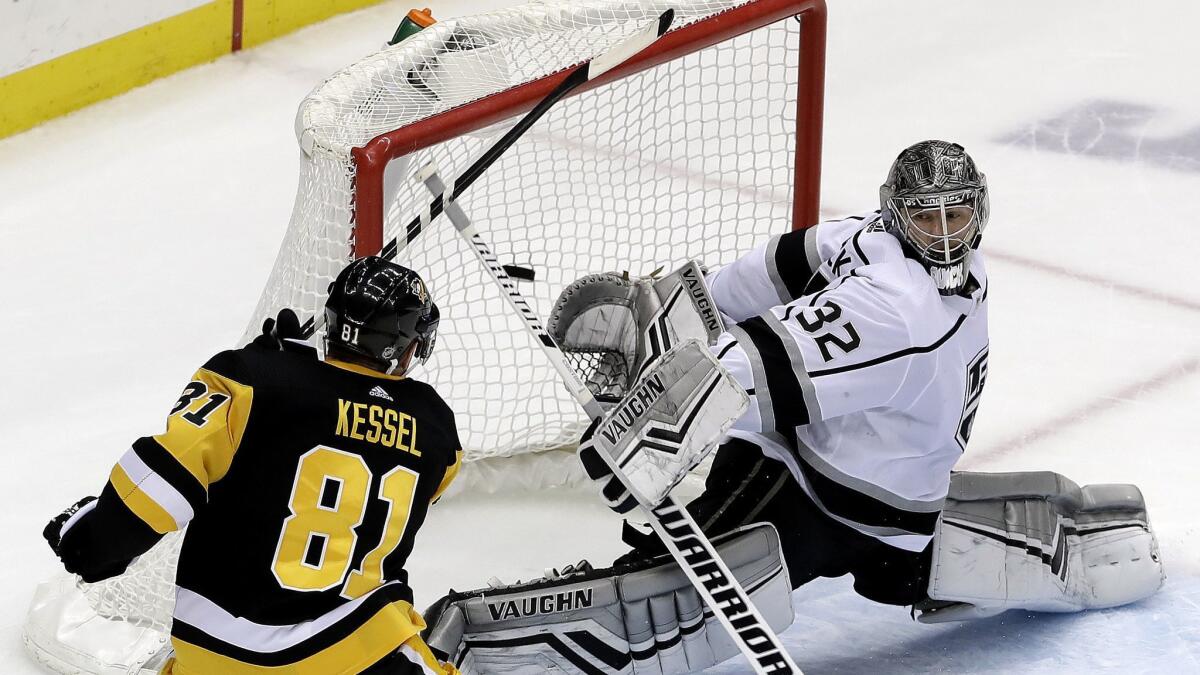 Reporting from PITTSBURGH —
The blade end of the stick that Drew Doughty two-hand smashed into the crossbar sat in front of the Kings' net as the Pittsburgh Penguins celebrated. Jonathan Quick made his way to the bench fuming.
It didn't end there.
Doughty paced in a vacant corridor of PPG Paints Arena postgame, presumably trying to maintain himself. In the Kings' dressing room, Quick let expletives fly when asked about the strong effort the Kings put on late Saturday in a 4-3 overtime loss to the Pittsburgh Penguins.
"We lost," Quick said. "…effort's not enough. That's a given. Effort should be there every … night."
The Kings' anger grows greater with each loss that piles up, and it was palpable Saturday because of the cruel twists:
Tyler Toffoli ended his 15-game scoring slump, only to have it overturned on an offside call, and was denied on a breakaway in overtime. Former Kings winger Tanner Pearson put them in a 3-1 deficit with an incredible individual play, and the Kings came up short when Phil Kessel buried the puck from the left side on a four-on-three power play in overtime.
Goals by Jake Muzzin, Matt Luff and Alex Iafallo and an excellent game from their other young players still left the Kings 0-2-2 on the trip. Muzzin was more measured in assessing the damage.
"We have to stick together as a team," Muzzin said. "That's first and foremost. And everyone grab a shovel and start digging, really, because I think if we start pointing fingers, the team crumbles. I believe in this team – we have a lot of guys hurt – but we can't make excuses. We have to come together as a team and get out of this together."
The Kings did respond to a personal dagger from Pearson, who couldn't have looked happier after he took the puck from Doughty and out-waited Quick across the slot to lift the puck into the net just more than halfway into the game. Scoreless in his final 30 games with the Kings, Pearson notched his fourth goal in 16 games with Pittsburgh and nearly got another in a partial breakaway in the second period.
He held his fist pump for a beat or two in his goal celebration and said "it feels good to get one going" after that goal snapped a nine-game slump.
It helped that Pearson knew the scouting report on his former teammates.
"With as much skill as Dewey has, you want to put as much pressure as quickly as possible on him and make him move the puck faster," Pearson said. "I think Quickie went for the poke check and he does that weird thing with his back leg, so I kind of had to get [the puck] up or put it along the ice. I elected to put it up."
Pearson said he had a puck playfully shot at him in warm-ups, and Quick gave him a stick tap. That was it for sentimentality. Matt Cullen, 42, scored shorthanded and Bryan Rust snapped a shot off Quick's glove in the first period.
Yet the Kings didn't fold. Muzzin jumped into the play to finish Anze Kopitar's pass on a rush. Luff, one of four rookies in the Kings lineup, continued to impress, on a new line with Austin Wagner and Michael Amadio. Wagner passed the puck to himself off the boards and held off a Penguins player so Luff could convert a loose puck for his seventh goal to make it 3-2.
Iafallo one-timed Adrian Kempe's pass on the power play at 12:30 of the third period. In overtime, Doughty delivered a long stretch pass for Toffoli, who was denied on his backhand. Pittsburgh goalie Matt Murray, in his first game in a month, made another big stop on Muzzin in the extra session.
Iafallo said it was about circling the wagons constructively.
"Sometimes you've got to learn from your mistakes, but at the same time, you've got to go out on your shift and keep battling, and staying positive," Iafallo said. "You just dig yourself a hole if you keep thinking about the negative."
Muzzin agreed. "It's how you generate your frustration," he said. "Do you yell at guys or yell at each other or shut down or whatever? How do you generate something positive out of being frustrated is important for us now."
Twitter: @curtiszupke
Get the latest on L.A.'s teams in the daily Sports Report newsletter.
You may occasionally receive promotional content from the Los Angeles Times.