Kings on verge of second Stanley Cup title after 3-0 win over Rangers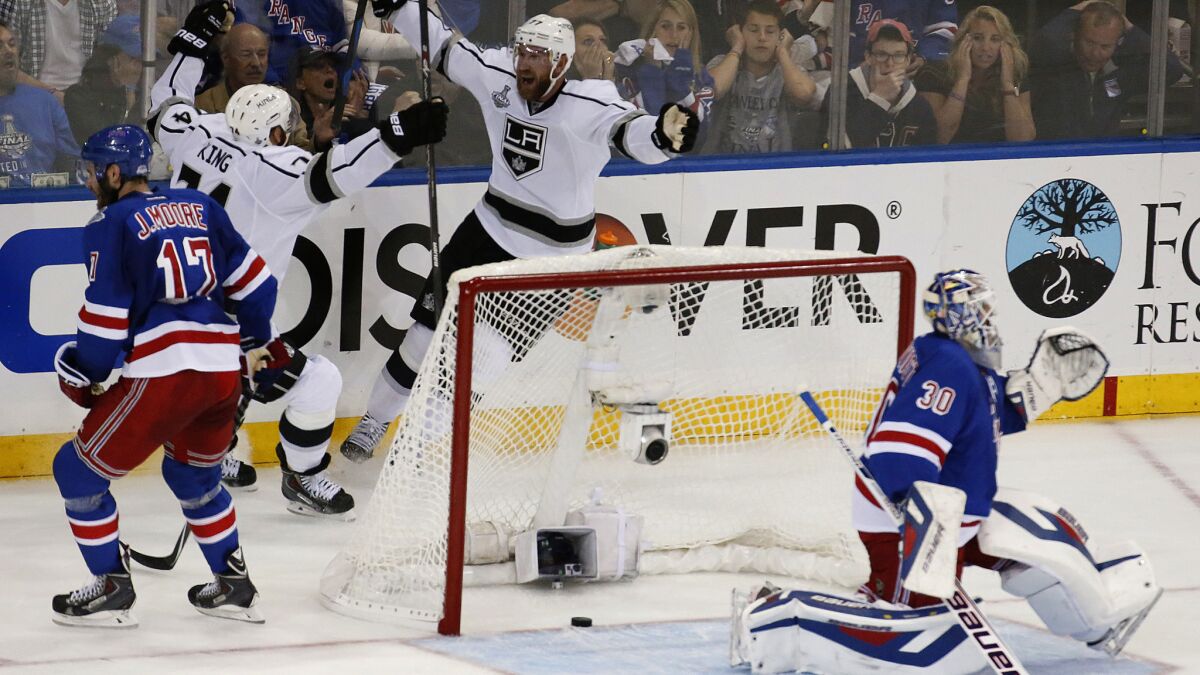 Reporting from New York —
Say goodbye to those loose, high-scoring, defense-challenged impostors. That particular Kings team living on the brink, the playoff edge, needing overtime in three straight games.
They were such fun to have around.
That gut-wrenching version of the Kings vanished abruptly in Game 3, and now the New York Rangers are one game away from exiting the Stanley Cup Final. The Kings established a stranglehold on the series, beating the Rangers, 3-0, on Monday night at Madison Square Garden.
For Kings goalie Jonathan Quick, who faced 32 shots, it was his second shutout of this postseason, marking his first game as an NHL player at the Garden. His other shutout came in Game 5 against the San Jose Sharks in the first round.
The Kings lead the best-of-seven series, three games to none. Game 4 is here Wednesday and they could win their second Stanley Cup title in three seasons.
"This was more our style," Kings captain Dustin Brown said. "We grind away. Get an important goal at the end of one. Find a power-play goal. We waited for our chances."
The even-strength goal he was talking about came from Kings center Jeff Carter with less than a second remaining in the first period, a shot glancing off the heel of a sliding Rangers defenseman Dan Girardi past goalie Henrik Lundqvist.
Carter's goal, his 10th of the playoffs, qualified as the dagger, officially coming with 0.8 remaining in the period. The other two Kings goals came from defenseman Jake Muzzin, on the power-play, at 4:17 of the second period and center Mike Richards with 2:46 remaining in the second.
The Kings were tenacious on the penalty kill as the Rangers went zero for six on the man advantage. Kings defenseman Drew Doughty pointed out the obvious — that Quick was their best penalty-killer as he showed frequent flashes of his playoff most-valuable-player form of 2012.
"This is the game that we want to play," Kings defenseman Matt Greene said. "We don't want to get into shootouts. Obviously the come-from-behind wins are not going to last. This is a game where we are more comfortable playing. This is how we've got to play to have success."
The Kings may have played a classic road game, but their offense didn't vanish, either. They've now scored at least three goals for the ninth consecutive game. Winger Justin Williams, who set up Carter's goal, is on a five-game point streak with two goals and nine points in that stretch.
They have scored 11 goals in this Stanley Cup Final and no one has scored twice. Doughty spoke about the advantage of having such depth.
"Our top players have been playing great but so far in this Stanley Cup finals, you're not seeing Kopi [Anze Kopitar] get a ton of points, you're not seeing myself get a lot of points, you're not seeing Carts get a lot of points," he said.
"It's all been Cliffy [Kyle Clifford] and Stolly [Jarret Stoll] and Williams, guys like that that are stepping up to the plate. That's how you win championships. I know we haven't won it yet, but that's how you get to the point we're at right now. We need the whole team, that's the bottom line, if you're playing too many guys too often, they're going to get tired."
In 2012, the Kings had a 3-0 lead against the New Jersey Devils before the Devils fought off elimination twice in the Stanley Cup Final. The Kings prevailed on home ice in Game 6 at Staples Center. Kings Coach Darryl Sutter was asked whether he could draw on that experience.
"I haven't even thought about that," Sutter said. "Really has nothing to do with this series when you look. I mean, hell, we got thrown under the bus by everybody on earth seven weeks ago, so …right?"
Even Sutter won't have the underdog card available now. But his players were preaching caution and saying all the right things after winning Game 3.
"We can't get ahead of ourselves," Doughty said. "That's very important. We were up, 3-1, against Chicago and we let them back into the series. We could have lost that series, no problem. We know how easy it is for teams to get back in a series."
---
Get the latest on L.A.'s teams in the daily Sports Report newsletter.
You may occasionally receive promotional content from the Los Angeles Times.