Column: Jonathan Quick at his best puts Kings at doorstep of Cup championship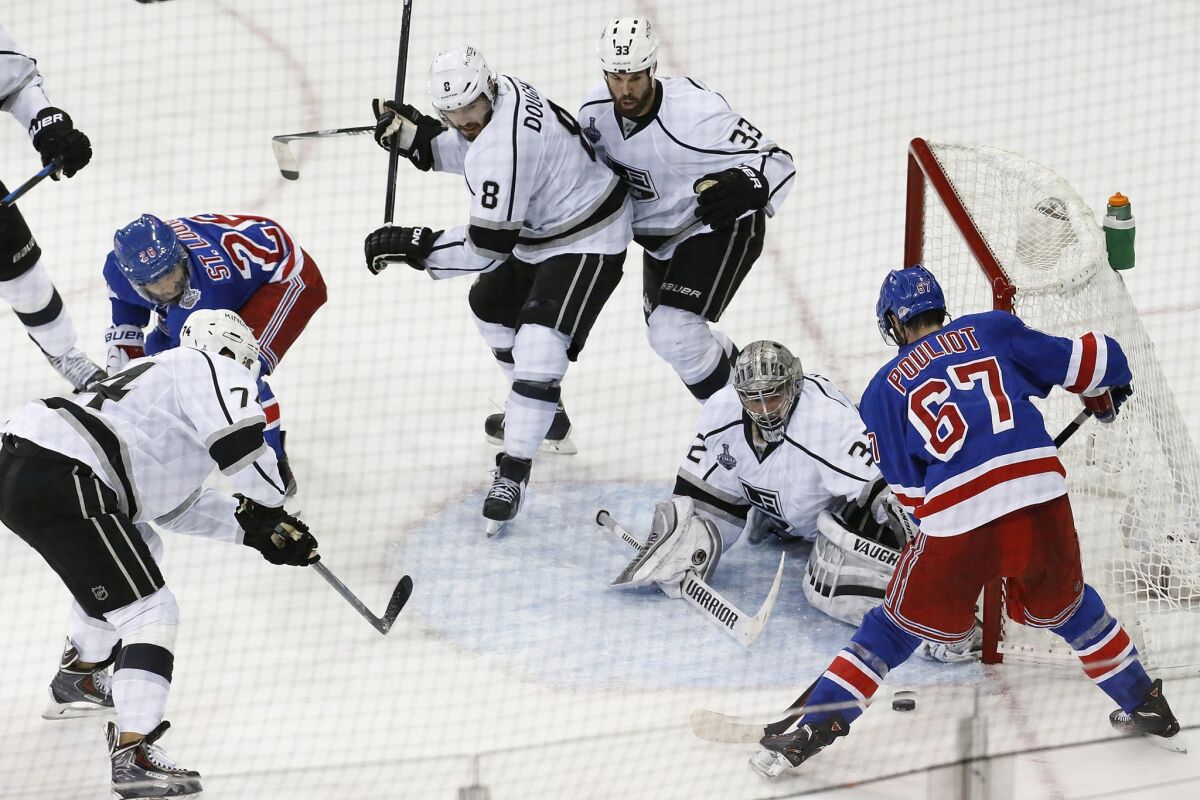 From New York —
Jonathan Quick has been on hockey's biggest stage before and, as it turns out, he has played in one of its classic arenas before, too.
Quick grew up in Hamden, Conn., and among his fondest childhood memories is playing at Madison Square Garden with his peewee team, the Rangers, during the intermission of a New York Rangers game when he was 12. If his grown-up persona is any guide, he probably was as cool then as he was Monday in his first NHL game at the transformed Garden.
Quick and the Kings reached back to their 2012 playbook for a dominant performance that moved them within one victory of their second Stanley Cup championship in three seasons. His 32-save gem in the 3-0 victory that gave the Kings a 3-0 series lead over the Rangers was vintage Quick, a throwback to the acrobatics and forbidding focus that won him postseason MVP honors two years ago.
"He was obviously the best player on the ice tonight," Rangers Coach Alain Vigneault said.
Quick himself was typically laconic and unemotional, saying that playing near where he grew up and in front of his parents and wife didn't mean anything special to him.
"It was a playoff hockey game. We were trying to win a hockey game," he said. "We did a lot of things the right way. We were able to do that, so. . . now we get ready for the next one. The fourth one is always the most difficult, so . . ."
Teammate Dustin Brown said he's sure that Quick did consider the game special because he was a Rangers fan and grew up nearby. Brown suggested another motivating factor — Rangers goalie Henrik Lundqvist — might have been in play, too.
Before the Final started the consensus was the Rangers had an edge in goaltending. Not anymore.
"I think also the guy at the other end of the ice is a very good goaltender as well," Brown said, "and I think that motivates Quickie because he's a competitor."
The 2012 model Quick hasn't been in evidence much during this postseason trek but he was in great form Monday, keeping the Kings in the game early with a stick save on Mats Zuccarello that bought his teammates time to find their footing.
"I think he allowed us to win the game, especially early," Brown said.
And in the middle of the game, with consecutive saves on Brad Richards and Derick Brassard during a New York power play during the second period.
"Quickie does that every game," winger Tyler Toffoli said. "And if you watch him play he's doing something amazing every single night, and that's the reason why we have such a good team. He's our backbone."
Quick's stats aren't overwhelming — his goals-against average of 2.69 and save percentage of .910 are well off his 2012 playoff numbers of 1.41 and .946, respectively — but he has made key saves at important times. His teammates appreciated every one of those stops Monday, when they were able to take a lead for the first time in the Final, thanks to Jeff Carter's goal with eight-tenths of a second left in the first period.
Quick helped them maintain that lead with 17 saves in the second period and 11 in the third, silencing a crowd that had been ready to celebrate the Rangers' first Cup Final home game since 1994.
The secret to his success? "You just make one save at a time and you try and get ready for the next one. That's all," he said.
If it were that simple, more goalies would do it. Quick has shown the same resilience the rest of his teammates have, able to bounce back after being victimized by unfavorable bounces.
"That's been the MO for Quickie since pretty much the first series," Brown said. "And I think you look at his numbers, a lot of that is a result of how poorly we played in the first three games of the playoffs.
"But you look last game, he saved two breakaways. The game before that, a breakaway with a minute left, and tonight he makes a save on an empty-net goal early for us. It's big saves at big moments."
Quick became just the second opposing goalie to record a shutout at the Garden in the Stanley Cup Final. The first was Gerry Cheevers, who led the Boston Bruins to a Cup-clinching 3-0 victory on May 11, 1972.
"He gave us a chance. That's all we ask from him," center Anze Kopitar said. "He gives us much more than that with a couple huge saves, and hopefully he can continue playing like that."
He has to do that for only one more game for the Kings to win the Cup again. The most important number won't be his save percentage but the 16 wins he will have helped them record.
Twitter: @helenenothelen
Get the latest on L.A.'s teams in the daily Sports Report newsletter.
You may occasionally receive promotional content from the Los Angeles Times.