Column: Kings' playoff hopes all but dissolve with loss to Rangers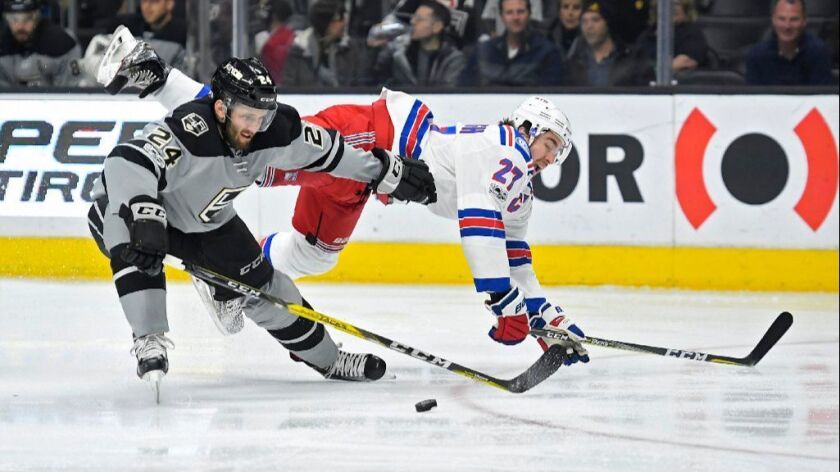 The Kings' 3-0 loss to the New York Rangers on Saturday night summed up their season in one flawed performance, perfect only in exemplifying why a team that supposedly has so much talent and heart is all but certain to be watching on TV when the Stanley Cup playoffs begin next month.
With their playoff hopes dwindling by the hour, the Kings couldn't muster enough urgency to crash the net. They couldn't fight for rebounds in front of goaltender Antti Raanta. They couldn't finish the few top-notch scoring chances they managed to create among their 30 mostly harmless shots on goal.
They couldn't score a goal. Could. Not. Score. One. Goal. They have no one to blame but themselves for being nine points out of the second Western Conference wild-card spot, currently held by St. Louis, with eight games left on their schedule.
"They find ways to win and they found one tonight," said Kings goalie Jonathan Quick, who faced 19 shots. "I thought we played a good game. We didn't win, you know? That seems to be happening a little more often than we would like."
It has happened too often, really. A playoff miss would be their second time on the outside in the three seasons since they won the Cup in 2014, a failure that likely would lead to changes. The Kings need to get faster and younger — a process they started too late — and they need to score goals. It will be difficult to accomplish because of the many burdensome long-term contracts on their books.
The Rangers improved their league-leading road record to 27-9-1, blocking 18 shots to help Raanta earn his fourth shutout this season.
"We have to focus on the next game. Try to win the next game and go from there," Quick said. "That's it. It doesn't matter what time of the year it is, that's your mind-set. That's what we'll do."
The Kings' lineup Saturday featured extremes in age, with 39-year-old Jarome Iginla on the senior end of the spectrum and 20-year-old forward Adrian Kempe at the other end, along with 23-year-old winger Jonny Brodzinski. It was Brodzinski's first NHL game since being recalled on Thursday from Ontario of the American Hockey League, where he had scored 25 goals and 47 points in 56 games. He had a second-period breakaway thwarted by Raanta.
"I wish we had gotten the win. If I score on that breakaway I had then it's a totally different game," Brodzinski said.
He joined a group that already featured rookies Derek Forbort and Paul LaDue on defense, as well as rookie Kevin Gravel, who was scratched from the lineup Saturday. John Stevens, the associate head coach, said management hoped the infusion of youth would translate into eagerness and hunger the rest of this season, and beyond.
"I think it's about opportunity," Stevens said after the team's morning skate in El Segundo. "It's these guys earning the right to be in the lineup. We're trying to win hockey games, so some of these young guys — Derek took advantage of an injury earlier in the year and has really played well.
"Some of these young guys that weren't here to start the year have gone down and really worked hard with their game and improved to the point where we think they can help us win, and probably the latest example of that is Jonny Brodzinski."
The Kings had some spring in their legs early in the game, but Raanta held the Rangers in the game until they could get going.
The Rangers broke through at 13:02 of the middle period. Brendan Smith's shot from the right point went wide of the net and caromed off the end boards, but the puck came right to Derek Stepan, who was unchecked as he pounced on the puck and rifled a shot home for a 1-0 Rangers lead.
That lead became 2-0 at 1:50 of the third period, four seconds after Kings forward Andy Andreoff got a double-minor penalty.
Rangers center Mika Zibanejad beat Kings center Anze Kopitar on the ensuing faceoff, and Mats Zuccarello got the puck back to defenseman Ryan McDonagh. His shot might have been deflected on the way to the net but it got through Quick, producing cheers from Rangers fans in the crowd and generating loud groans from Kings fans whose playoff hopes were fading with every tick of the clock. Rick Nash capped the scoring with an empty-net goal with 68 seconds left in the third period, but by then the outcome was sealed.
All that's left is to see if the Kings continue to go out with a whimper or if they fight a fate that appears to be all but sealed.
Follow Helene Elliott on Twitter @helenenothelen
---
Get the latest on L.A.'s teams in the daily Sports Report newsletter.
You may occasionally receive promotional content from the Los Angeles Times.