Slumping Kings look to Avalanche to bury losing streak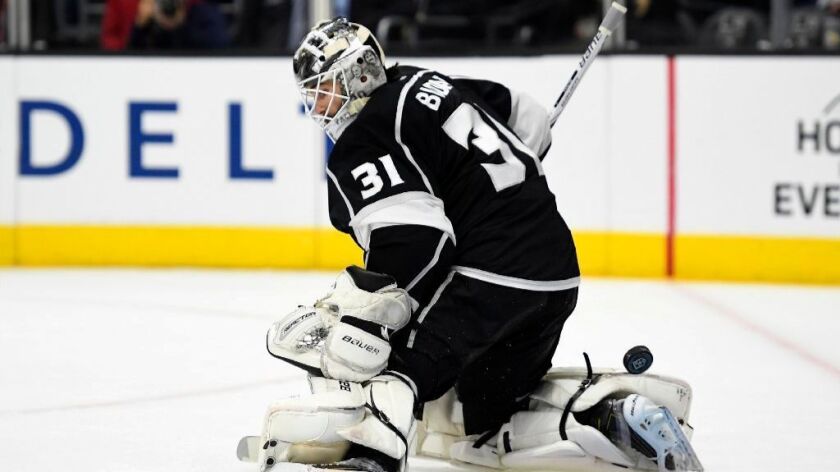 The Kings fled Southern California early Monday afternoon. And though their charter flight took them to Denver, the destination wasn't nearly as important as the fact that they didn't stay here.
Home has not been kind to the team lately.
Not only have the Kings lost three consecutive regulation-length games in Southern California for the first time this season, but they never led in any of them. In fact, the Kings, who have lost five of their last six games, have led in only one game since Feb. 4, leaving them looking up at a wild-card playoff race they once led.
"We're still fully confident we can turn it on and get back into the playoff spot that we want to be in," defenseman Drew Doughty said after the latest setback, a 1-0 loss to the Ducks on Sunday in Anaheim. "The longer we wait the harder it's going to be. Right now we're losing points.
"We need to get on track immediately. It's on to the next game and it's a must-win."
That must-win game comes Tuesday, and in a break for the Kings it is against the Colorado Avalanche, the worst team in the NHL. But that's not the end of the good news for the Kings. Goalie Jonathan Quick, out since the first period of the opening game because of a groin injury, practiced in full gear Monday, facing shots in simulated-game situations for the first time in more than four months.
The team had targeted an early-March return for Quick and, given the recent progress in his rehab, that timetable could be accelerated. The Kings' goal now is to stay close enough to playoff contention that Quick's return can get them over that threshold.
"It's a tight race," goalie Peter Budaj said. "These are huge points for us. We've got to stop the losing streak right now and just get a stop and come back and start putting some wins together."
Budaj, who played gallantly as Quick's replacement for much of the season, has stumbled lately, giving up 17 goals in the Kings' last five losses. Also struggling is captain Anze Kopitar, who has one goal since Jan. 24 and has a career-low six this season
"We can't be happy with the last three games," he said, speaking about the team's performance and his. "There's some bright spots but we've got to work on our game and make sure we play better – and obviously score more goals."
UP NEXT
KINGS AT COLORADO
When: Tuesday, 6 p.m. PST.
On the air: TV: FS West; Radio: 790.
Update: The Kings (28-26-4), who played well in their last two losses, desperately need points to show for their efforts and the schedule makers have presented then with a gift in the trip to Colorado. Not only do the Avalanche have the worst record in the NHL, but they also have a goal differential (minus-77) that is more than double all but one of the league's other 29 teams and have lost a league-high 21 times at home. If that's the good news, here's the bad: One of Colorado's seven home triumphs came against the Kings, who haven't won in Denver since March 2015.
Special correspondent Curtis Zupke contributed to this report.
Twitter: @kbaxter11
---
Get the latest on L.A.'s teams in the daily Sports Report newsletter.
You may occasionally receive promotional content from the Los Angeles Times.