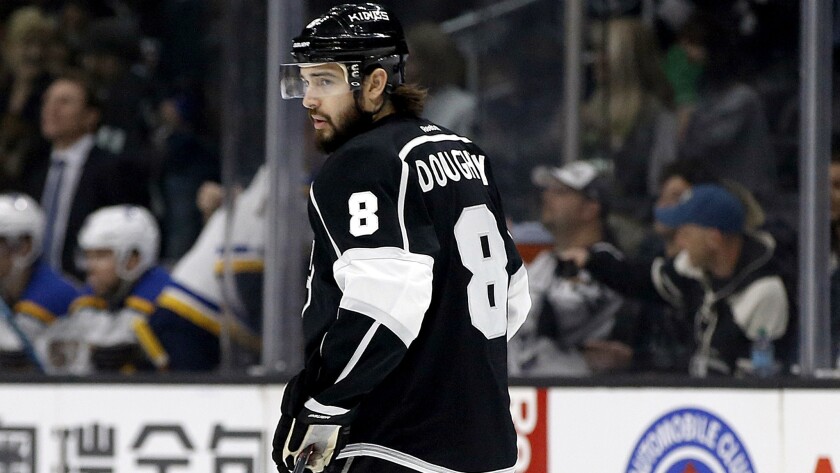 If the Kings' playoff hopes hadn't been in such peril and if they had been facing another team at another time of the season, players said they might have reacted more decisively after franchise defenseman Drew Doughty was elbowed in the head by Flames rookie Matthew Tkachuk last Sunday at Calgary.
The only response to Tkachuk's blow — which wasn't penalized on the ice but drew a two-game suspension upon league review — was a scrum that produced minor penalties for Tkachuk and Kings defenseman Derek Forbort. Tkachuk and the Flames were leading, 2-1, at the time of the incident and went on to earn a 5-2 victory that severely dented the Kings' postseason chances.
"Yeah, there probably should have been a response in a game like that, but it's a fine, fine line," forward Dustin Brown said Wednesday after the Kings' first home practice since their trip to Calgary and Edmonton. "Because you don't want to see a player take liberties with one of our best players. At the same time, you've got a game like that, at the end of the day we need two points."
They didn't get those points or any the next day against the Oilers. They've lost two straight games and four of their last five and are eight points out of the second West wild-card spot with 10 games left on their schedule. "We're in a hole right now, but it's one of those things that we've just got to deal with it now," team captain Anze Kopitar said. "Everybody can do the math."
Kopitar said the team's response to the hit on Doughty "was addressed." Kopitar added, "You can look at it two ways: You can go and maybe take not so great of a penalty. Yes, you're sticking up for your teammate, but you put your team down a man for a couple minutes….You don't take a penalty on that play. I think maybe this time of year that's why it was a little bit more tentative of not going in and doing something stupid, just because of the situation we're in. I thought the message was sent with the scrum that we had right after."
Left wing Tanner Pearson joined that scrum after Doughty went down. Like Kopitar, Pearson said the Kings' precarious playoff position was a key factor in their having a more muted response than they might have had earlier in the season or against a team they weren't directly pursuing for a postseason berth.
"In that type of game you don't want to do something stupid to cost your team to be on the penalty kill. We're chasing the game and we're more focused on trying to come back in the game," Pearson said. "If it's maybe any other game it could have ended up a lot more stuff happening and not so much worrying just about the score."
That probably won't be the last word. The Kings and Flames will meet twice more, at Calgary on March 29 and at Staples Center on April 6, and players tend to have long memories.
"I'm sure Drew's thinking about it. Their guy's thinking about it," Kopitar said. "So I don't think we have to go out of our way to do something stupid, but if there's a chance, you lay the body on the guy."
UP NEXT
vs. Winnipeg, at Staples Center
When: 7:30 p.m.
On the air: TV: FS West. Radio: 790.
Update: The Kings were credited with 177 shots on goal in their previous five games but scored only seven times, a 4% success rate. Through Tuesday's games they ranked fourth in the NHL in shots per game (31.4) but 25th in goals per game, at 2.40. The Jets have won three straight games and are 5-4-1 in their last 10. They won their first game against the Kings this season, 3-2, in a shootout at Winnipeg on Nov. 13. The Kings won the rematch, 3-2, in overtime on Jan. 14 at Staples Center.
Follow Helene Elliott on Twitter @helenenothelen
---