Column: No grudge match for Christian Folin and Darcy Kuemper when Kings host Wild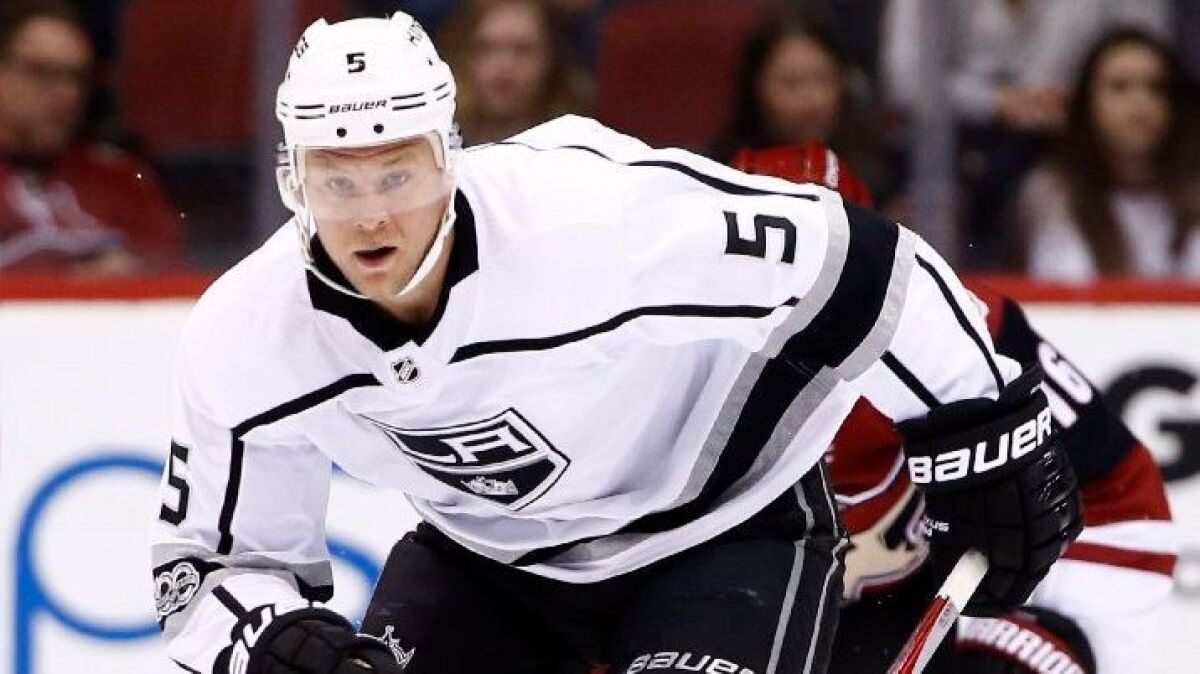 It makes for a good storyline, but there's disappointment in store for anyone who expects Kings goaltender Darcy Kuemper and defenseman Christian Folin to approach Tuesday's game against Minnesota as a grudge match because the Wild let them depart as free agents last summer.
Kuemper, who's expected to back up Jonathan Quick, and Folin, who's trying to keep a regular spot, had only good things to say about Minnesota on Monday. Folin said he saw Wild coach Bruce Boudreau last summer and joked he was looking forward to this matchup, but didn't carry any animosity with him when he signed with the Kings and moved west.
"It's just a business. I'm not going to have any sour emotions towards anyone in the Minnesota organization," said Folin, whose goal against Chicago on Sunday might keep him in the lineup when the Kings try to extend their winning streak to six. "I really enjoyed playing there. I had three great years and I have lots to be thankful for. It was a good time in my life and I made lots of really good friends."
He has felt comfortable with the Kings from the start. "I like being around the guys in the room. You can tell there's a lot of experience," said Folin, who shares a South Bay home with Kuemper. "There's a lot of guys around the room that's won a couple Stanley Cups, and it shows. It's fun to be part of it every day and I'm just pushing to get better, something I've been doing my whole career."
Kuemper never seized the Wild's starting job and lost his backup role late last March when Alex Stalock was promoted.
"I think I knew I wasn't going to be back in Minnesota, which was a lot of mixed feelings," said Kuemper, who is 4-0-2 with a 1.72 goals-against average and .944 save percentage in eight games this season. "It was the only team I'd ever played for and a lot of good experiences there, but I'm really happy to be here now and really happy with how things have been going."
KINGS VS. MINNESOTA WILD
When: Tuesday, 7 p.m.
On the air: TV — NBCSN. Radio — 790.
Update: Forward Andy Andreoff practiced Monday for the first time since he was dropped by a Kevin Bieksa punch on Nov 25. "I'm all good now. I think they're just being cautious in taking the week off," Andreoff said. … Winger Kyle Clifford (upper body) also skated but there's no timetable for his return. … Minnesota has won its past two games and eight of 12 . The Wild remain without forward Zach Parise, who had surgery on a herniated disk in October.
Follow Helene Elliott on Twitter @helenenothelen
Get the latest on L.A.'s teams in the daily Sports Report newsletter.
You may occasionally receive promotional content from the Los Angeles Times.