Ex-King Mike Richards reportedly was held at Canada border with OxyContin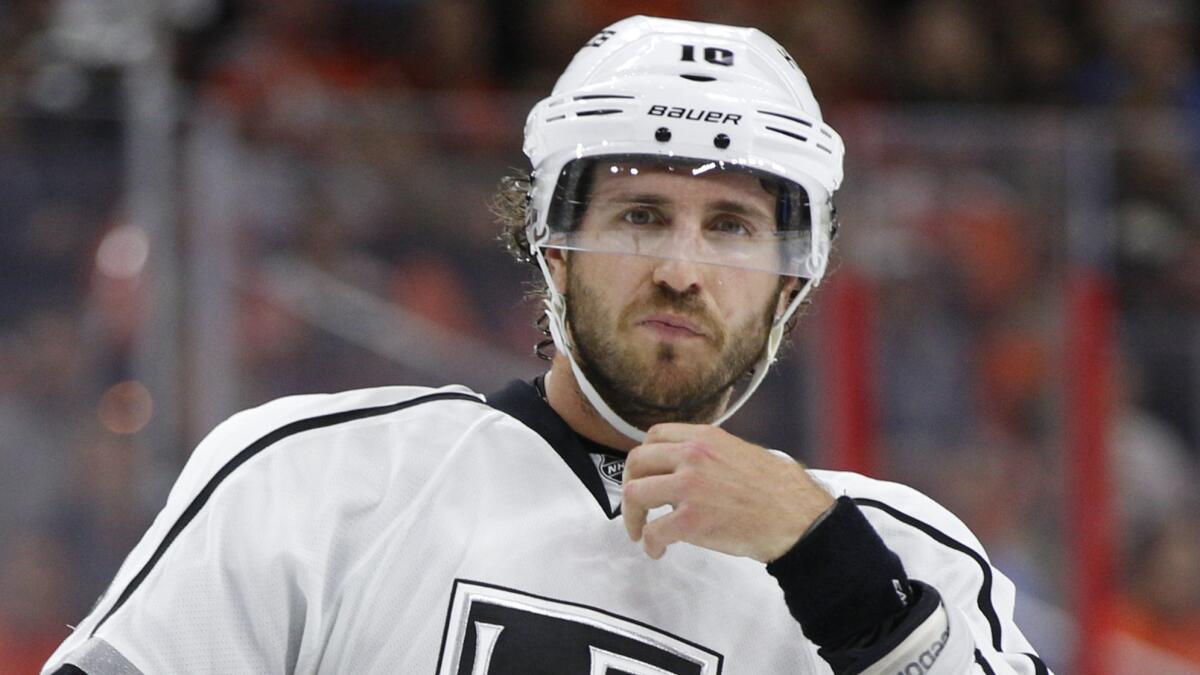 Mike Richards was held at a Manitoba, Canada, border crossing for at least four hours last month after he was allegedly found to be carrying OxyContin pills, and the former Kings center remains under investigation in connection with the alleged possession of a restricted substance, according to sources cited Tuesday by the Winnipeg Sun.
Richards, whose skills have markedly declined since he helped lead the Kings to the Stanley Cup in 2012, has not been charged with a crime in the June 17 incident.
The Kings, after placing Richards on waivers Sunday with the presumed intention of buying out his contract, instead took the dramatic step Monday of terminating the contract, citing a "material breach of the requirements of his standard player's contract." Their statement did not specify their reasons.
OxyContin — also known as oxycodone — is a narcotic pain reliever prescribed for moderate to severe long-term pain. According to the Sun, someone who crosses the border with OxyContin pills without a prescription would risk having them seized and could be charged with possession under the criminal code's Controlled Drugs and Substances Act, or with smuggling under the Canada Customs Act.
Richards was held in Emerson, Canada, about an hour south of Winnipeg.
NHL Deputy Commissioner Bill Daly declined Tuesday to say whether league executives knew about Richards' being under investigation. The Kings apparently received the information last Friday, during the league's entry draft. After being informed, club officials broke off talks regarding potential trades that might have let them shed at least part of Richards' contract, which he signed while with the Philadelphia Flyers.
The contract was to have five seasons left with an annual salary cap hit of $5.75 million. A buyout would have minimized the salary cap hit but would have kept him on the Kings' books through the 2024-25 season.
Richards' name has been removed from the roster posted on the Kings' website and from the section listing players' statistics for last season. He had five goals and 16 points and a minus-10 defensive rating in 53 games, as well as three goals and 14 points in 16 games with the Kings' farm team in Manchester, N.H.
A Kings spokesman on Tuesday again declined comment on Richards' situation. A spokeswoman for the Canadian Border Services Agency last weekend turned down a request by The Times for an interview, saying it's not the agency's practice "to confirm or deny any interaction with a traveler or entity." She also said Canada's Privacy Act and Customs Act strictly limited what the agency could say publicly.
The NHL Players' Assn. is expected to challenge the termination, which could trigger a heated battle. In a statement released Monday, the union said it was reviewing facts related to the matter and would talk to Richards to determine its course of action.
Kings General Manager Dean Lombardi could have used a compliance buyout on Richards' contract last summer but instead took the player's word that he would return in better shape for the 2014-15 season. Richards' lack of production and ineffective play was a contributing factor in the Kings' failure to qualify for the playoffs less than a year after they had hoisted the Cup as champions.
Get the latest on L.A.'s teams in the daily Sports Report newsletter.
You may occasionally receive promotional content from the Los Angeles Times.