Kings' Jonathan Quick shows resilience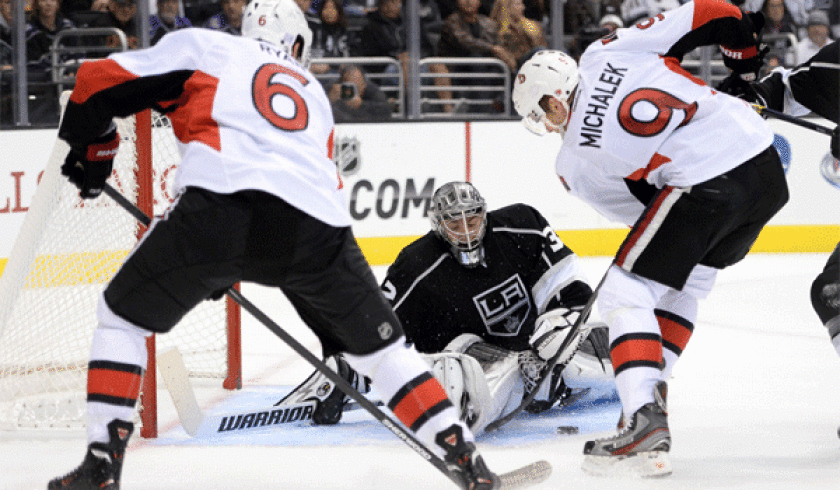 Bad things happen to us all. It's how you respond to the calamity that defines you.
Kings goalie Jonathan Quick has found himself staring into the abyss of despair in this early NHL season.
And each time, the goalie who led his team to the 2012 Stanley Cup and a trip to last season's Western Conference finals answered with what Kings goaltending coach Bill Ranford calls a "five-star performance."
On Oct. 7, a game after being pulled in the third period of a 5-3 loss at Winnipeg for allowing a third-period wraparound goal to Jets right wing Devin Setoguchi, Quick was doing his best to keep the Kings in a game they were otherwise getting beaten down in against the New York Rangers.
On a Kings power play early in the third, Quick tried to collect a shot off the boards by Ryan McDonagh of the Rangers when he lost his stick, the puck striking off it and trickling into the goal behind Quick.
"It's one of those unfortunate mistakes, off his stick, an unfortunate bounce," Ranford said. "It's unfortunate a fluke goal like that mars an absolutely incredible performance when we were not good and he held us in there before his mistake shut the door on us. You're either a hero or a goat."
Distressed by the own-goal, Quick leaned over the net, and the television camera fittingly locked in on a background with the Staples advertising slogan in perfect view: "That was easy."
Instead of spiraling downward from the crowd mocking and hard questions during and after that event, Quick went back to work, said Ranford, the 1990 Conn Smythe Trophy winner for the Stanley Cup-champion Edmonton Oilers who has worked with Quick for eight seasons.
"He's as hard as anyone on himself," Ranford said. "That drives him to be better in the next one. He doesn't point fingers. Sometimes he takes too much on, but he's very good at analyzing his game and getting better. And that's why he's an elite goalie in this league."
Quick rallied with 22 saves in a win over Ottawa on Oct. 9 in which he stopped two tough shots late in the third period to get the Kings to an overtime victory.
"It's when you don't stop the next puck when you start getting concerned," Ranford said. "The mental side of the game is what makes a great goalie great. We're fortunate to have him, because he has this innate ability to bounce back."
Quick needed that asset again after a 5-1 Tuesday loss in Tampa Bay, where Kings Coach Darryl Sutter removed him after giving up three goals on 17 shots.
Thursday in Nashville, he made 34 saves and stopped all three Predators shootout tries in the Kings' 2-1 victory before Saturday night's game at Staples Center against Dallas, which was not complete at press time. See latimes.com/sports for full coverage.
"That's just Quickie — finding pucks, he just battles for everything, sees the puck through screens, sees the tips, makes tough saves look easy, and he's a big reason why we win games," said Kings center Jarret Stoll.
Twitter: @latimespugmire
---
Get the latest on L.A.'s teams in the daily Sports Report newsletter.
You may occasionally receive promotional content from the Los Angeles Times.