Column: In lost season, Kings can at least find some answers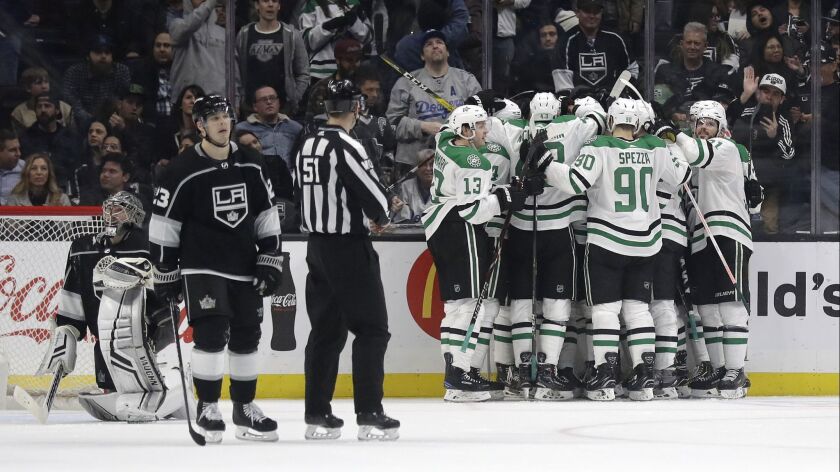 The strong temptation now, after a 4-3 overtime loss to the Dallas Stars on Thursday that extended the Kings' losing streak to 0-6-4 and put a playoff berth well beyond their reach, is to dissect how this season went so drastically wrong.
We know the wheels were set in motion when the previous general manager, Dean Lombardi, traded away first-round draft picks in 2013, 2015 and 2016 in an effort to sustain a dynasty but instead slowed the infusion of top-level talent.
And we know Lombardi's successor, Rob Blake, and club president Luc Robitaille underestimated the value of speed and youth in the NHL. They thought they had two seasons before they'd have to overhaul the roster, but that timetable has been ripped up.
They also hoped firing John Stevens and installing Willie Desjardins as interim coach would rekindle the team's emotion and its offense, but that didn't happen. Blake must get the next coaching choice right. This one wasn't.
Desjardins' latest misstep occurred Tuesday, when he failed to use a coach's challenge to back Jonathan Quick's claim of interference on Carolina's first goal. An angry Quick skated over to the bench to vent his displeasure.
Desjardins owed Quick that support, after all the times this season the team has abandoned Quick to face barrages of dangerous shots. Desjardins acknowledged it Thursday and said he and Quick had discussed the incident.
"You're right. It's not just the call itself," Desjardins said after the morning skate. "It's to show your players you're behind them, and that's something you have to weigh in when you make the call. You just have to weigh it in. But at that time we just didn't feel we were going to get the call. ... Going back, yeah, I wish I would have made the call."
Quick made 29 saves, including a sprawling stick stop on Jason Dickinson late in the third period, but he couldn't stop Roope Hintz from in close at 3:19 of overtime. That capped a game in which the Kings blew leads of 2-0 and 3-2.
Anze Kopitar had two goals and an assist, and Brendan Leipsic scored his first goal in 18 games, on a power-play redirection. Ilya Kovalchuk was a late scratch because of an upper-body injury; his status is day to day.
The franchise record is 11 straight losses, set in 2004.
Dallas, seeking a playoff berth, seized the first wild-card spot Thursday. The Kings are seeking answers.
"The playoffs, it's not going to happen. It's the reality of the situation we're in," said Dustin Brown, who made his Kings debut in 2003. "You probably don't discuss it now but guys are definitely thinking. It's human nature, especially for guys who have been here for a while, and knowing the other side of it. It's different when you never knew. I have a different perspective because I've been here when it was worse than it is right now.
"This is the worst team that a lot of those guys have been on. It's a different perspective for me. I know it's not good and we can get better. I also know it can actually get worse, believe it or not."
Brown said early in his career, "we had some really good leaders but not a very good team," and singled out Mattias Norstrom and Ian Laperriere as positive influences.
"I think the makeup of this team is better," Brown said. "It's going to take a little bit of time. It's an opportunity for everyone, especially younger guys, to maybe grab a hold of something and make a difference and that should be exciting.
"The old guys, they've got to get better, too. We're not going to flip a switch tomorrow and be a better team or tonight and be a better team. It was a process 10 years ago. It's going to be a process again."
The roster rebuild will speed up this summer. Players' task is to rebuild their pride.
"We've got a lot of young guys in here and I think we can show them a way to win in these last [18] games, show them a culture," winger Kyle Clifford said.
"I think it's important to their development. And I think there's some veteran guys, too, we can do some things to get our game in order and get ready for next year. When I was young, growing up, we had great core veterans that instilled those attributes into me and I think we've got a lot of solid veteran players here that can do the same for the young group coming up."
Brown also sees the final games as a measure of character.
"I think a lot of players get in this situation and they don't handle it properly and it shows. So it's important for guys like myself to play the right way," he said.
"I came into a team that was in this situation every year, so I got an opportunity to play through that. And if you're willing to open your eyes and ears you can learn a lot from both good and bad. You can learn a lot from bad teams, like what not to do."
They've had plenty of chances to do that, with more to come in the next month.
Follow Helene Elliott on Twitter @helenenothelen
---
Get the latest on L.A.'s teams in the daily Sports Report newsletter.
You may occasionally receive promotional content from the Los Angeles Times.