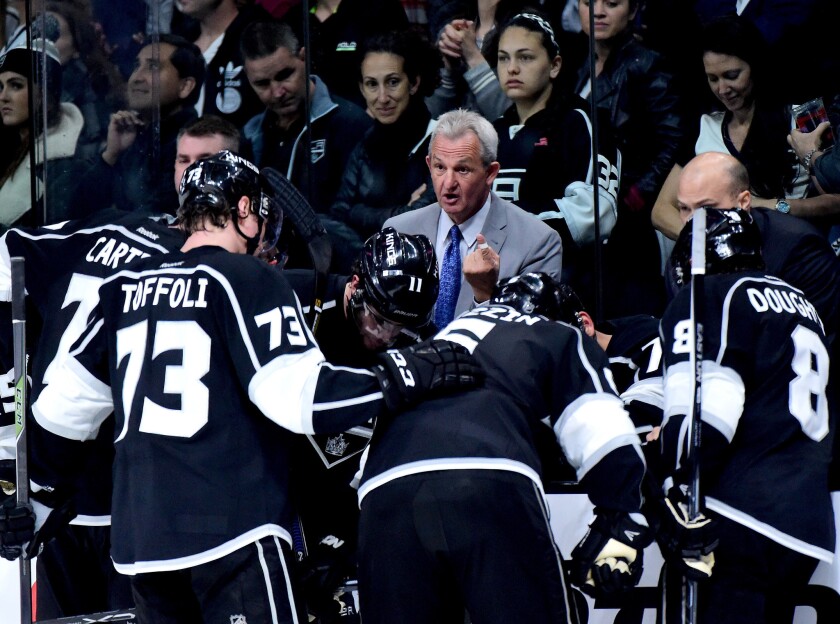 When the Kings' season ends Coach Darryl Sutter invariably returns to his family farm in Viking, Canada, where he immerses himself in the work that sustains the 3,000-acre operation. The team's quick playoff elimination allowed him to go home early this year, but he didn't stay put for long.
"Lots of travel, back and forth to L.A., quite a bit," he said in a phone interview Wednesday of his summer. "It was good but it was lots of travel. The last two weeks were the only two weeks I put together in one place all summer."
Sutter said he spent more time than usual in Los Angeles because many young players worked out there and he wanted to monitor their development. Which of them can step into the lineup will be crucial to a team that will need nearly everybody to step up in order to make the playoffs in the changing Pacific Division, where the young Edmonton Oilers are poised to make big strides and the Calgary Flames became contenders when they acquired goaltender Brian Elliott from St. Louis.
"Last year we made the playoffs and we didn't lose to Edmonton and Calgary. We went 9-0. Our records against San Jose, Anaheim and Arizona were just average," Sutter said of his team's 6-9 record against those three foes. "It was just versus the Canadian teams that got us in. … I think we're going to see stiffer tests when we go to Alberta this year."
That's not good news for the Kings. Nor do they benefit from the leaguewide trend toward speed and skill and away from the physicality that was the trademark of their 2012 and 2014 Stanley Cup championships.
The Kings' 48-win, 102-point finish last season was obliterated by their five-game playoff loss to the San Jose Sharks, whose speed and skill propelled them to the Cup Final. The Kings also lost more than they gained this summer, when left wing Milan Lucic took his 20 goals and 55 points to Edmonton as a free agent.
Who's going to replace those goals? "We're going to need guys in our lineup to raise their expectations and elevate their game in terms of production, and that pretty much goes right through your lineup on the wing position," Sutter said, citing a need for Marian Gaborik to rebound from a 12-goal performance in 54 games and Dustin Brown to halt a seemingly irreversible decline. "They're very critical guys for us, if you look at it."
Left wing Tanner Pearson (15 goals) and right wing Tyler Toffoli (a team-leading 31 goals last season) "still have room to grow," Sutter said, adding he hopes another youngster will emerge during training camp to seize the third-line center spot behind Anze Kopitar and Jeff Carter.
Players are scheduled to report to El Segundo on Thursday for fitness testing and will take to the ice Friday. They'll play an intrasquad game Sunday in Ontario and split-squad games against Arizona on Monday.
They will start without players who participated in the World Cup of Hockey. Sutter said Jonathan Quick, goaltender for disappointing Team USA, will spend time with family in Connecticut before returning to Los Angeles early next week. Sutter plans to play him in one or both exhibitions at Las Vegas, Oct. 7-8.
Starting camp without Team Canada defensemen Drew Doughty and Jake Muzzin isn't a problem because Sutter intended to pair them, anyway, and their absence will give other defensemen chances to win a job. Alec Martinez, who underwent shoulder surgery after last season, is 100% ready, Sutter said. So is rugged winger Jordan Nolan, who had back surgery.
Also healthy is 33-year-old defenseman Matt Greene, who played three games last season before he underwent shoulder surgery. The Kings put him on waivers but didn't buy him out; he will compete for a job, as will noble but slow Rob Scuderi, 37, and free-agent signee Tom Gilbert, 33, who had knee surgery while playing for Montreal last season. "We're still looking at those three the same we're looking at three or four young guys," Sutter said. "We want them to have really good camps and we'll give them lots of games."
Sutter also plans to work with Brown, who has had two straight 11-goal seasons. Brown was pressured to give up the captaincy and reluctantly agreed, a situation that could cause friction. Sutter repeated the official spin that it gives Brown a chance to focus on his game and not worry about teammates. "It's not an issue," Sutter said. "I'm going to try and help him get his game back to where he's a more dominant player for us again."
That might be too much to ask. But Brown will have to contribute vigorously if the Kings are to keep Sutter in L.A. next summer for a long playoff run and not just to evaluate third-line candidates.
Twitter: @helenenothelen
---